Easy, Healthier Eggs Benedict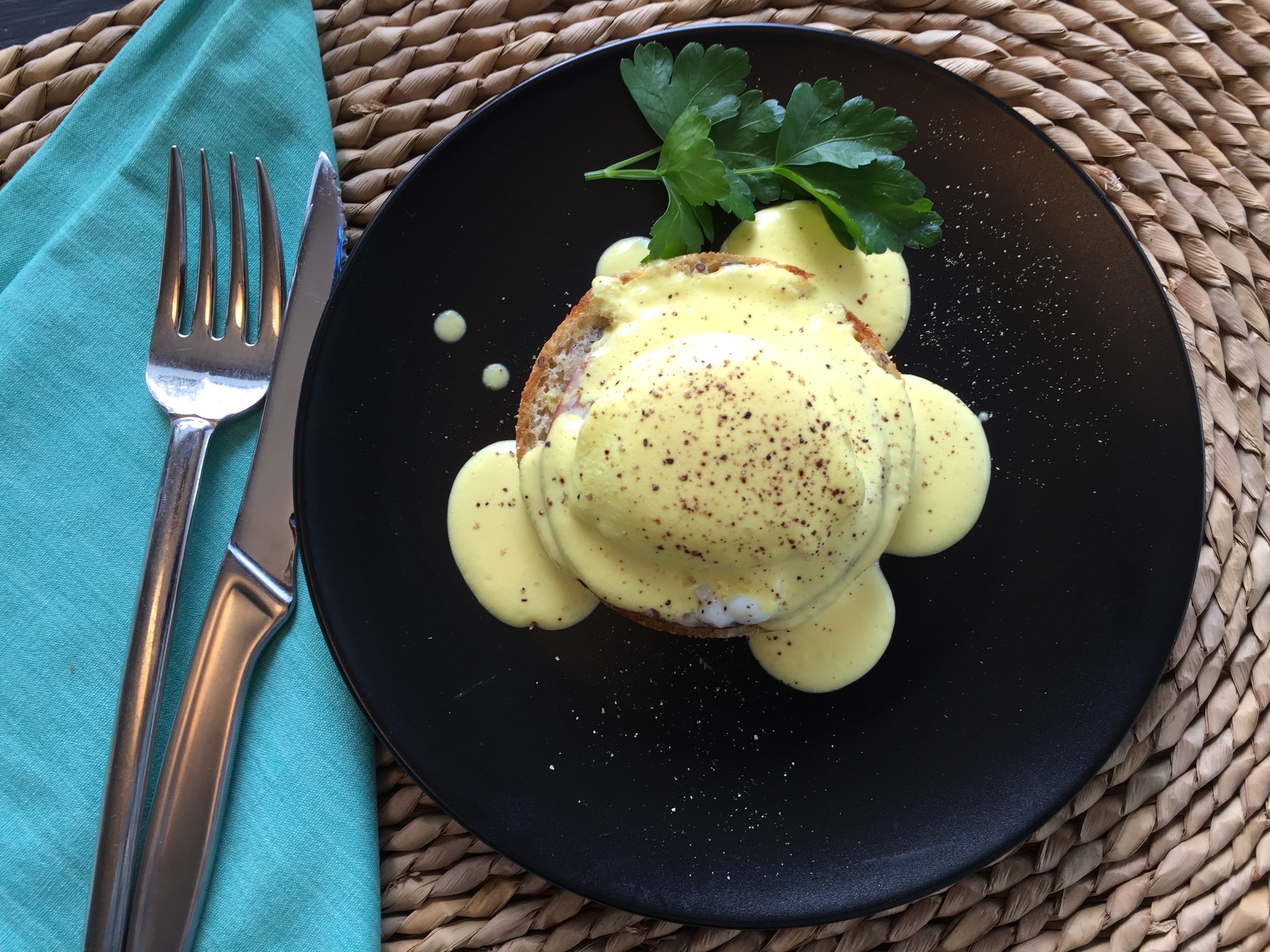 Eggs Benedict are old school.  I love to see them on a brunch menu because they are fancy and convey a sense of occasion, but I hate to order them because the hollandaise sauce is full of butter and not so good for you.  They are labor intensive and fussy, so making them at home is challenging and messy.   What if you could make them healthier?  And what if you could make them easier?  You (yes, you!) can make eggs benedict.
Yes, I have made blender Hollandaise.  It takes lots of butter and makes a very greasy, dirty blender.  You hold your breath the entire time, worrying that it won't come out right.  It also doesn't hold well, so as soon as you make it you need to serve it.  Right away.  Or else.
There's a better way, and it will change the way you think about Hollandaise sauce.  It is extremely light, absolutely delicious, and a cinch to make.  It holds well, will keep in the refrigerator, reheats perfectly and involves yellow peppers.  It will change the way you think about eggs benedict, and it will have you making them much more often.  It won't even mess up your blender, and you don't need to be terrified to make it because it will come out perfect.  Perfect.  Kudos to Joy Bauer.  I think she deserves a lifetime achievement award for this one.
Poach those eggs right in the toaster oven.  You can use a muffin tin to make the eggs, but I think the best results come from porcelain or ceramic custard cups.  Yes, it dirties 8 little dishes or 1 muffin tin, but it also is time efficient and produces 8 perfectly cooked eggs.  Put the custard cups on a baking sheet so you can transfer them all at once, into and out of the oven.  Be on the safe side and do a test run ahead of time with whatever kind of baking dish you plan to use.  (I discovered this on Easter morning when I thought a disposable muffin tin would be a good idea.  It wasn't.  My eggs would simply not set up, and I was very sorry.  Lesson learned.)
For more about poaching eggs in the toaster oven and a recipe for a Healthy Breakfast Sandwich, here is a link to a recipe I posted earlier.  You can use whole grain, or gluten-free english muffins or substitute a tomato slice (or a crab cake!)  for the muffins.   You can also add a bit more cream cheese to the sauce if you want it to be thicker.
Eggs Benedict
  serves 4
4 English muffins
8 slices Canadian bacon
olive oil or non-stick spray
1 cup hot water 
8 eggs
1 yellow bell pepper, seeded and cut into eighths
3 ounces (6 tablespoons) light or reduced-fat cream cheese
1 teaspoon lemon juice
1/2 teaspoon Dijon mustard
1/4 teaspoon kosher salt or coarse sea salt
Set oven to 250ºF and put 4 plates into oven to warm.
Split English muffins into halves and toast very lightly in toaster or toaster oven, until just golden and warm but still soft.  Transfer to pie plate, cover lightly with foil, and hold in warm oven.
Preheat toaster oven to 350º for eggs.
While muffins are toasting, warm Canadian bacon in lightly oiled skillet, lightly browning on both sides.  Transfer to plate, cover with foil, and hold in oven.
Lightly brush the bottom and sides of 8 custard cups or muffin tin cups with olive oil, or spray lightly with non-stick cooking spray.  Pour 1 tablespoon of hot water in each cup and then gently crack the eggs into the cups.  Transfer to oven and bake for 13 to 15 minutes, until whites are set.
While eggs are baking, make the Hollandaise sauce.  Place the bell pepper strips in a microwave-safe bowl and add about 1 tablespoon of water.  Cover and microwave on high for 2 minutes or until the pepper pierces easily with a paring knife.  Drain and transfer immediately to blender.  Add cream cheese, lemon juice, mustard, and salt to blender.  Puree until the sauce is smooth and has no visible bits of pepper.
As soon as eggs are set, remove from oven.  Assemble one serving at a time.  Place a slice of Canadian bacon on each toasted English muffin half.  Using a slotted spoon, remove one poached egg from its custard cup and place on top of Canadian bacon.  Repeat with another egg.  Spoon warmed Hollandaise sauce over each egg.  Serve immediately.