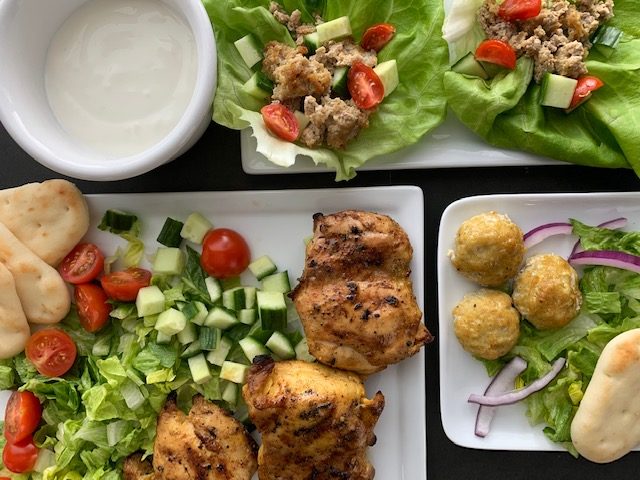 Shawarma, shawarma, shawarma!  Next up, a super easy recipe that is so good you won't believe you made it at home. Yes, that was my house that had the way amazing smell because we were having a shawarmathon.  If you love schwarma like I do, read on. 
There is more than one way to shawarma. You can grill your chicken, threaded on skewers or not, or cook it in the oven as instructed below.  You can use chicken breasts, or tenders, or use chicken thighs. Use ground chicken (light and dark meat mix) and make meatballs or just brown the ground, seasoned meat and make a loose filling for your pita or lettuce wrap.  You can make a shawarma salad using chopped lettuce, your meat, and all the toppings. 
A few suggestions.  First, make this ahead of time so that your meat has time to marinate.  A few hours is fine, but overnight is better.  Second, make extra and freeze. You're already cooking, why not double the recipe and freeze half of your cooked meat for a fast food meal you can pull from your freezer? Third, you can make a batch or two to freeze raw.  Pull it out the night before you plan to use it and cook it for dinner the next day.  Be sure to use fresh, not frozen and thawed meat, if you are planning to freeze it again.
Remember this recipe when you have to feed a crowd.  You can make the chicken ahead of time and just reheat it, along with the pitas, prior to serving. The yogurt sauce can be made ahead as well, and the vegetables prepped, so that all you have to do is plate and serve.  A big Greek salad, some hummus and some olives and you've got yourself a party. 
Will it shawarma?  Yes, it will.  And any way you do it, it's good!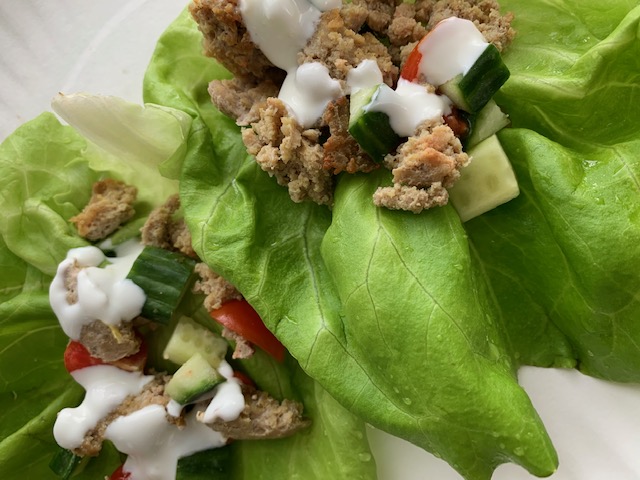 Easy Chicken Shawarma 
1/4 cup extra-virgin olive oil
1 lemon, juiced
3 cloves garlic, smashed and minced
2 teaspoons kosher salt
1 teaspoon ground cumin
1 teaspoon ground coriander
1/2 teaspoon freshly ground black pepper
1/2 teaspoon ground turmeric
1/4 teaspoon ground cinnamon
1/4 teaspoon cayenne pepper
2 pounds boneless, skinless, chicken thighs
1 large onion, thinly sliced
yogurt sauce:
1/2 cup Greek yogurt
1/2 lemon, juiced
2 cloves garlic, smashed and minced
kosher salt
for serving:
warmed pitas
chopped romaine
cherry tomatoes, halved
seedless cucumber, diced small
In a large zip-top bag, combine oil, lemon juice, garlic and spices.  Add chicken, seal bag, and turn to evenly coat chicken well.  Refrigerate for at least 2 hours or overnight.  
Preheat oven to 425ºF.  Line a large baking sheet with foil.  Add onion to bag with chicken, reseal and turn to coat. Remove chicken and onion from marinade and transfer to prepared baking sheet.  Bake until chicken is lightly golden, cooked through, and reaches an internal temperature of 165ºF, approximately 30 minutes.  Let chicken rest 5 minutes, then thinly slice.
While chicken is cooking, combine yogurt, lemon juice, garlic, and salt in a small bowl and whisk to combine. 
Serve chicken with pitas, onion, romaine, tomatoes, cucumber and yogurt sauce. 
Shawarma Meatballs:  Use 2 lbs. ground chicken and prepare with seasonings as above, marinating for 2 hours or overnight.  Form into small meatballs and cook in 375ºF oven until internal temperature reaches 165ºF – about 11-15 minutes.  Serve with pitas as above.
Shawarma Lettuce Wraps:  Use 2 lbs. ground chicken and prepare with seasonings as above, marinating for 2 hours or overnight. Brown in a frying pan over medium heat until thoroughly cooked, draining if needed.  Serve in butter or iceberg lettuce cups with toppings as above.  
  –  lightly adapted from the amazing recipe on delish.com
p.s.  King Arthur just recalled some of their flour due to possible E. coli contamination. This is a good reminder to make sure to label things. If you transfer your flour to a large canister like I do, a piece of painter's tape is a good way to mark down the date and other information so you know your food is safe and also fresh.