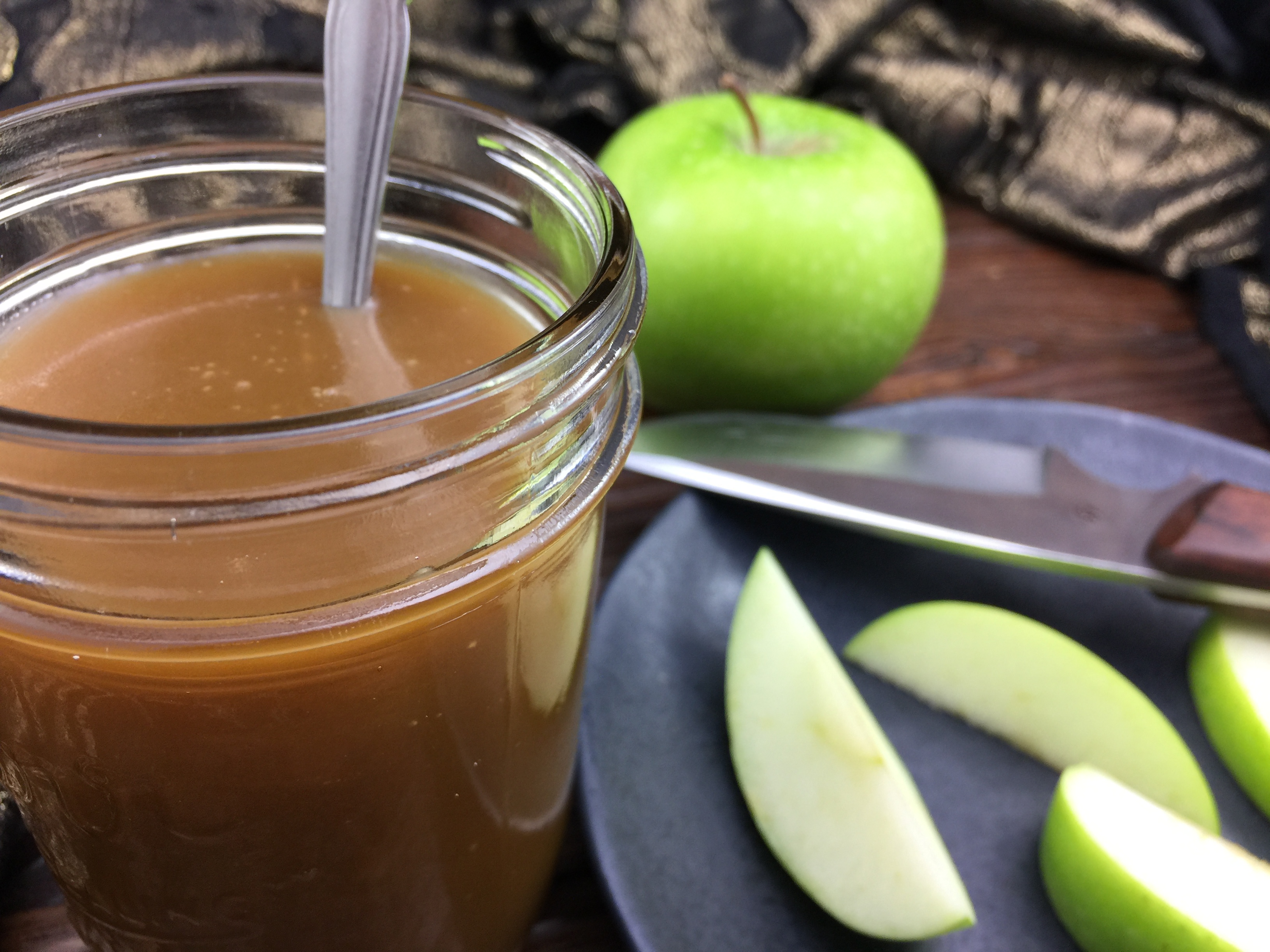 Your Halloween weekend needs this quick, easy caramel sauce.  Making it yourself isn't one bit scary, and believe it or not, it's a lot faster than unwrapping all those little caramels from a bag.  Combine just a few things (that you might actually have) in a saucepan on your stove, whisk gently, and in just a few minutes you've made a warm, bubbly, delicious sauce, ready to serve with with just about anything that could use a little fun added to it.
I tried this recipe for the first time last fall as a topping for the Fresh Apple Cake recipe I posted last September.  It is a Pioneer Woman recipe, and It was so good and so easy that I made it again, this time to serve with sliced apples for dessert.
Don't be afraid!  It's not too late, or too hard, to make something fun your family.  You can make the caramel sauce with your kids, letting them help by measuring and adding the ingredients and stirring the sauce, with your supervision, while it cooks.  Please, no burns!  This is very hot and sticky, so keep little fingers safely away while it's cooking, and make sure to let it cool before you taste it.  Leftover sauce, if you have any, should be refrigerated.  Transfer to a glass jar and you can easily rewarm it in the microwave.
Set up a caramel apple bar, which I guarantee will be a big hit with kids of the grown-up variety, too.   Set up some small bowls filled with chopped nuts, chocolate chips, crushed pretzels, graham crackers, cookie crumbles, (some of that Halloween candy that seems to be multiplying?), or anything else that appeals to you.  Peanut butter, almond or other nut butters are nice, too.  Take this to your office, tailgate, or next covered-dish gathering.  I'm going to call it healthy, because don't look now, but I just snuck fruit on you.   You are, however, on your own with the caramel sauce and the toppings.  Keep that caramel sauce warm, and have a safe, happy Halloween.
Easy Caramel Sauce
1/2 stick butter (4 tablespoons)
1 cup brown sugar
1/2 cup half-and-half or cream (use cream for thicker sauce)
1 tablespoon vanilla
pinch of salt
Melt butter in medium saucepan over medium-low to medium heat.  Add remaining ingredients and cook while whisking gently for 5 to 7 minutes, until sauce thickens.  If sauce is thin, continue to cook until desired consistency.  Serve warm.