Curried-Maple Mustard Meatballs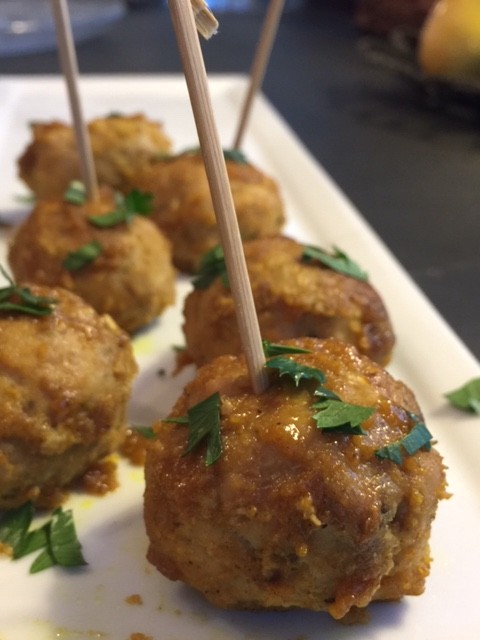 The holidays are right around the corner, so you better get rolling.  There are pies to bake, casseroles to make, and hostess gifts to take – to all of those gatherings that are coming right at you.  While you are on a roll, keep rolling…  making meatballs, that is.  Several batches of meatballs, stored in zip-top bags in your freezer will come in very handy in the coming months, so the small amount of time on your part now, will have big pay-offs later.  Use them glazed, as below, for a quick appetizer.  Serve them over brown rice and pair with a fresh side salad, for an easy weeknight dinner.  If you add some steamed veggies and close your eyes, you can imagine you picked up Indian take-out.  (But you didn't.)  Score big points on game day by tossing them into your slow cooker, but be prepared for them to disappear quickly, because everyone loves meatballs.  Unglazed, you can use them any way you like.  Smothered in some jarred marinara sauce and stuffed into a section of sliced baguette bread, a little shredded mozzarella and a quick spin under the broiler are all that stands between you and tonight's dinner.  Use them to toss into some soup.  Add them, sliced, to the top of your pizza.  And most obviously, you now have home made, ready to eat meatballs that you can add to your sauce for pasta night.  Need I say more?
These Curried Maple-Mustard Meatballs are just a bit tangy, just a bit sweet, and warming curry-spiced all at the same time.  They smell, and taste, heavenly.  Plated and served as a warm appetizer, be prepared for some oohs and ahhhs.  You can make them a jiffy.  The ingredient list is small, and they cook, hands-off, in the oven.  Bake them ahead of time and keep them, right on the sheet they were baked on, covered, in the refrigerator.  Just before serving, reheat them gently in a 300º oven for a few minutes and then transfer to a skillet for glazing.
You can swap in ground turkey or chicken for the ground beef called for in this recipe.  If you do this, use a mix of ground light and dark meat for the best results.   I was in a big hurry when I made these, so I skipped the fresh garlic and used a teaspoon of garlic powder.  I also substituted finely crushed gluten-free crackers for the breadcrumbs, which is an easy way to make these gluten-free.   Double or triple this recipe and enlist any helper you can get to help with the rolling.  Husbands, kids, mothers, or mother-in-laws are all fair game – as is your reluctant teen.  Working side by side, united in a common goal, you may just get some great conversation going.  If nothing else, you will have a captive audience, as being submerged to their wrists in raw meat will keep your helper pretty occupied, at least until the bowl empties.
Double, triple, or make as many batches of these as you can.  They are savory, flavorful little bites – a blank slate that will adapt to pretty much any recipe that calls for mini meatballs.
Curried Maple-Mustard Glazed Meatballs
meatballs:
1 pound 90% lean ground sirloin
1/2 cup whole-wheat breadcrumbs
1 large egg
1 garlic clove, minced
1/2 teaspoon kosher salt
1 teaspoon dried Italian seasoning
1/4 teaspoon freshly ground black pepper
glaze:
3 tablespoons unsalted butter
3 tablespoons maple syrup
1 tablespoon Dijon mustard
2 teaspoons curry powder
1/4 teaspoon salt
1/4 teaspoon freshly ground black pepper
1 tablespoon fresh chopped parsley
For meatballs:  Preheat oven to 400º F.  Line a rimmed baking sheet with parchment paper.  Combine all ingredients for meatballs in a large bowl and mix with clean hands.  Shape into 24 same-sized meatballs, placing them evenly spaced on baking sheet as you go.
For glaze:  Melt butter in a large skillet over medium heat.  Whisk in all remaining ingredients.  Add meatballs and toss lightly to coat.  Cook 1 – 2 minutes, stirring often.  Garnish with parsley.
– recipe by Jamie Vespa, MS, RD, cooking light.com