Crunchy Cucumber, Feta, and Almond Salad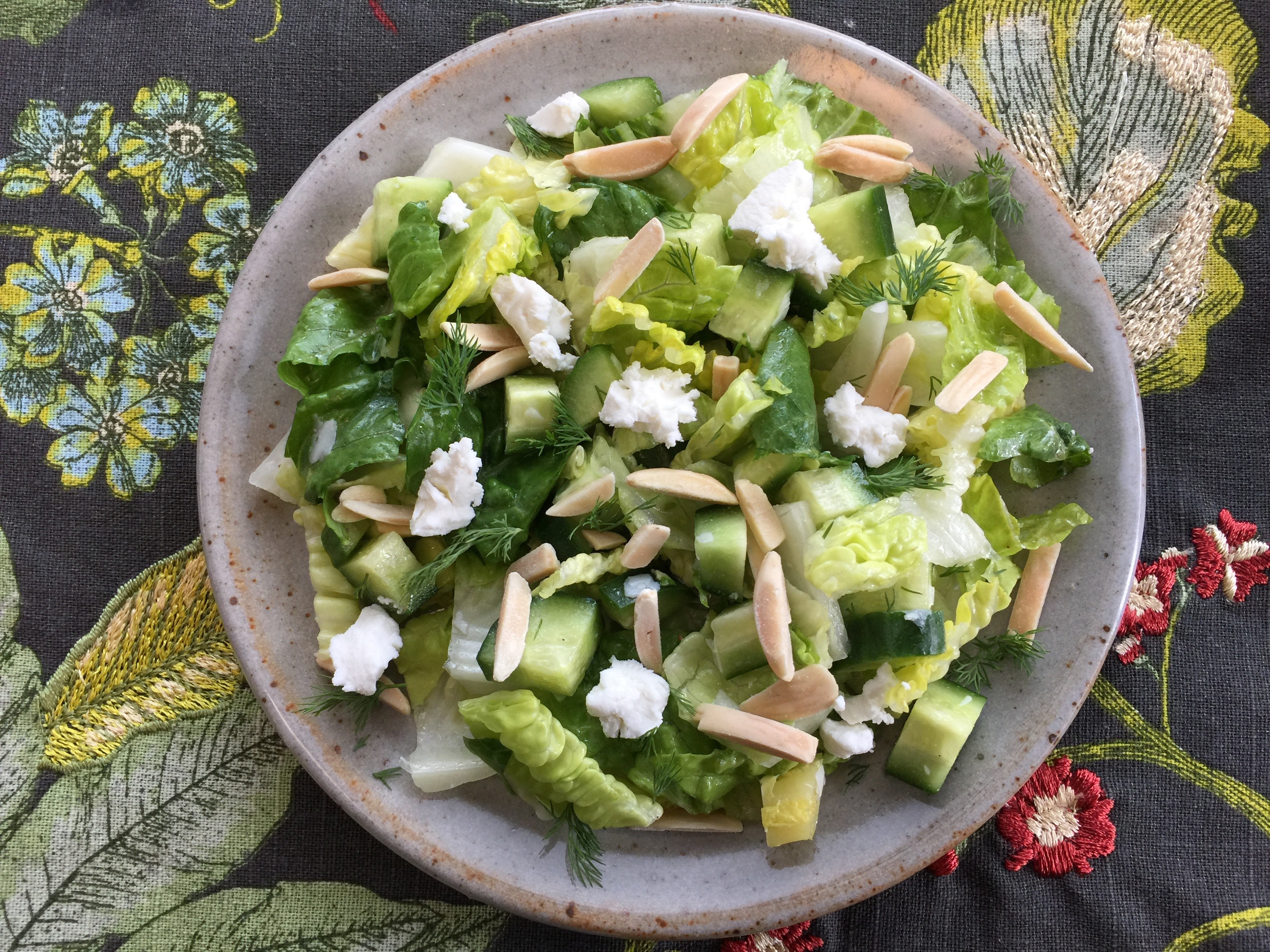 Easter is coming, and you've got your bunnies in a row.  Ham/lamb, side dishes, some roasted spring veggies, and a loaf of that beautifully braided bread…  yep, it's all there.  But you might still have a hole in your Easter menu that is just waiting for this salad.  The ingredient list is simple.  Made from chopped romaine lettuce, diced English cucumber, some roasted almonds and crumbled feta cheese, it's a snap to prepare.  The Dijon vinaigrette dressing is simple, too, and makes good use of the fresh dill that you might just have on hand from some of the other things you are preparing this weekend.
Here is the recipe as it appeared in the May 2017 issue of Cooking Light magazine.  I added a lemon to the ingredient list, just in case you feel, as I did, that the finished salad needs a little brightening.  Taste the dressed salad first, then add as much freshly squeezed lemon juice as you like.  I used Persian cucumbers when I made this, and really liked the milder flavor and tiny bit of sweetness they added.  And the feta cheese I thought I had?  Well, it turns out that I didn't.  I used goat cheese, and I think it was really good.  If you go this route, toss the salad first, then add spoonfuls to the finished salad and give it a gentle toss.  If you are plating salads, add your goat cheese in tiny spoonfuls as you plate.  Roasted pumpkin seeds are a great substitute for the almonds in this recipe if you are allergic to nuts.  (I snuck a forkful of my husband's salad just to be sure of this.)  Garnish your finished salad with some sprigs of fresh dill and you have a beautiful spring salad.
Crunchy Cucumber, Feta, and Almond Salad
serves 8
4 cups coarsely chopped romaine lettuce
2 1/2 cups (1/2-in.) diced English, or Persian, cucumber (about 1 medium)
1/2 cup unsalted roasted almonds, coarsely chopped
2 ounces feta cheese, crumbled (about 1/2 cup)
2 tablespoons chopped fresh dill, plus sprigs for garnish
2 tablespoons extra-virgin olive oil 
2 tablespoons white wine vinegar
1 teaspoon Dijon mustard
1/2 teaspoon kosher salt
1/2 teaspoon freshly ground black pepper
1 lemon (optional)
Combine lettuce, cucumber, almonds, and feta in a large bowl; toss.  Combine dill, olive oil, vinegar, mustard salt and pepper in a small bowl, stirring with a whisk.  Add dill mixture to lettuce mixture; toss to coat.
– Cooking Light, May 2017