Crispy Skin Salmon Provencal with Charred Red Cabbage Salad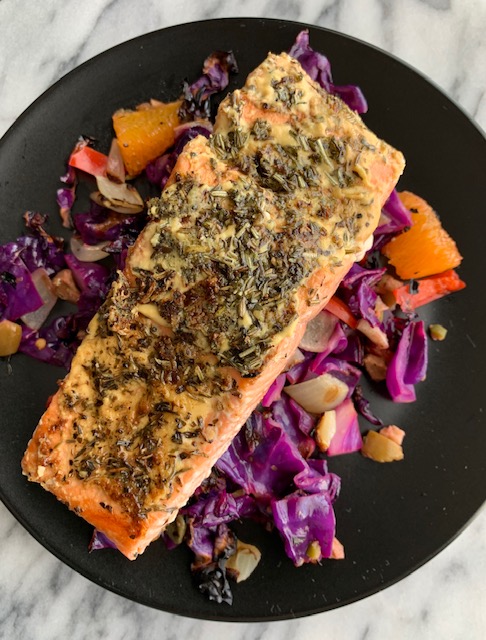 Craving something restaurant-worthy and hoping to work with what you might have on hand? Maybe, just maybe, you have some frozen fish stashed along with all those berries in your freezer. If you do, then you're in luck, because we're making Crispy Skinned Salmon for dinner tonight. This simple salmon gets its fabulous flavor from a slather of Dijon mustard and a sprinkle of herbs de Provence, a succulent seasoning you would never guess came from two pantry pulls.
If you don't have jarred, roasted red peppers, you can toss a few strips of red bell pepper on the grill with the onions and cabbage. My olive supply is a bit low, so I used a tablespoonful of the olive spread I found in my pantry. I didn't use the crispy fried onions, but the salmon was a show stopper just the same.
Take it outside for a no-stress, no-mess, easy and delicious dinner. Fire up your grill for the vegetables and use a cast iron pan for the fish. Take in the sunshine while you're cooking and enjoy the beautiful day.
Crispy Skin Salmon Provencal with Charred Red Cabbage Salad
4 Tablespoons Dijon mustard
4 4-ounce skin-on salmon fillets
Kosher salt and freshly ground black pepper
4 teaspoons dried herbs de Provence
1 Tablespoon olive oil
2 Tablespoons unsalted butter, divided
juice of 1/2 lemon
1/4 cup canned, crispy fried onions
Charred Red Cabbage Salad:
1/4 head red cabbage, stem intact, cut into thick slices
1/2 yellow onion, peeled, root end intact, cut into wedges
3 Tablespoons olive oil, plus more for drizzling
Kosher salt and freshly ground black pepper
1/4 cup olives, pitted and halved
1 jarred roasted red pepper, julienned
1 orange, supreme (peel cut away and segments cut free from the pith) along with collected juices
1/2 lemon, juiced
Place salmon skin side down, then brush flesh side of each fillet with 1 tablespoon Dijon. Sprinkle with salt and pepper, then top each with 1 teaspoon herbs de Provence. Set aside.
Heat grill to medium. Drizzle cabbage and onion with olive oil and sprinkle with salt and pepper. Grill until cabbage is wilted and charred and onion is softened and charred, about 5 minutes per side. Remove from grill and set aside to cool. Remove stems from cabbage and roughly chop; transfer to medium bowl. Roughly chop onion and add to bowl, then add olives, red pepper, orange segments, juice from orange, lemon juice, olive oil, salt and pepper. Toss to combine, then taste and adjust seasoning if needed. Set aside.
Set a large cast iron skillet over grill (or use side burner) and add olive oil. Once skillet is hot, add fillets, skin side down. Cook until skin is golden brown and crispy, and fish releases easily, about 6 to 7 minutes. Flip with spatula. Add 1 tablespoon butter to pan and cook until flesh is lightly opaque and internal temperature is 130º F, about 2 to 3 minutes more. Add remaining tablespoon of butter and lemon juice, then remove from heat. Spoon Charred Cabbage Salad onto plate, topping with salmon. Spoon lemon butter sauce from pan over salmon and garnish with crispy onions.
— adapted from recipe by Jeff Mauro