Coconut and Crispy Chickpea Trail Mix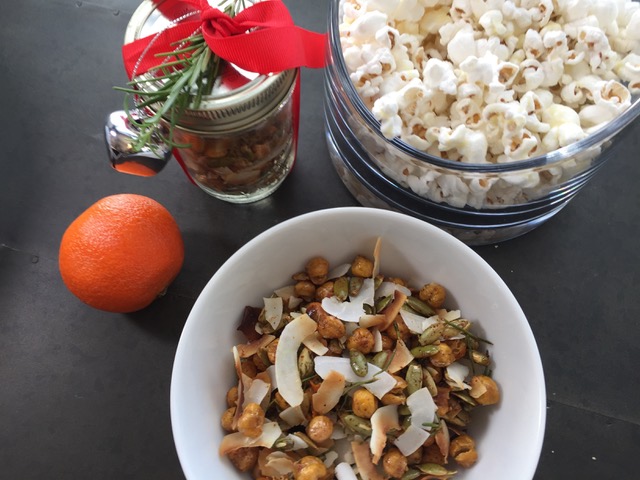 Bar snack, car snack, hostess gift, or just something fun to have on hand, Coconut and Crispy Chickpea trail mix from the December issue of Bon Appétit gets high marks across the board.  Gluten and nut free, protein packed, and spiced with the bright seasonings of orange and rosemary, it's merriment in a bowl.  Cayenne pepper gives it a kick, coconut strips and just a touch of maple syrup add sweet notes.  A cinch to make, but the payoff is big.  Try it as a savory spoon-over for plain yogurt, as a topping for salad, soup, or hummus, or stash in your bag for something to munch après ski.
Taste as you go.  I used only 2 tablespoons of the 1/4 cup of rosemary leaves, and added a generous bit more of the cayenne.  Trader Joe's sells olive oil in a spray bottle, which I think works really well to spritz and evenly coat the chickpeas.  If you feel creative, you could try adding nuts, which I think would definitely work here.  Double this recipe.  You'll be glad you made extra!
Coconut and Crispy Chickpea Trail Mix
1   15 ounce can chickpeas, drained and rinsed
3    Tablespoons extra-virgin olive oil, divided
1    teaspoon kosher salt, divided
3    2×1" pieces orange zest, sliced into 1/2"-thick strips
1/3 cup pumpkin seeds (pepitas)
1/4 cup rosemary leaves
1    Tablespoon pure maple syrup
1/4  teaspoon cayenne pepper
1/2 cup unsweetened toasted coconut flakes
Preheat oven to 400º.  Place drained chickpeas on a paper towel-lined rimmed baking sheet and let dry as much as possible.  (Dry chickpeas equals more crunch later.)  Remove chickpeas and paper towels and line baking sheet with parchment paper.  Return chickpeas to lined baking sheet, toss with 1 Tablespoon olive oil, and season with 1/2 teaspoon salt.  Roast chickpeas, tossing halfway through, about 35-40 minutes, or until crisp and golden brown.
While chickpeas are roasting, toss orange zest, pumpkin seeds, rosemary, maple syrup, cayenne, 1-2 Tablespoons of remaining olive oil and 1/2 teaspoon salt in small bowl.  Remove chickpeas from oven and add pumpkin seed mixture, tossing to coat.  Roast until orange zest is shriveled about 5 minutes more.  Remove from heat and toss in coconut flakes; let cool.
Trail mix can be made 5 days ahead.  Store airtight at room temperature.
– Bon Appétit, December 2017 – January 2018