Citrus-Braised Pork with Crispy Shallots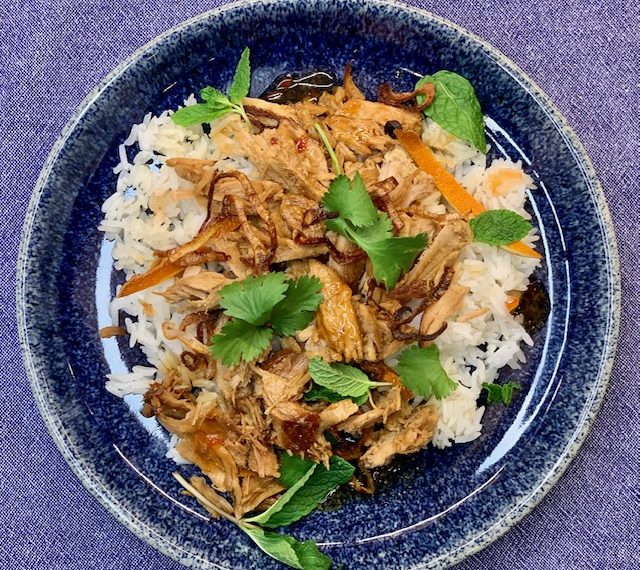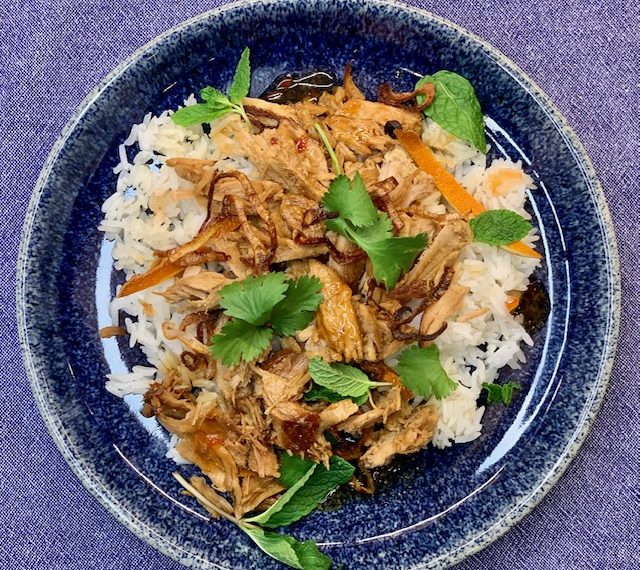 You can't help but notice the jewel-toned lemons, oranges, mandarins, grapefruit and limes brightly lining the produce aisle. More than just a pop of zingy color, citrus adds a vibrant burst of flavor, a delicious and nutritious way to help bring sunshine to any cold and wintry day. Wake up breakfast with freshly squeezed orange juice, or make a simple salad of sliced clementines, shaved ricotta salata, and toasted pistachios. Citrus brightens everything!
Citrus-Braised Pork with Crispy Shallots is supremely simple. Just 3 hours stovetop yields savory, fork-tender carnitas-style shredded meat with a tangy, glossy sauce. Served over jasmine rice, a sprinkling of fresh herbs and crispy shallots make it a deliciously memorable meal. Best of all, you'll have leftovers. On day 2, serve it over steamed green beans and roasted butternut squash. Or use it to top a sweet potato. Or add it to a grain bowl. You get the idea. 
If you have a heavy Dutch oven, use it for this recipe. You can brown, braise and simmer large quantities in it, and because it retains heat so well, it will help evenly cook and tenderize your meat. I used avocado oil because of it's higher smoke point and healthier profile. Once I browned the roast, tossing everything into the pot took 5 minutes, then it was hands off for 2 hours, until it was time to remove the lid. 
My pork roast weighed in at a mere 1.13 pounds, so I didn't cut it into 4 pieces as the recipe instructed, and I reduced the soy sauce from 1/3 cup to 1/4 cup, worried that it would make the braising liquid too salty. I did not have mirin so I substituted sherry. If you have brown sugar that has dried out, this is a good place to use it. I opened a new bag for my Christmas baking, wanting it to be fresh and sprinkly, like loose sand, but saved what was left in my previous bag for just this sort of thing. 
Deal with your garlic quickly by putting your unpeeled clove under the flat side of your chef's knife, blade facing away from you, and pressing firmly with the heel of your hand. Now that it's smashed, it will peel easily, then it's ready to add to the pot. Use a small paring knife to peel your orange, but be prepared for the awkward squeezing experience that will follow. (Note: peeled oranges are jiggly and impossibly hard to manage.) This was so clumsy it had me laughing.  
Don't be tempted to skip the shallots. They add a huge amount of flavor and take very little effort. The original recipe called for frying them in 1/3 cup of oil, but I only used about 2 tablespoons, just pouring without measuring, into the bottom of my pan. They browned, crispy and fragrant, with just the occasional stir. I only used one shallot and it made just the right amount relative to how much pork I was cooking. I bottled up the leftover oil and know it will add amazing flavor next time I make salad dressing. 
Citrus-Braised Pork with Crispy Shallots
3 lb. boneless pork shoulder, cut into 4 large pieces, fat cap trimmed
kosher salt
4 Tablespoons vegetable oil, divided
2 medium oranges
5 garlic cloves, smashed
1 3-inch piece ginger, finely chopped
1/4 cup soy sauce

 

1/4 cup mirin
2 Tablespoons light or dark brown sugar
1/4 teaspoon crushed red pepper flakes
2 cups water
3 large shallots, thinly sliced

 

steamed jasmine rice, cilantro leaves with tender stems, and mint leaves (for serving)
Trim fat cap from pork shoulder, cut into 4 large pieces, and pat dry; season on all sides with kosher salt. Heat 2 tablespoons vegetable oil in a large heavy pot set over medium-high heat. Working in 2 batches if needed, cook pork, turning as it browns, until browned all over, 8-10 minutes per batch. 
Peel 1 orange into big strips, then cut both oranges in half. Juice oranges into a measuring cup or small glass bowl, discarding seeds; juice should measure about 1/2 to 2/3 cup.
Nestle pork back into pot and add orange peel, orange juice, garlic cloves, ginger, soy sauce, mirin, brown sugar, red pepper flakes and water. Bring to a boil. Cover, reduce heat, and let simmer 2 hours. 
Remove lid from pot and simmer rapidly until pork shreds easily when pressed and sauce is thick enough to coat pork, about 1 hour. 
While pork cooks, heat remaining oil in a small skillet over medium-high heat. Cook shallots, stirring occasionally, until they are golden brown and crisp, about 6-8 minutes. Using a slotted spoon, transfer shallots to paper towels to drain; season immediately with salt. (Save shallot oil for roasting vegetables or making salad dressing.)
Using a fork, and working in pot, break pork apart just slightly. Spoon steamed jasmine rice onto plates or shallow bowls. Divide pork over rice and top with sauce from pot. Sprinkle with crispy shallots, then scatter cilantro leaves and mint on top. 
-bonappetit.com