Chocolate Chip, Banana and Oat Muffins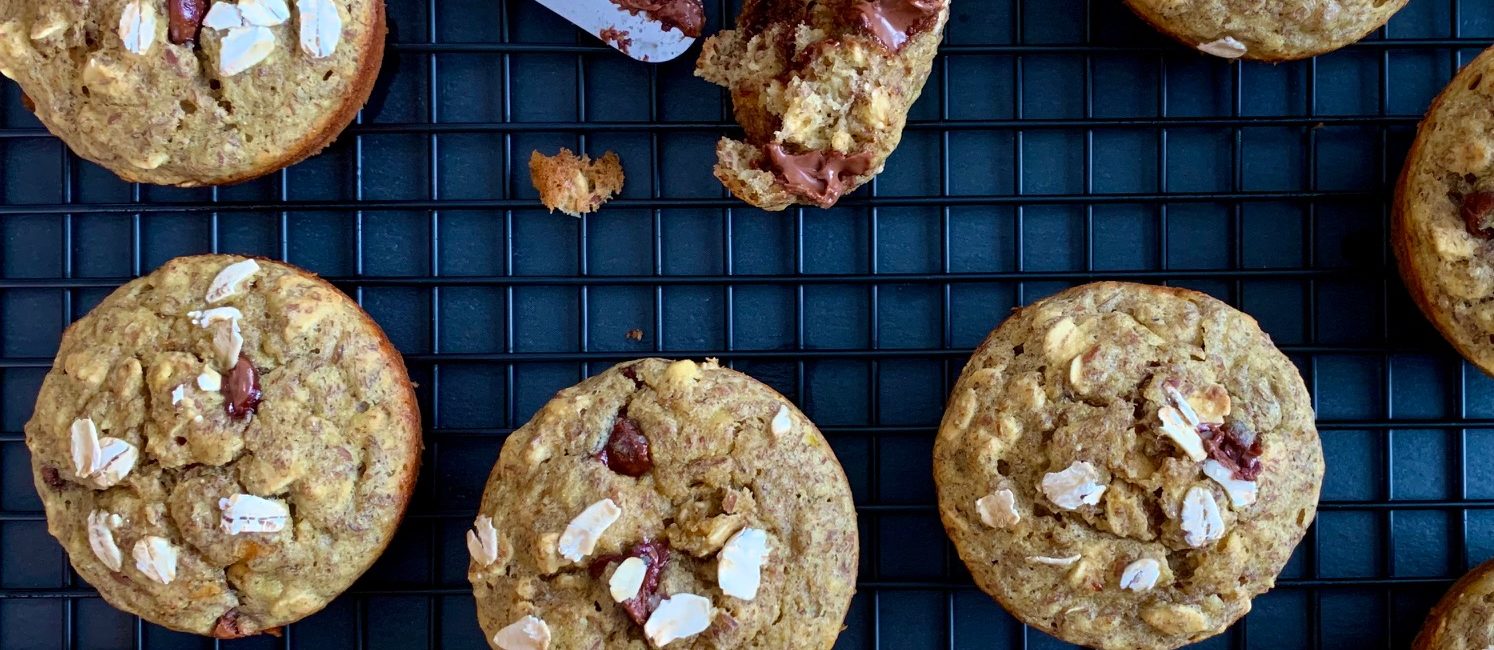 Today is Random Acts of Kindness Day, a day set aside to remind us to do those little things that make the world a better place. Do a good deed, reach out and help someone, or spread kindness in another way. Bake some home made muffins and share with someone who could use a little cheering up. 
These Chocolate Chip, Banana and Oat Muffins are made from ingredients you most likely have on hand, like those frozen ripe bananas lurking in your freezer. Add oats, flour, yogurt and some chocolate chips and you've got yourself the makings of a truly delicious muffin. You can use vanilla yogurt as instructed, but plain or reduced fat varieties will work here, too. Greek yogurt can be used, but if you have never tried Icelandic yogurt this recipe might encourage you. High in protein and calcium, Icelandic yogurt, otherwise known as Skyr, is delicious on it's own. Thick, smooth and tangy it's also perfect for smoothies, dips or dressings.  
This is a quick mix, low mess recipe. Unlike most bread or muffin recipes that are loaded with sugar, this one contains only 3 tablespoons of maple syrup which is just perfect when punctuated with the added sweetness from the gooey, warm chocolate chips. There is no added oil here, but the crumb is still moist and delectable thanks to the yogurt. Instead of using whole wheat flour, I made this with Bob's Red Mill Gluten-Free All Purpose Baking Flour to make it gluten-free and still add fiber. 
Serve warm from the oven, or gently reheat for about 15 seconds in the microwave on a low power setting. These are perfect for breakfast, and will hold you over till lunch thanks to a good dose of filling fiber from the whole wheat flour, flaxseeds and oats, and the added protein from the eggs and yogurt.
Take inventory of what you have and check expiration dates. If you have a surplus of baking supplies or canned goods that you won't be able to reasonably use, think about sharing with a friend or neighbor, or making a donation to a food bank so that food won't go to waste. 
Bake someone happy. Keep kindness going.  
Chocolate Chip, Banana and Oat Muffins 
1 1/2 cups whole wheat flour

 

1 cup ground flaxseed
1/4 teaspoon salt
1/2 teaspoon baking soda
1/2 cup siggi's 4% vanilla yogurt

 

3-4 very ripe bananas, peeled and mashed

 

2 large eggs

 

1 teaspoon vanilla extract
3 Tablespoons maple syrup
1 cup old-fashioned rolled oats
3/4 cup dark chocolate chips
Preheat oven to 350º F. Spray a 12-count muffin pan with nonstick cooking spray.
In a medium bowl, combine whole wheat flour, flaxseed, salt and baking soda. Stir together and set aside. 
In a large bowl, whisk together siggi's yogurt and bananas. Add eggs, one at a time, beating after each addition. Stir in vanilla and maple syrup. Add dry ingredients to the wet mixture, mixing until just combined. Gently stir in oats and chocolate chips.
Fill muffin cups generously to 3/4 full. Bake 17-20 minutes, or until a toothpick inserted in center comes out clean. Let cool until muffins remove easily, then transfer to wire rack.
Cover and store at room temperature, up to 3 days. Freeze up to 3 months. 
-recipe from siggis.com