Chocolate Cheesecake and Double Chocolate Chip Muffins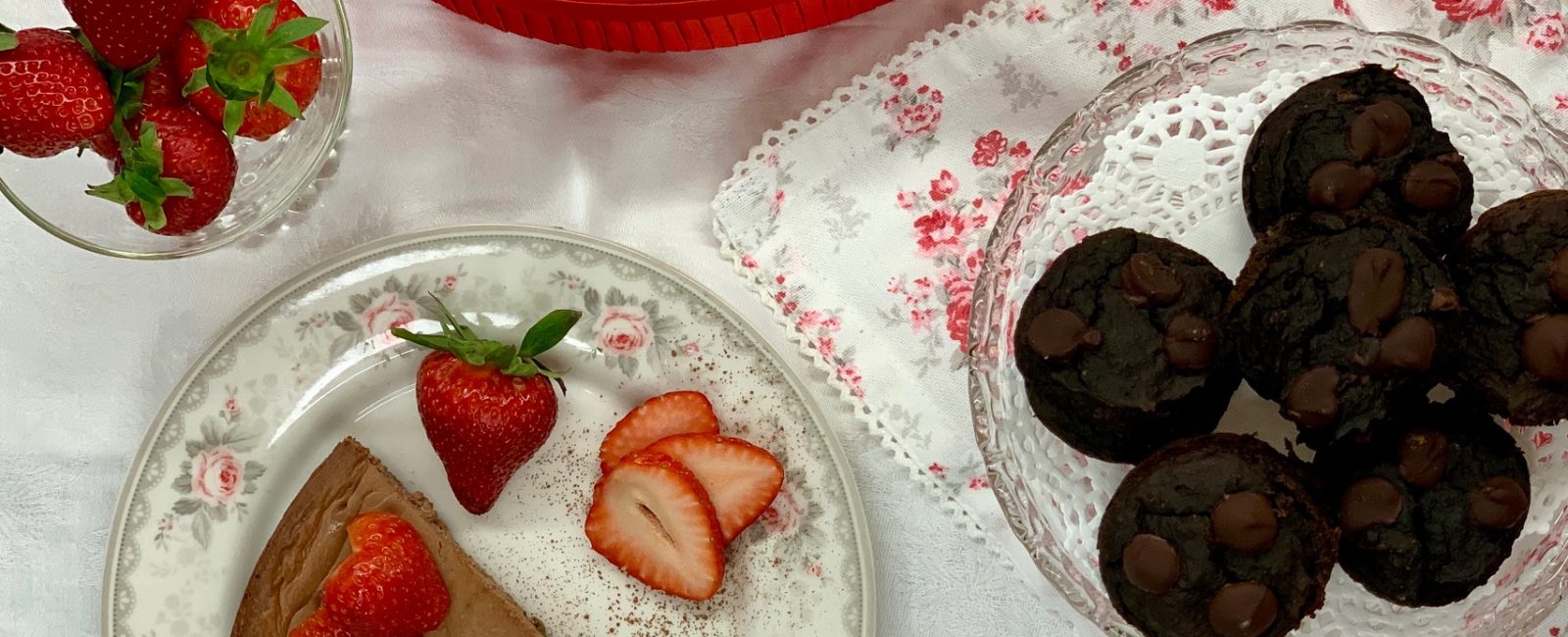 It's the sweetest day. Bake someone happy and show them your love with something sweet to make them feel special. Valentine's Day demands chocolate. It's romantic. Whether it arrives in a classic red heart shaped box, or it's served at the end of a fancy meal, chocolate is cupid's choice for dessert.
Here are two treats for your Valentine that are a bit healthier. This Chocolate Cheesecake is rich, creamy and fudgy. It delivers the dense forkfuls you'd expect from a traditional cheesecake and tastes every bit as decadent, but it has less fat and sugar. The very easy prep takes just a few minutes, but you do need to allow enough time to refrigerate after baking, a minimum of 4 hours or up to overnight.
You can dial the amount of sugar in this recipe back a bit if you like, or swap in your favorite sugar free sweetener. If you do want to adjust the amount or type of sugar, I recommend doing a quick blend of all of the cheesecake ingredients with the exception of the eggs, so that you can add the amount you find to be just right. Once you taste and adjust, add your eggs and blend to incorporate. I increased the cocoa powder to 1/3 cup, rather than the 3 tablespoons called for in the original recipe, to deepen the color and flavor. Serve the cake with fresh berries or make a quick sauce by simmering 1 cup of fresh raspberries or strawberries with 2 tablespoons water and sweetener to taste, for 5-10 minutes, breaking the berries with a spatula. Add additional water if needed, to thin.
I love that this cheesecake is so easy. You don't need to pre-bake the crust and it does not require a water bath. I do, however, wonder about the cooking temperature, and think 325º or 350º may be better. Full disclosure: my cheesecake cracked. And like most things that go wrong in the kitchen, I didn't let that bother me in the least. I am convinced that cracks are the reason why you see so many cheesecakes topped with fruit. 
Next up, dark chocolate muffins that are deeply delicious and stealthy healthy. Secret ingredient: spinach. It what helps to make these muffins so moist and you will not taste it a bit. All of the ingredients are good for you, including the chocolate, especially if it's the dark variety. Use whatever you may have on hand. You can't mess these up. Once I added a pouch of applesauce. I have also swapped in a banana and a sweet potato. Doing so let me skip the sugar and omit almost all of the oil. (I always use avocado oil, but I only use 1 tablespoon.) I used 2% milk one time, but I also have used coconut milk. My avocados were on the small side and so ripe that they needed to be used, so I tossed a whole one in. To make these muffins gluten-free and whole grain, I used oat flour and mixed it with garbanzo flour, using 1 cup of oat flour plus 2/3 cup of chickpea, to give them added protein and fiber as well. If a sweeter muffin is what your heart desires, by all means add some, or all, of the sugar. I find these deeply delicious with just the bit of sweetness from the applesauce, banana, or sweet potato. They are moist and satisfyingly dense with little hits of sweet from the melted chocolate chips in each bite. 
The batter will be very thick, like brownie batter. If you have a 1/4 cup cookie scoop it will help you fill the muffin cups quickly and evenly. Once baked, a small silicone jar scraper works well to help ease the muffins out of the tin. These are best served warm. Reheat them for 15 seconds in the microwave and enjoy! 
Level up your baked goods by taking their temperature. Here's a link for a great article describing the how's and why's of doneness temperatures. See the chart below for reference temperatures for your baked goods. The two recipes that follow should be cooked to 150ºF and 200-205ºF, respectively. 
Chocolate Cheesecake
nonstick cooking spray
3/4 cup chocolate graham cracker crumbs (about 4 whole crackers)
2 cups full fat cottage cheese, such as Daisy
1

 

8-ounce package light (Neufchatel) cream cheese, softened

 

3 large eggs
3/4 cup sugar

 

1/3 cup cocoa powder
1 teaspoon vanilla extract
Preheat oven to 375º F. Spray a 9-inch springform pan with nonstick cooking spray, then add graham cracker crumbs to pan. Using the bottom of a dry measuring cup, press crumbs evenly into bottom of pan; crust will not be very thick. Spray crust with cooking spray and place pan on a rimmed baking sheet. 
Combine cottage cheese, cream cheese, eggs, sugar, cocoa powder and vanilla in blender and blend until smooth. Pour over crust and bake until almost set, but still jiggly in center, about 40 minutes. Let cool completely, then chill in refrigerator for 4 hours, or up to overnight. Serve cold, topped with fresh berries or berry sauce.
– adapted from recipe by Katie Lee Biegel, foodnetwork.com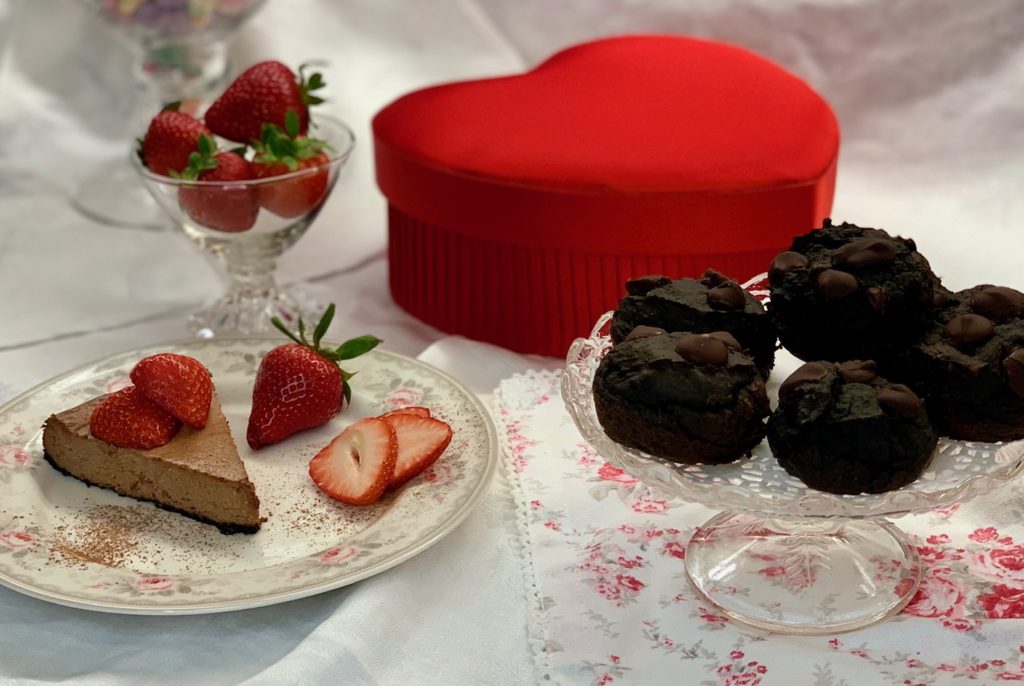 Double Chocolate Chip Muffins
5 cups baby spinach (5 ounces)
1/2 cup whole milk, or milk of choice
1/2 small ripe avocado, mashed (about 1/4 cup)
1/4 cup canola or avocado oil

 

1 large egg
1 1/2 teaspoons vanilla extract
1 2/3 cups all-purpose flour
2/3 cup unsweetened cocoa powder
2/3 cup packed brown sugar
1 1/2 teaspoons baking powder
1/2 teaspoon baking soda
1/4 teaspoon kosher salt
1 cup plus 1/4 cup dark chocolate chips (6 ounces total), divided
Preheat oven to 350º F. Spray a 12-cup standard muffin tin (or two mini muffin tins) generously with cooking oil spray, or line with paper liners sprayed with cooking oil spray. Combine spinach, milk, avocado, oil, egg and vanilla in blender and blend until very smooth, adding a splash more milk if necessary. Mixture should resemble a thick smoothie. 
In a large bowl, combine flour, cocoa powder, brown sugar, baking powder, baking soda and salt and whisk together. Add spinach mixture and stir well until combined. Fold in 1 cup of chocolate chips. Scoop batter into prepared muffin cups, then top with remaining 1/4 cup of chips. Bake until a toothpick inserted in center of a muffin comes out clean – about 20 minutes for regular-sized muffins and 10 to 13 minutes for mini muffins. 
Allow muffins to cool for 5 minutes before removing them, then transfer muffins to a cooling rack. 
– adapted from recipe by Nikki Dinki
BAKED GOODS TEMPERATURE CHART
Baked Good                          Pull Temperature
chocolate chip cookies           180ºF (82ºC)
rich-dough breads                   180-190ºF (82-88ºC)
lean-dough breads                  190-210ºF (88-99ºC)
quick breads, muffins,
cornbread,biscuits, scones   200-205ºF (93-96ºC)
cake, cupcakes,
angel food cake                      200-209ºF (93-98ºC)
molten (lava) cake                 160ºF (71ºC)
pound cake                              210ºF (99ºC)
crème brûlée, flan,
pumpkin pie                          170-175ºF (77-79ºC)
bread pudding, quiche,
meringue pies                       160ºF (71ºC)
cheesecake                             150ºF (66ºC)