Chiles Rellenos Breakfast Casserole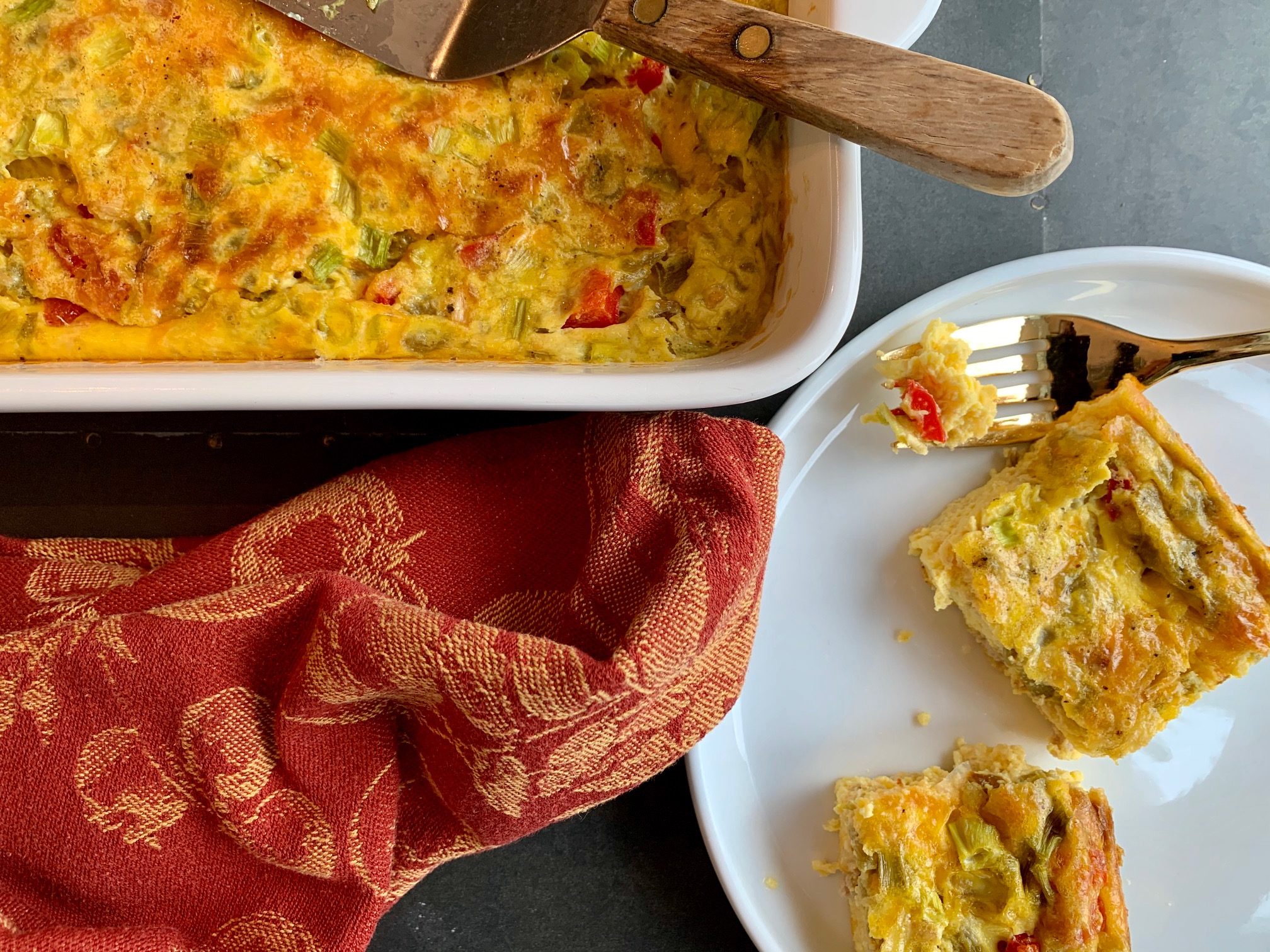 Kindness matters. In a world turned upside down, it matters even more. Show your family a little kindness this week with a breakfast ready when they are. This easy, make-ahead casserole is perfect for busy mornings. Somewhat frittata, kinda quiche, this Chiles Rellenos Breakfast Casserole is quick to make and easy to reheat, giving everyone a nice, hot breakfast on demand. Spicy, cheesy and delicious, it plays just as well for lunch or dinner, paired with a simple green salad, or not. 
To keep this on the lighter side, use reduced fat evaporated milk and reduced fat cheese. I added red bell pepper, onion, and a bit of Italian sausage to amp up the flavor. You can cook your sausage on the stovetop, but I like to use my Instant Pot to minimize splatters and keep mess to a minimum. Cook the whole roll of Isernio's Italian Chicken Sausage when you make this. You can use some for the casserole and transfer the rest to a zip top bag for the freezer, ready to go for topping pizza or adding into soup or other recipes. Add flavor and cut down on food waste by using the white part of your green onions here. As always, feel free to substitute. It's all about using what you have. 
Reheat individual serving squares on a parchment lined baking sheet in your toaster oven for no mess. Or microwave, covered, on a reduced power setting to gently reheat. You can also cut into squares and freeze on a parchment lined sheet. Once frozen, transfer to a freezer zip-top bag for individual, ready-to-eat servings.    
Cheesy, chili goodness perfect for warming your fall morning.
Chiles Rellenos Breakfast Casserole
1 roll Isernio's Italian Chicken Sausage (2/3 cup cooked for recipe)
1 teaspoon olive oil
1/4 cup chopped green onion, white part only
1/4 cup diced red bell pepper
1 4 ounce can fire roasted diced green chiles
6 large eggs, plus 3 egg whites – well beaten (or any combination to equal 12 oz. total)
1 cup Evaporated Lowfat 2% Milk
1/3 cup thinly sliced green onion, green part only

 

freshly ground black pepper
1/2 cup shredded mozzarella cheese
1 cup shredded low fat Mexican blend cheese
Preheat oven to 350º F.  Lightly coat a 13 x 9 baking dish with non-stick spray or brush with olive oil. Add Italian sausage to Instant Pot and set to "Sauté"; select "Adjust" and press "More". Cook sausage, breaking up with a wooden spoon, until it is no longer pink and thoroughly cooked. Remove with a slotted spoon and transfer to a bowl. Add olive oil to Instant Pot, then add chopped onion and red bell pepper. Cook, stirring occasionally, until lightly brown, reducing heat if needed. Spoon onion and bell pepper evenly over the bottom of prepared baking dish. Add 2/3 cup of cooked Italian sausage. Spoon diced green chiles evenly over all. Add eggs and evaporated milk to a large bowl or Pyrex liquid measuring cup. Use a whisk or an immersion blender to mix until thoroughly combined. Pour egg mixture slowly over casserole ingredients. Scatter green onions evenly over top and season generously with freshly ground black pepper. Sprinkle mozzarella and Mexican blend cheese over all. Bake for 40 – 50 minutes or until set.