Chicken Sandwich with Tangy Mustard Sauce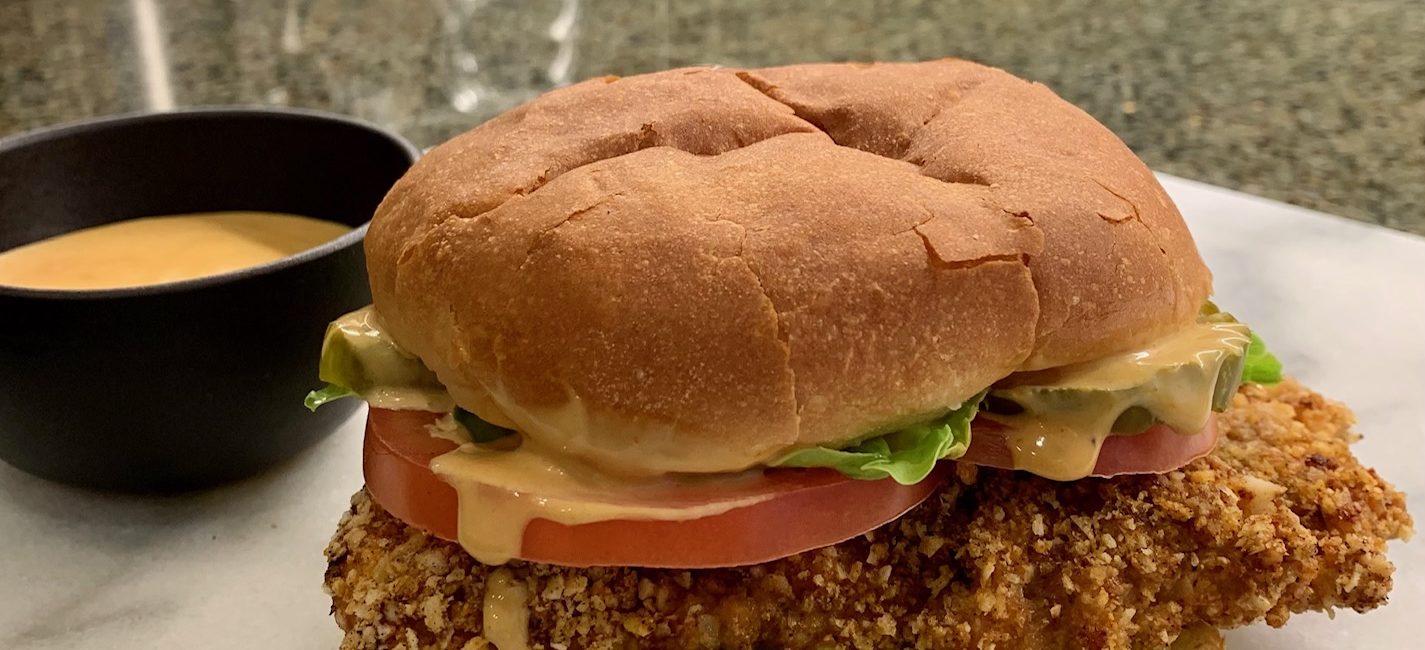 Happy Spring! Brighter days are ahead and so is a special recipe guaranteed to shake things up in your kitchen. Hungry for something good? 
March 30 is National Hot Chicken Day. Newsflash: a juicy, deliciously crispy breaded chicken sandwich can be made in your home kitchen and there's no waiting in a long line of cars. Here's how.
Start by soaking your chicken overnight in pickle juice. (Pickle juice, I love you.) After you eat that last pickle, save the jar and it's juice. Use it to quick pickle any veg you like. Try sneaking a splash in your salad, or dice the pickles and add them in, too, like I do when I run out of cucumbers. Really. 
Now the breading. For craggy breaded crunchiness, the secret is: rice crackers. Crushed to varying crumb size in your food processor, they make the coating extra crispy without frying. They also make it gluten-free. 
You may find the mustard sauce sweet enough without adding any honey. Double it and you'll have enough to use for spreading and dipping again. Double the chicken, too. You'll be glad you did. Soak your baking rack in a sink filled with sudsy water so you can savor the table conversation along with your sandwich. 
Fans of delicious chicken sandwiches rejoice. You can make them at home.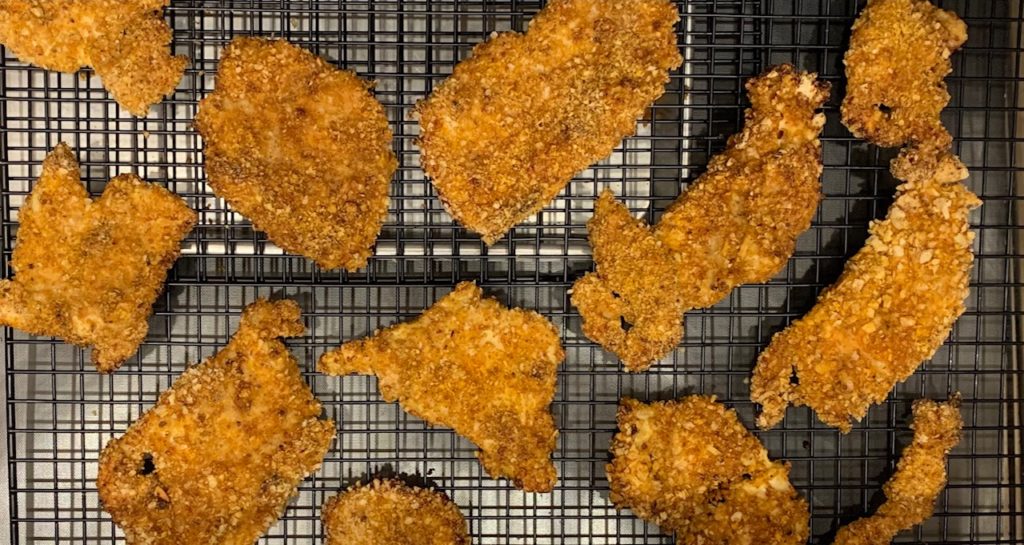 Chicken Sandwich with Tangy Mustard Sauce
2 skinless chicken breasts
1 cup pickle juice
1 large egg
2 Tablespoons light mayonnaise
1 cup crushed rice crackers (or breadcrumbs)
1 teaspoon garlic powder
1 teaspoon onion powder
1 teaspoon paprika

 

3/4 teaspoon kosher salt
1/2 teaspoon ground black pepper
4 whole-grain buns
lettuce, sliced tomato, pickles
Tangy Mustard Sauce
1/4 cup light mayo

 

2 Tablespoons bbq sauce
1 Tablespoon yellow mustard
1 teaspoon lemon juice
1 – 2 teaspoons honey, optional

 
Place chicken breasts in a large zip-top bag. Pound each breast with a meat tenderizer or soup can to a 1/2 inch thickness all around. Cut each breast in two, then place the 4 pieces into a plastic bag or a bowl. Cover with pickle juice and transfer to refrigerator to marinate overnight, or at least 30 minutes. 
Preheat oven to 450º F. Line a baking sheet with parchment paper or aluminum foil and place a  wire baking rack on top. Brush rack with oil or liberally mist with nonstick oil spray. 
Set out 2 shallow, wide bowls. Add egg and mayo to the first bowl and mix until well combined. In the second bowl, add crushed crackers and seasonings and stir together. Working one piece at a time, lift chicken out of pickle juice and shake to remove excess liquid. Dunk into egg-mayo, turning to coat well. Transfer to cracker bowl and pat all over to fully coat. Place on wire rack then mist top of chicken with oil spray. Bake 20 minutes or until internal temp registers 165º F and tops are crispy and brown. 
While chicken cooks, combine all of sauce ingredients in a small bowl and mix together. 
To assemble: spread sauce on inside of top and bottom bun. Layer chicken, pickle, tomato and lettuce on top of bottom bun. Enjoy!
– adapted from recipe by Joy Bauer