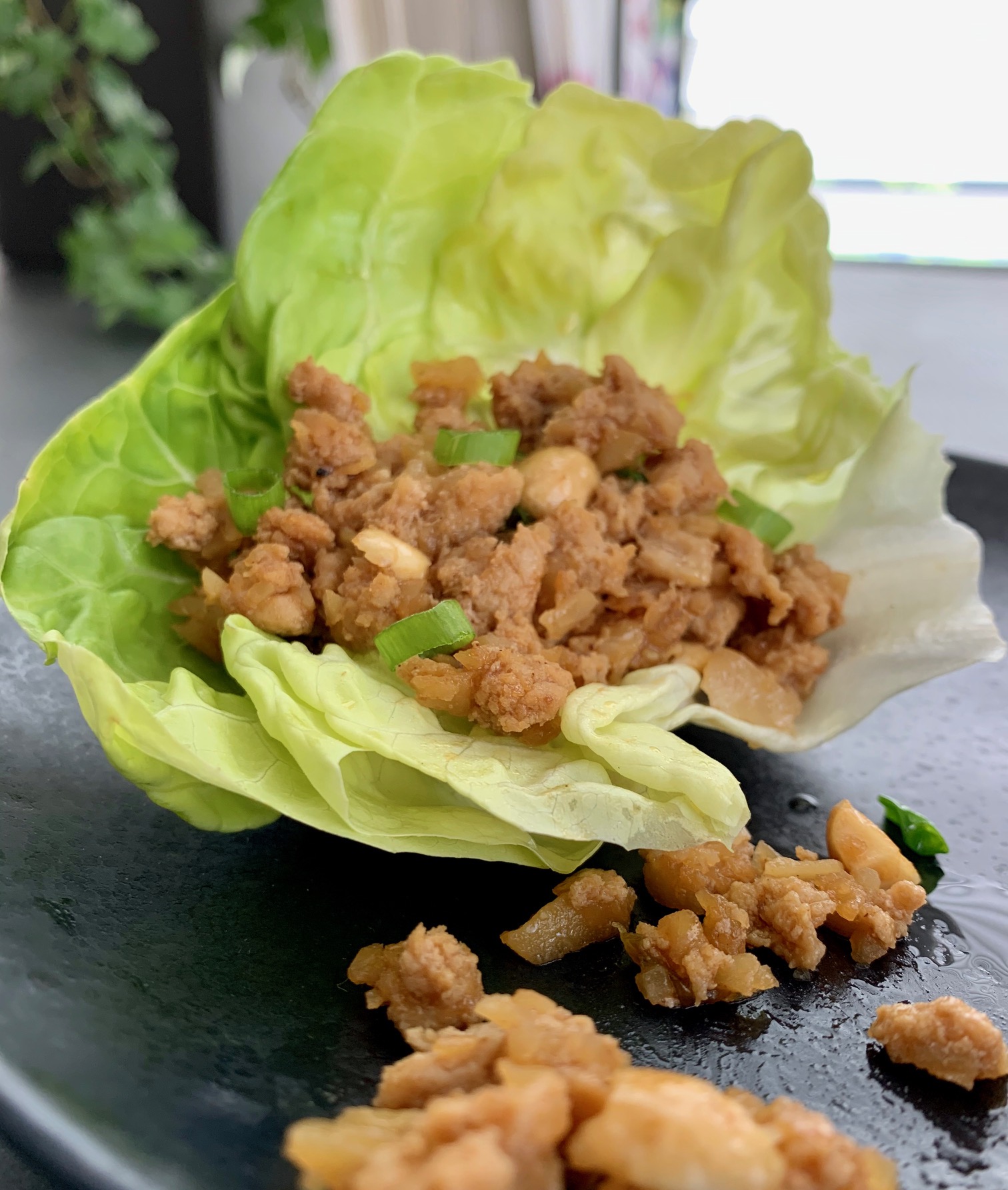 I have been trying to crack the PF Chang's Lettuce Wrap recipe for a very long time. I have small bits of detail, but the actual recipe is a closely guarded secret and what little I've learned is as cryptic as the clues to the DaVinci Code. I am not subtle when I inquire about specifics. Once, my interest spurred the manager to visit our table and stand guard, just in case our server talked too much. This is what I know: it is not all white meat, there is an egg soak in there somewhere, and try as you might you will not get the exact flavor at home unless you happen to have the capability to wok-fire like they do at the restaurant.  There is something in this cooking method that generates the characteristic flavor of the PF Chang's Lettuce Wrap and that is all I'm going to say about that.
A few tips for lettuce wraps at home. Use ground chicken or equally good, ground turkey. Add mushrooms. They add tons of flavor, extra nutrition, and they help bulk up the recipe and stretch the amount of meat.  If you have a mini food processor, use it to quickly mince the mushrooms and water chestnuts. As a healthier stand-in for those little fried noodles, I add peanuts, which also gives a little bit of texture and crunch to your filling.
Whatever your reason for not being able to visit your favorite place, I know that it's still in your heart. Write to me. Share your memory and I'll see about getting a recipe for you. As long as it's not PF Chang's. 
Chicken Lettuce Wraps
1 Tablespoon olive oil
1 pound ground chicken or turkey
1 4 ounce container shiitake or crimini mushrooms, finely chopped
1 clove garlic, minced
1/2 teaspoon garlic powder
3 green onions – white part roughly chopped, green part thinly sliced

 

1/2 teaspoon fresh grated ginger, or dried ginger

 

2 Tablespoons soy sauce or tamari
2 Tablespoons hoisin sauce
1/2 Tablespoon rice vinegar
1 8-ounce can whole water chestnuts, drained, finely diced
toasted sesame oil

 

1/4 cup roasted, salted peanuts, roughly chopped

   

1 head iceberg or butter lettuce, leaves separated
Heat olive oil in a large saucepan over medium high heat. Add ground chicken or turkey and cook about 3-5 minutes, using a spoon to break up and crumble the meat as it cooks. Add chopped mushrooms and continue to cook and stir until ground meat is thoroughly cooked. Stir in garlic, garlic powder, white part of onions and ginger and continue to cook about 2 minutes more, or until onions soften. Combine soy sauce, hoisin, and rice vinegar in a small bowl and stir. Add sauce mixture to ground meat and stir well to coat. Add water chestnuts, sliced green part of onions and chopped peanuts. Drizzle with sesame oil and stir. Plate lettuce leaves and serve family style, letting everyone spoon their filling and make their own lettuce wraps.