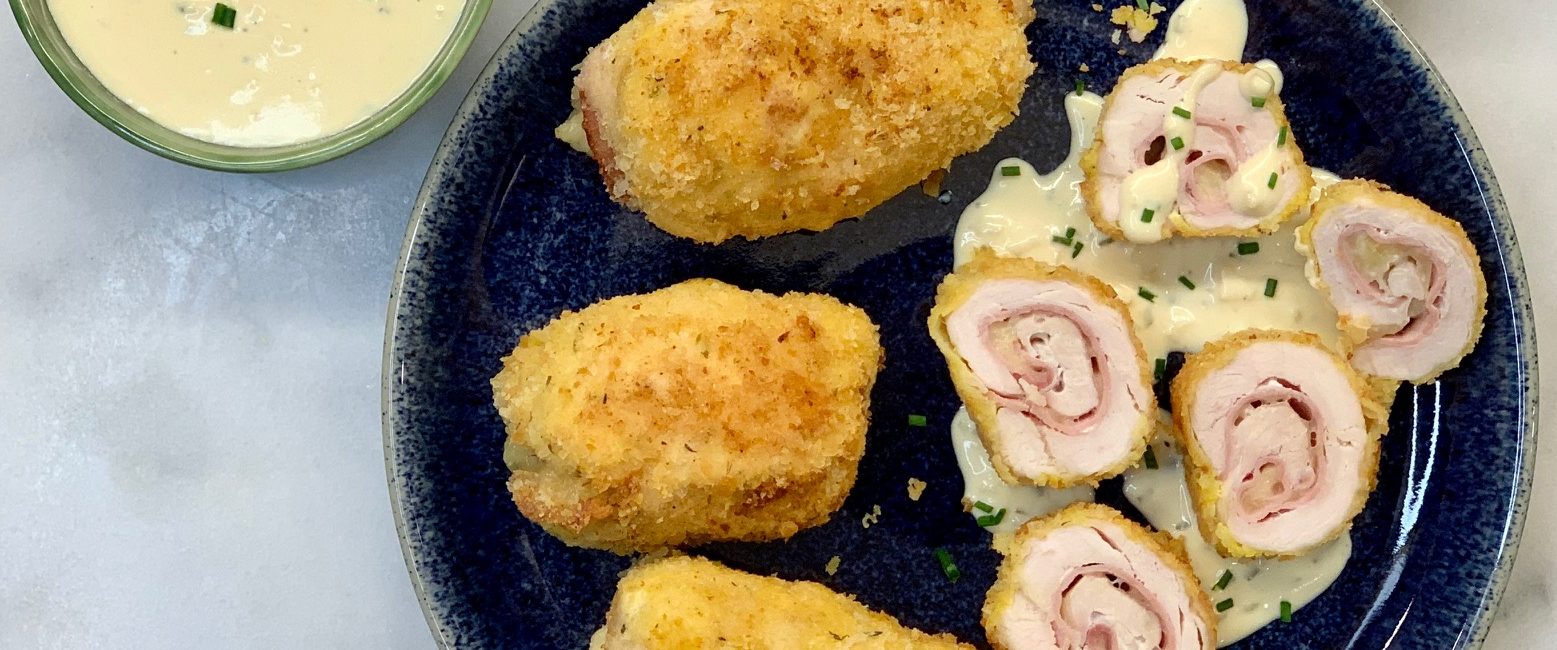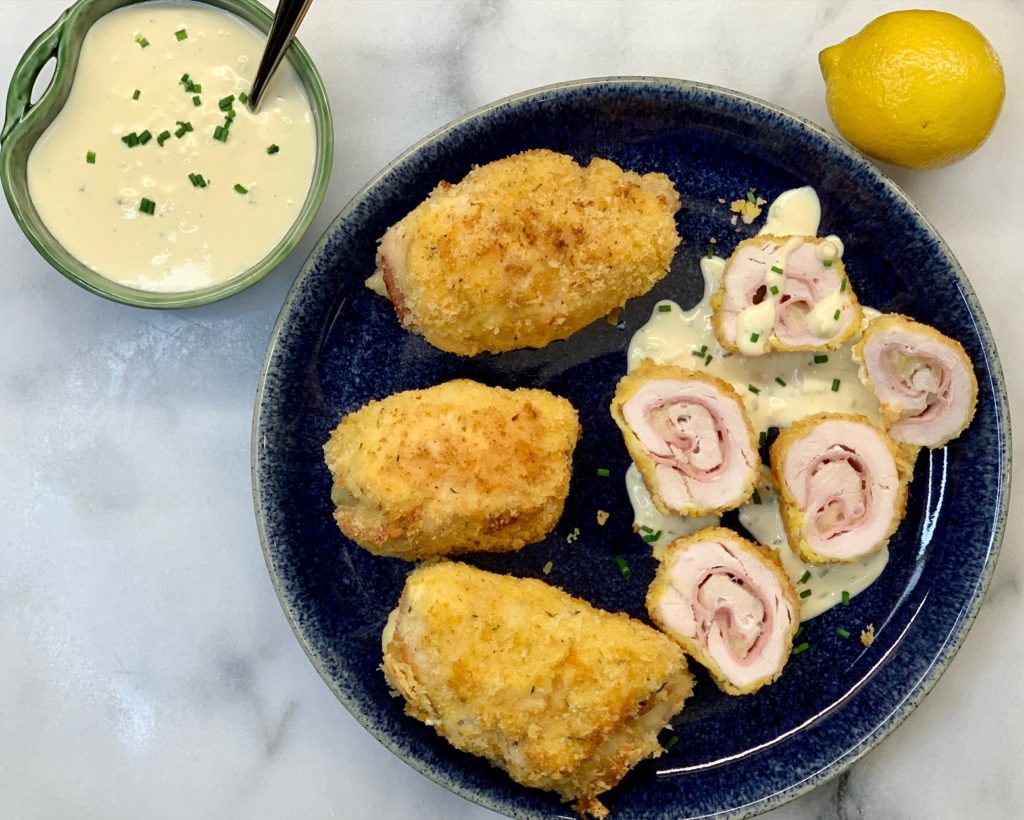 Elegant, and oh-so-delicious, Chicken Cordon Bleu is a classic dish that stands the test of time. Crispy breadcrumb-crusted boneless, skinless chicken breasts wrapped around thinly sliced ham and melted cheese, you don't need to wait for a special occasion to make this special dish. 
For Traditional Chicken Cordon Bleu, pound the chicken breasts so that they are thin enough to roll. After you stuff them with the ham and cheese, dredge them and then pan fry until golden. Easy Chicken Cordon Bleu has all the flavor and all the crunch, but it's baked, instead of fried. You can skip the pounding and just cut a pocket into the chicken breast, then stuff it with cheese rolled inside the ham. You can also skip the dredging by coating with a Dijon-mayonnaise mixture and sprinkling with pre-toasted breadcrumbs. I tried making both recipes, and while I love the classic, the easy prep is so speedy  you can make it on a weeknight. 
Pie plates work well for the dredging station components. Use gluten-free flour and breadcrumbs if you would like to make this gluten-free. The Shallot-Dijon Cream sauce is easy to make and it's delicious. A little goes a long way, but you can use any that you have left to serve over vegetables, fish, potatoes, or meat.
Try one, or try both. Freeze a few, and you can toss them in the oven for an easy, yet impressive dinner that never goes out of style.
Chicken Cordon Bleu
4 boneless, skinless chicken breasts, butterflied
kosher salt
4 thin slices deli ham
4 slices Swiss cheese
1/4 cup all-purpose flour
2 large eggs, whisked with 1 teaspoon water
1 1/2 cups plain breadcrumbs

 

2 teaspoons picked fresh thyme leaves (or 1 teaspoon dried thyme)
2 teaspoon garlic powder
2 teaspoon onion powder
2 Tablespoons extra-virgin olive oil
2 Tablespoons unsalted butter
Shallot-Dijon Cream Sauce
1 Tablespoon unsalted butter
1 shallot, finely minced
1/3 cup dry white wine
3/4 cup heavy cream
2 Tablespoons Dijon mustard
1 lemon, halved
kosher salt and freshly ground black pepper
1 Tablespoon minced fresh chives
Place one butterflied chicken breast between 2 sheets of plastic wrap. Pound with a meat mallet or wooden rolling pin to about 1/4-inch thickness. Repeat with remaining chicken. Working with one flattened piece of chicken at a time, position chicken with the long side facing you and season with salt. Lay a slice of ham on top of chicken, then top with a slice of cheese. Roll up tightly into a long log, secure with a toothpick and set aside. Repeat with remaining chicken, ham and cheese. Season each log with salt. 
Prepare a dredging station. In a wide, shallow dish, add the flour and season with salt. In a second dish, add the egg and water mixture and whisk together. In a third dish, combine the breadcrumbs with thyme, garlic and onion powders, and 1 teaspoon salt.
Working with one chicken breast roll at a time, dip into flour, shaking off any excess. Dip into egg, then transfer to breadcrumbs, pressing crumbs down to ensure they adhere to chicken. Repeat with remaining chicken pieces. 
Preheat oven to 350º F. Heat oil in a large skillet over medium heat. Add butter and let melt. Working in batches, if necessary to prevent crowding, add the chicken to the pan. Cook chicken until golden brown on all sides, 4 to 5 minutes per side; transfer to a baking sheet lined with a wire rack. Bake until a thermometer inserted in the center reads 165º F, about 6 to 8 minutes.
For sauce: Melt butter in a medium saucepan over medium heat. Add shallot and cook, stirring until softened, about 2 minutes. Add wine and reduce for 1 minute. Add cream and mustard and whisk to combine. Squeeze lemon juice over sauce, season with salt and pepper and cook, whisking continuously until thickened, about 5 minutes. Stir in chives. Set aside and keep warm.
Working with one piece of chicken at a time, remove the toothpicks. Slice the chicken crosswise into 5 rounds and arrange in a single layer on a plate. Squeeze some lemon juice over the chicken. Spoon sauce on top of and around the chicken. Repeat plating with the remaining chicken and sauce. 
-Geoffrey Zakarian
Easy Chicken Cordon Bleu
1/2 – 1 cup panko breadcrumbs
1/2 teaspoon dried thyme

 

1 teaspoon garlic powder
1 teaspoon onion powder
salt and freshly ground black pepper
olive oil spray

 

2 small chicken breasts
4 slices Swiss cheese
4 slices ham
1 1/2

 

Tablespoons mayonnaise
3/4 Tablespoon Dijon mustard
Preheat oven to 350º F. Spread breadcrumbs on a foil-lined baking sheet and season with thyme, garlic and onion powder, 1/2 teaspoon salt and freshly ground black pepper; spray with oil. Bake for 3 minutes or until light golden. Remove from oven. 
Cut a pocket into the long side of each chicken breast. Roll 1 slice of cheese into thirds, then roll up inside 1 slice of ham. Place ham and cheese roll into pocket, then repeat, so that each chicken breast has 2 rolls; close pocket and seal with 1 or 2 toothpicks. Sprinkle chicken with salt and pepper.
Mix mayonnaise and mustard in a small bowl. Spread onto top and sides of chicken (not underside). Move breadcrumbs to sides of baking sheet, then place chicken in center. Spoon crumbs over chicken, pressing onto sides. Spray with oil. Bake 25 to 30 minutes, until golden brown and cooked throughout, and a thermometer inserted in center measures 165º F. Remove toothpicks. Serve with Sahllot-Dijon Cream Sauce. 
-adapted from recipetineats.com