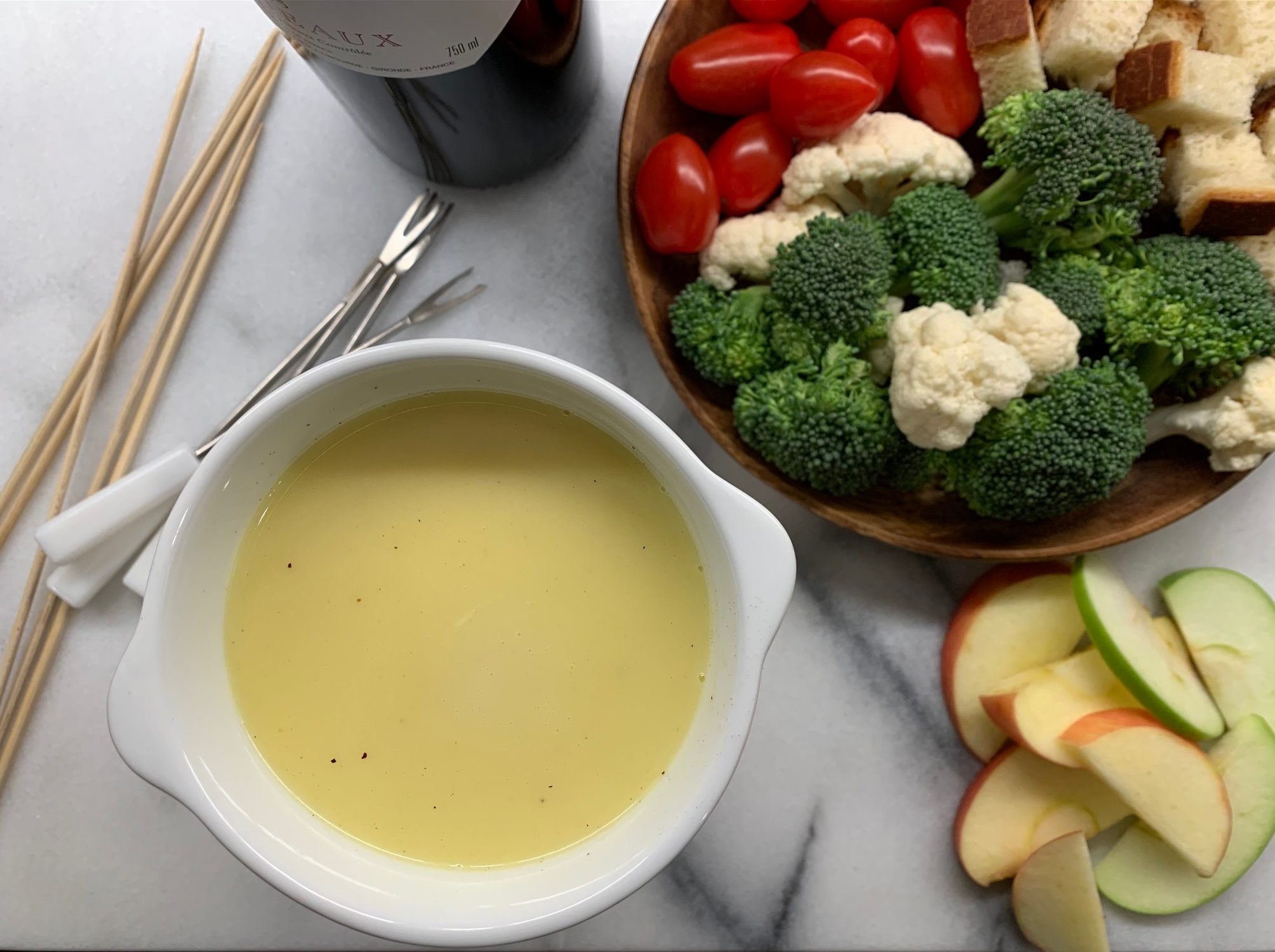 January 20 is National Cheese Lover's Day. Celebrate with an easy, home-made Cheese Fondue that's just perfect for warming up cold, damp wintry nights. Totally doable with what you have on hand, you can make this in no time, adding a nice, cozy element to your charcuterie or snack board. 
Classic Swiss fondue is typically made with grated Gruyère and Emmentaler, but if you want to make a meal out of what you might have, you can certainly substitute any cheese that will melt, like the Cheddar or Monterey Jack in your fridge. As for your wine, pick one that's not too sweet, like a Pinot Grigio, Chardonnay or Sauvignon Blanc. No wine? You can also use beer or hard cider. Doesn't that sound good? Add the kirsch if you have it – don't fret if you don't. 
Some fondue recipes call for flour, but using cornstarch makes this gluten-free. You can toss the cornstarch with the grated cheese, or you can add it to the wine at the beginning. Add the cheese slowly while you stir so that it fully incorporates as it melts. Use care not to boil or overcook the fondue or it will get stringy. Before you know it, it's a warm, thick, dippable dinner. Add in some fruit and veg and you've got yourself a healthy meal. Well, sort of. 
Don't have a fondue pot? Use can transfer your fondue to a small crockpot set on low. Or use a cast iron skillet and let your family gather around the stove. If you don't have fondue forks, wood skewers work well. Be sure to continue stirring the fondue as you dip and be careful to adjust the heat accordingly or you will end up using all that time you saved cooking to scrub scorched cheese off the bottom of your pot. 
What to serve with fondue? Small red-skinned potatoes, steamed and cut into chunks. Your favorite bread, cut into cubes and maybe grilled or toasted. Slices of apples or pears, broccoli or cauliflower florets, mushrooms, chunks of ham or sausage, and tiny grape tomatoes. Oh, and some wine. Gather with the folks under your own roof, share safely and enjoy. 
Fondue. It's a perfect pantry party meal. You're already having wine and cheese for dinner, why not make it warm and melty? 
Cheese Fondue
1 garlic clove, peeled and halved
1 cup dry white wine
1 Tablespoon plus 1 teaspoon cornstarch
1 pound Gruyère cheese, grated
1/2 pound Emmentaler cheese or other Swiss cheese, grated
1 1/2 Tablespoons kirsch
freshly ground black pepper
ground nutmeg
Rub the inside of a medium enameled cast-iron casserole or fondue pot with the cut side of garlic clove; discard garlic. Add wine and cornstarch to pot and whisk to combine. Stir in Gruyère and Emmentaler and cook over medium heat, stirring occasionally, until cheeses begin to melt, about 5 minutes. Add kirsch, freshly ground black pepper and a generous pinch of nutmeg. Continue to cook, stirring gently, until creamy and smooth, about 10 minutes. Serve at once. 
– adapted from foodandwine.com