Cheddar Bacon Cheese Ball Bites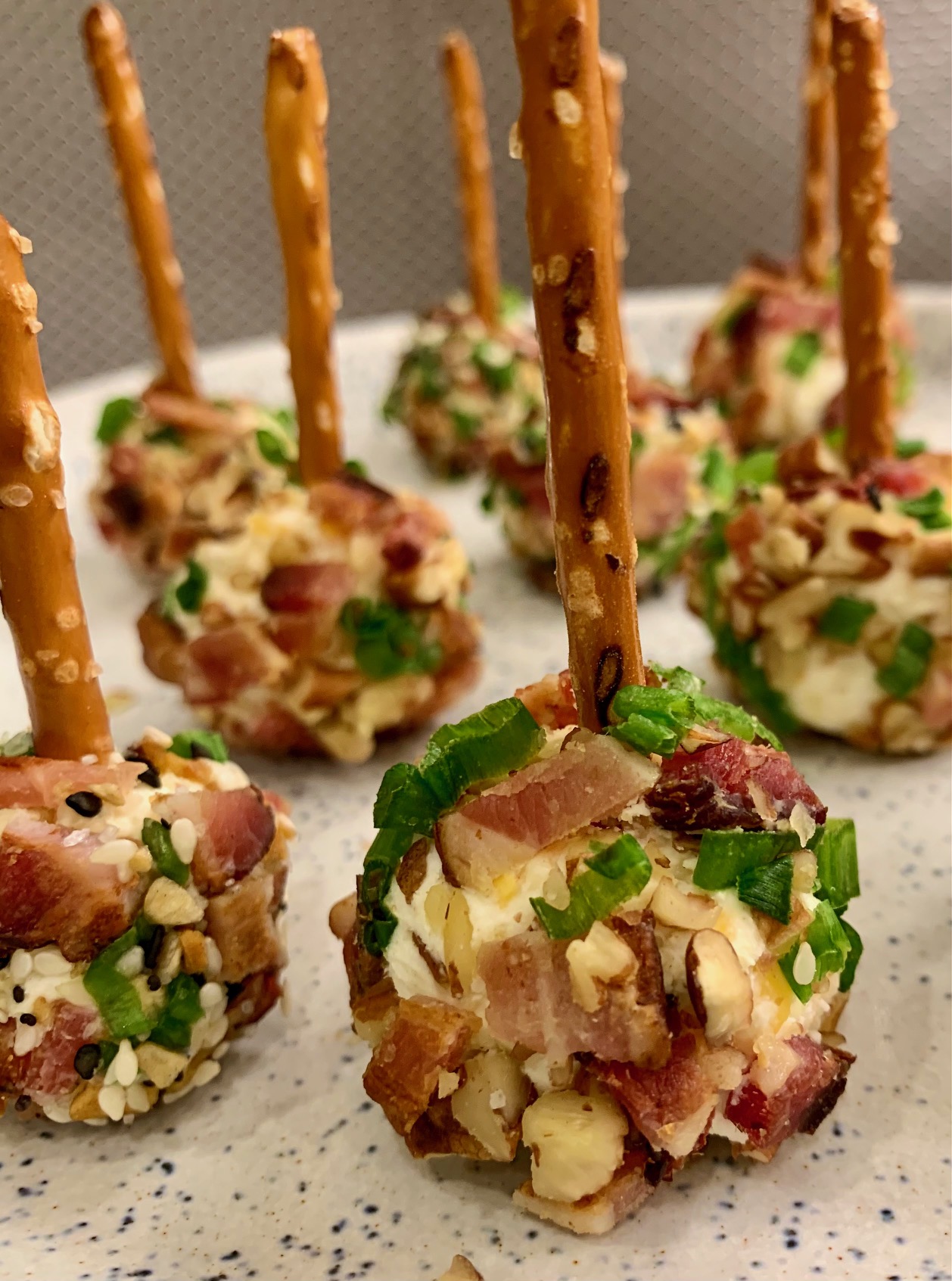 The cheese ball: a harbinger of both Christmas past and present. It's an old school app and it's just what your party needs. Why make one cheeseball when you can make mini? These Cheddar Bacon Cheeseball Bites are poised for partying. With a handy pretzel handle, they're a pandemic friendly, hands free option. Most of all, they are fun and can't we all use a little bit more of that right now? 
Get creative with the add-ins. Sprinkle in ranch or taco seasoning, spice it up with jalapeño, stir in a bit of barbecue or hot sauce, or toss in dried cranberries. Or add smoked paprika, Old Bay Seasoning, a bit of horseradish, or a mix of any spices that you like. The cream cheese and cheddar combination can be varied as well. Try goat cheese, blue cheese, or brie. For a nut free option, leave out the pecans and add Everything Bagel Seasoning to the bacon and chives, or roll in crushed Chex Mix. Make them ahead and roll in coating just before serving. Bites can be stored, covered and refrigerated, for up to one week.
One holiday tradition we can keep this year: the office party. Even if the office is just your soft clothed housemates, your home team has been with you since the beginning. Why not plan a fun little celebration? No designated driver needed, you're safe at home. Play a few games. How about a Different Sweater contest where everyone dons something they haven't been wearing as soon as it comes from the wash? Or a holiday-themed musical game of "Wayne Newton or Brenda Lee?" (Especially fun after a few eggnogs and played with those under 30.) Have a recognition gift (an extra roll of toilet paper?) for the guy who never minds going to the door in his pajamas. And an award for the person who consistently makes another pot of coffee when they drink the last cup. 
Cheers and stay merry.
Cheddar Bacon Cheese Ball Bites 
for cheese ball bites:
8 ounces cream cheese, softened to room temperature
3/4 cup grated cheddar cheese

 

3/4 teaspoon garlic salt
freshly ground black pepper
pretzel rods
for coating: 
1/2 cup crumbled bacon bits
3/4 cup minced chives
1/2 cup toasted pecan pieces*
3 Tablespoons Everything Bagel Seasoning*
Line a sheet pan with parchment paper. Combine cream cheese, cheddar cheese, garlic salt and black pepper in a medium bowl and mix well. Scrape sides of bowl and mix again until thoroughly combined. Use a heaping teaspoon or a small cookie scoop to measure cheese mixture into small portions, then use clean hands to roll each portion into a ball and place on lined sheet pan. Transfer to refrigerator and chill for 1 hour. Combine bacon bits, chives and pecan pieces on a small plate and mix together. Roll each cheeseball bite into coating mixture, turning and pressing gently if needed, to coat all sides. Press a pretzel rod gently into the top of each cheese ball bite. 
*omit pecans and add Everything Bagel Seasoning for a nut free option  
– inspired from hallmark.com and delish.com