Carrot-Parsnip Soup with Seedy Power Sprinkle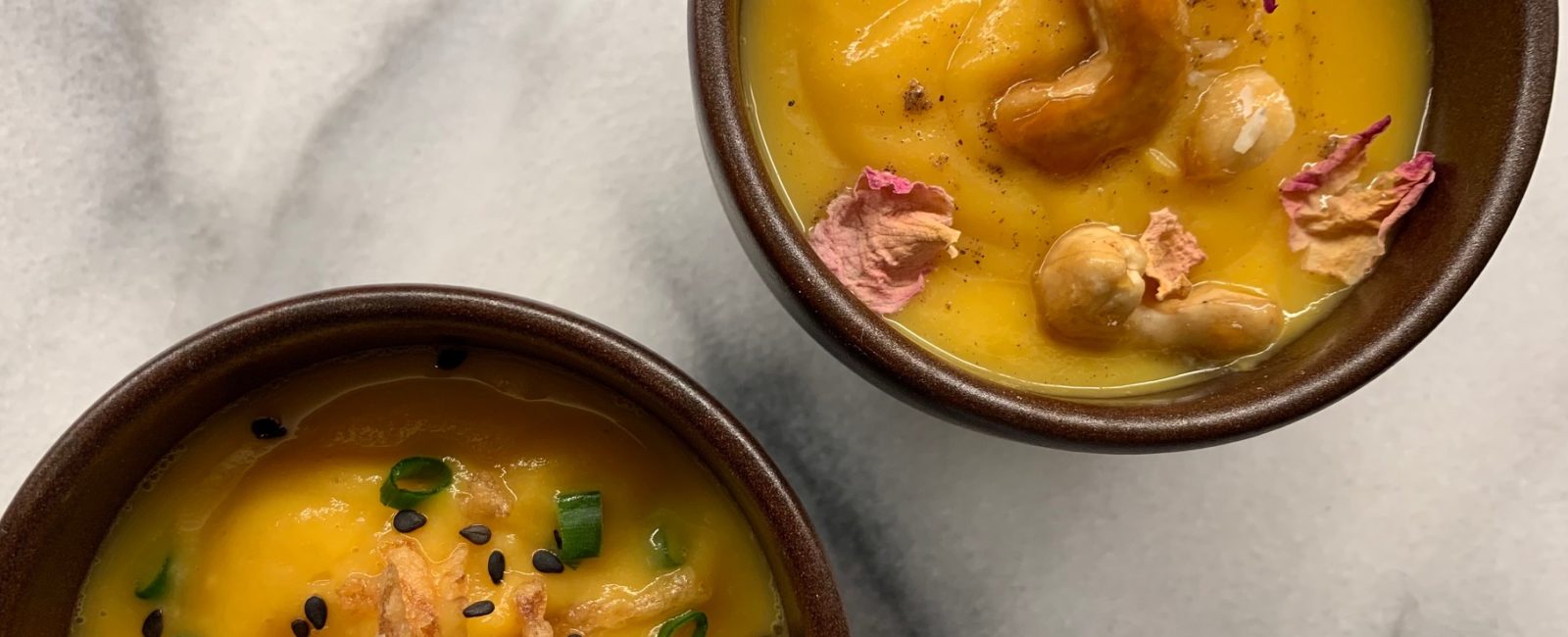 Whether you are making a thrifty meal out of odds and ends, or starting from scratch, a bowl of soup is soothing, satisfying sustenance that's easy to achieve no matter what you may have on hand. Lean on long-lasting winter vegetables to deliver a flavorful, filling meal that tastes like hard work, even if it isn't. If you have never tried parsnips before, now is the time. They are at their absolute best in the dead of winter, and their complex, unique flavor makes this highly storable root vegetable a good one to keep on hand. Sweetly similar to carrots, their earthy, nutty, fragrantly spicy taste gives this rich, creamy Carrot-Parsnip Soup all the flavor it needs.
Now for the fun part. Make your soup a whole lot better with some creative toppings. Add a crunchy element, like toasted pumpkin, sesame, or sunflower seeds. Ditto nuts, like pecans, pistachios, candied cashews, or roasted peanuts. Try using potato chips, toasted coconut chips or a bit of your favorite snack mix. Croutons, crispy chickpeas or fried onions are all fair game, too. Want to make it even better for you? Top with this addictively crunchy, nutrient-rich Seedy Power Sprinkle. Crunchy, salty, spicy, sweet, it's a simple way to add some nutritional oomph and flavorful flair to your soup, yogurt, salad, or veggies. 
Celebrate National Soup Month and International Creativity Month with these two easy recipes. Delicious, nutritious, and simple. Enjoy!
Carrot-Parsnip Soup with Seedy Power Sprinkle 
2 teaspoons olive oil
2 1/2 cups chopped yellow onion
3 cups scrubbed, coarsely chopped parsnip (about 1 pound)
3 cups water
2 1/2 cups coarsely chopped carrot (1 pound)
3 1/2 cups reduced sodium chicken broth or *or 3 1/2 cups water plus
1 heaping Tablespoon Better Than Bouillion Reduced Sodium Roasted Chicken Base
salt and freshly ground black pepper
Heat 2 teaspoons olive oil in a Dutch oven over medium heat. Add onion and cook until tender, stirring occasionally. Add parsnip, water, carrot and chicken broth; bring to a boil. Reduce heat, cover and simmer until vegetables are tender, about 50 minutes.
Transfer half of cooked mixture to blender and process until smooth. Pour puréed parsnip mixture into a large bowl. Repeat with remaining vegetable mixture. Season with salt and freshly ground black pepper. Ladle into bowls and top as desired. 
– Cooking Light, December 2004 
Seedy Power Sprinkle: Whisk 1 large egg white, 1 Tablespoon olive oil, 1 Tablespoon honey, 1 teaspoon Aleppo-style pepper (optional), 1 teaspoon kosher salt and 1 Tablespoon water in a medium bowl to combine. Add 1 cup sunflower seeds, 1/2 cup chia seeds, 1/2 cup flaxseeds, 1/2 cup raw sesame seeds, 1/2 cup hemp seeds (optional). Stir to coat; let stand 30 minutes. Preheat oven to 325º F. Spread seed mixture evenly on rimmed, parchment lined baking sheet. Bake about 20-25 minutes, stirring gently after 10 minutes, until clusters form and golden brown and crisp. Let cool. Store airtight at room temperature.   
– Epicurious, December 2019