Broccoli Spoon Salad with Warm Vinaigrette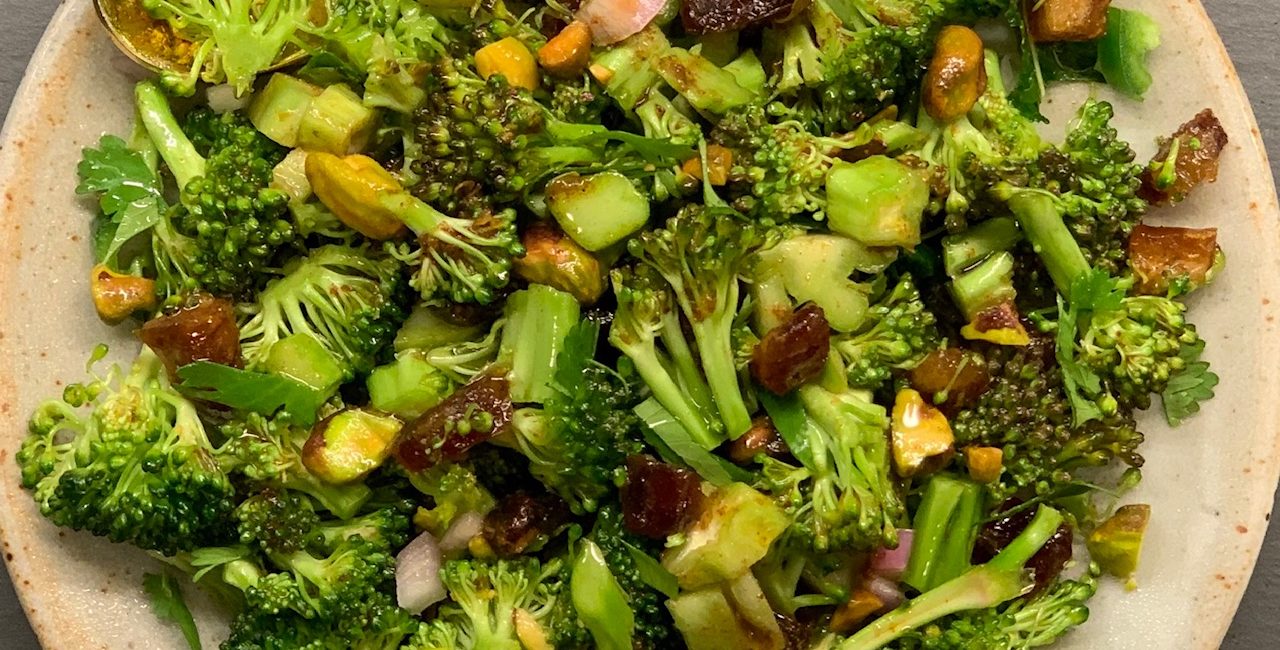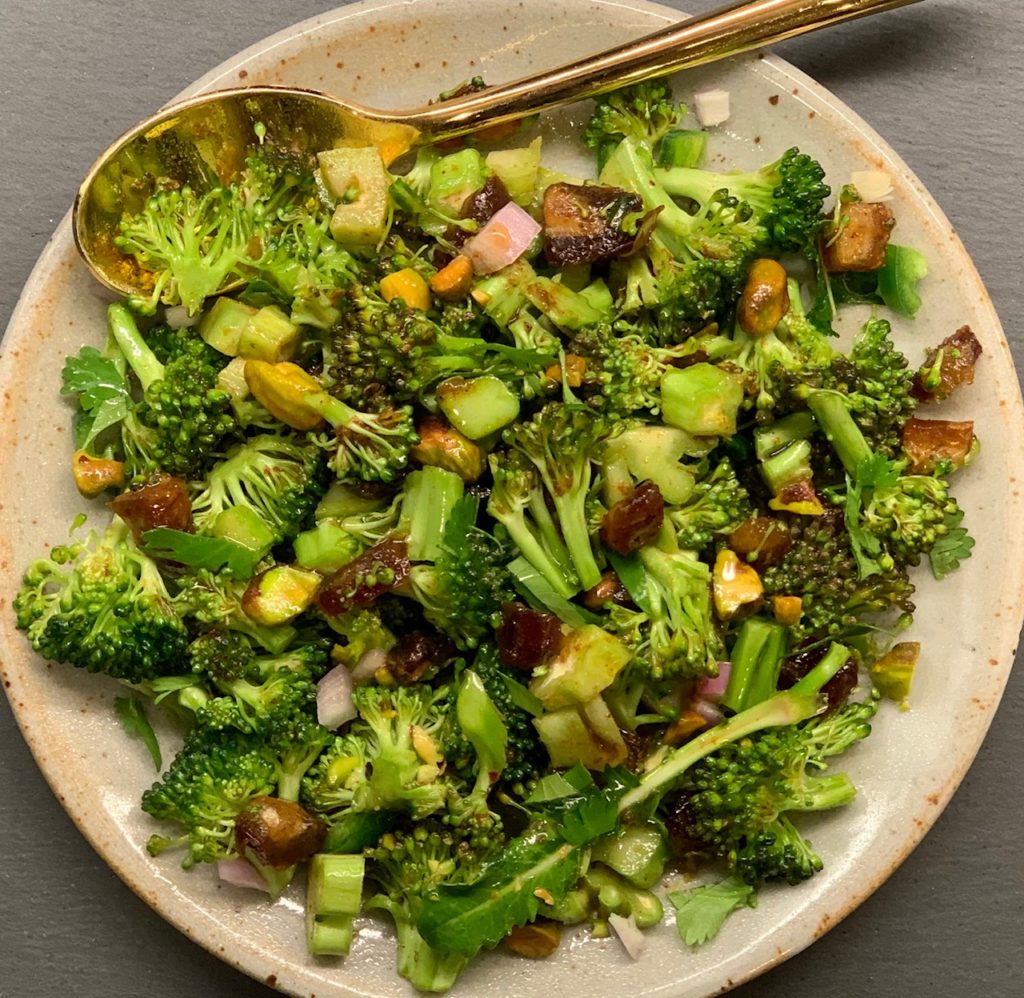 While Mother Nature continues to paint things a lush, verdant green, color you dinner plate similarly. Here are two new ways to make broccoli your new favorite vegetable. 
A delicious mixture of flavors and textures, this Broccoli Spoon Salad with Warm Vinaigrette will elevate whatever else you happen to be making to the memorable level. Chop the broccoli small. For milder garlic flavor, use a peeled and smashed garlic clove to infuse your oil rather than using grated garlic. Buy your pistachios roasted and you can skip the roasting step. Add the dressing at your discretion. Should you have any remaining, it would be delicious to dress asparagus with as well. 
Ras el hanout is rich and very aromatic. It's an amazing spice blend and if you don't happen to have any, it's incredibly easy to make out of what you already have any hand. You can use it as a seasoning for meats, veggies, couscous, pasta, rice, and stews. Swap around. Curry powder instead of ras el hanout, any nut or seed for the pistachios, green onion for the shallots, raisins or other dried fruit for the dates, basil for the cilantro. Add a grain of your choosing like quinoa, or try a chewy one, like farro or barley, to make this even more filling and delicious.
Next up, Roasted Broccoli and Tofu with Creamy Miso Dressing. Filled with interesting flavors and textures, this recipe is one you will want to put on repeat. Deliciously dressed in a creamy miso sauce, it's so flavorful and indulgent you'd never know that it's packed full of healthy ingredients. Time crunched? Quarter and roast half of the brussels sprouts and use your food processor to help you shred the rest. Mist your vegetables with olive oil spray before roasting to reduce some of the oil. Keep the olives to the side and taste before adding them, just in case you like the flavor as is and don't want to mess with it. Don't have hemp seeds? Swap in tahini. Save any leftover sauce to dress other roasted vegetables or use it to dip raw veggies in during the week. 
Eat more vegetables. But eat them deliciously. 
Broccoli Spoon Salad with Warm Vinaigrette
6 Tablespoons grapeseed or other neutral oil
2 teaspoons ras el hanout
1 garlic clove, finely grated
2 Tablespoons fresh lemon juice
2 Tablespoons white balsamic vinegar or white wine vinegar
1 Tablespoon honey
kosher salt, freshly ground black pepper
1/4 cup raw pistachios
1 small shallot, finely chopped
1 medium jalapeño, finely chopped
6 cups finely chopped broccoli florets and stems, stems peeled (about 1 large bunch)
1 cup finely chopped cilantro
1/3 cup finely chopped pitted dates

 
Combine oil, ras el hanout, and garlic in a small saucepan. Warm over medium-high heat, stirring occasionally, until fragrant, about 2 minutes. Remove from heat and whisk in lemon juice, vinegar and honey. Season with salt and freshly ground pepper; set aside.
Toast pistachios in a small skillet set over medium-high heat until golden brown; about 4 minutes. Transfer to a cutting board. Let cool, then finely chop.
Toss pistachios, shallot, jalapeño, broccoli, cilantro and dates in a medium bowl. Drizzle dressing over all and toss to coat. Taste and season with more salt and pepper if needed.
Do ahead: Salad can be made 1 day ahead. Cover and chill.
– bonappetit.com
Ras El Hanout
1 teaspoon of each: salt, ground cumin, ground ginger, ground turmeric
3/4 teaspoon of each: ground cinnamon, freshly ground black pepper
1/2 teaspoon ground white pepper, ground coriander seed, ground cayenne pepper, ground allspice, ground nutmeg
1/4 teaspoon ground cloves
Mix together and store airtight for up to 1 month.
– allrecipes.com
Roasted Broccoli and Tofu with Creamy Miso Dressing
1/2 pound brussels sprouts
2 teaspoons coriander seeds
2 small heads of broccoli (about 1 pound total), cut into large florets
1 14-ounce block firm tofu, drained well, torn into bite-size pieces
5 Tablespoons exra-virgin olive oil, divided
1 teaspoon Aleppo-style pepper or other mild red pepper flakes
kosher salt
1/3 cup green olives, pitted, coarsely chopped
1/4 cup plus 2 Tablespoons fresh lemon juice, divided
1/2 cup hemp seeds
2 Tablespoons white miso
2 teaspoons toasted sesame seeds, plus more for serving
crushed toasted almonds and/or parsley leaves with tender stems (for spring)
Preheat oven to 425º F. Cut stems from brussels sprouts and discard. Remove outer leaves and place on a large rimmed baking sheet. Finely slice brussels sprouts and transfer to a medium bowl. Grind coriander seeds in a spice mill or use a mortar and pestle.
Add broccoli and tofu to baking sheet with the sprout leaves. Drizzle with 2 tablespoons oil, add crushed coriander and pepper, season with salt, and toss to combine. Roast, tossing once halfway through, until broccoli is browned, lightly charred in a few spots, and tender, about 30-35 minutes. Let cool.
Add olives, 1 tablespoon oil and 1 tablespoon lemon juice to sliced brussels sprouts and toss to combine.
Purée hemp seeds, miso, 2 teaspoons sesame seeds, remaining lemon juice and oil and 1/4 cup water in a blender until smooth. Season with salt.
Spread some of the dressing on bowls or plates. Toss roasted vegetables with sliced brussels sprouts and arrange over dressing. Top with sesame seeds, almonds and parsley. 
– bonappetit.com