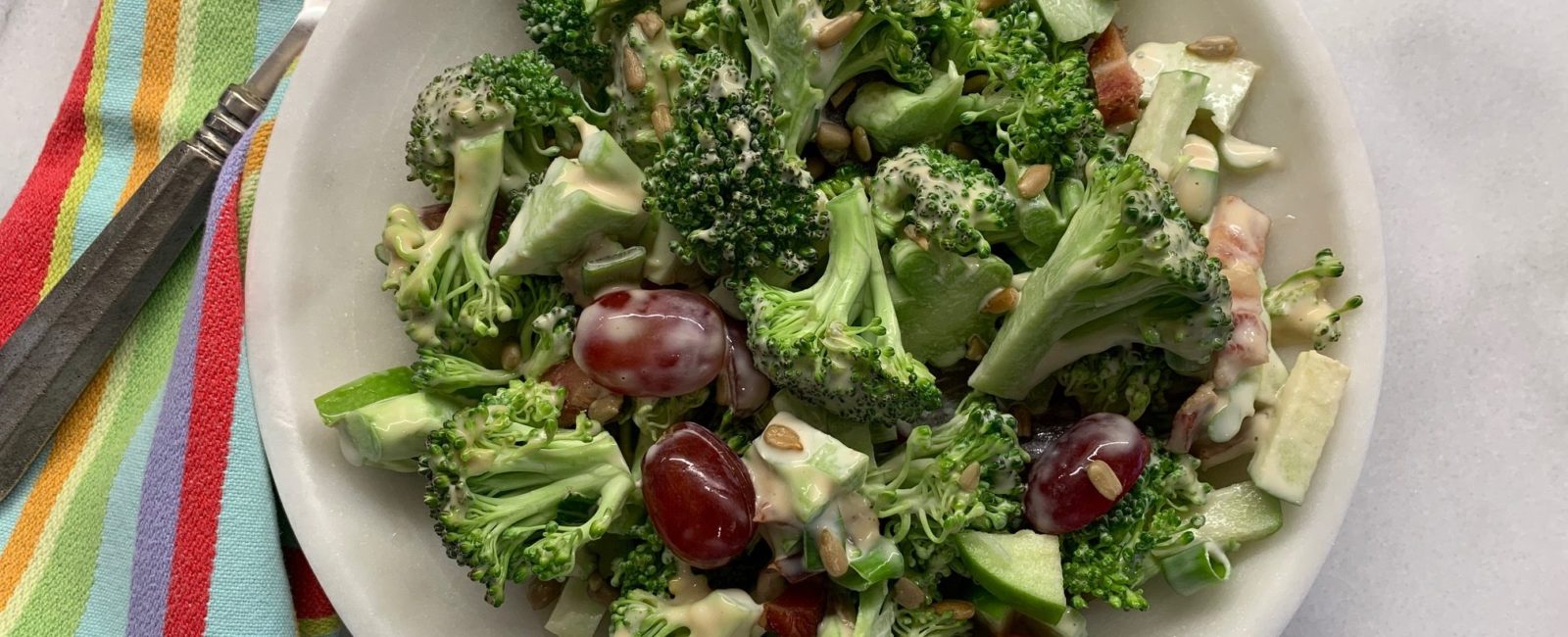 We've been patiently buckled in for a quite a while now. Like being on a much too long flight, it made no sense to squirm, so we kept busy baking bread, creating casseroles, and mastering the many meals that could be made from our pantries. You can put your tray table up now – it looks like we are finally here. It's time to go places and you have places to go. But if you're going, you better have something to take with you.
This recipe was shared from a friend. Before you try to say you don't like broccoli, trust me. I am smitten with this salad and you will be, too. It's a perfect side dish, one you can use all year long, for cook outs, potlucks, or just feeding your family. It holds up well for several days in the fridge, so you'll have something ready to eat when you don't feel like cooking. It's also perfect for toting along. Remember, you are going places!
Yes, you can shortcut with the bagged broccoli that is already cut and prepped for you, but since broccoli is the main attraction here, I suggest using fresh – the biggest, greenest, most beautiful bunch you can find. If the organic broccoli looks good to you, buy it. You'll be using both the florets and the stalks, so nothing goes to waste. Chop the tender parts of the stalks to use in this salad. Cut up the rest and use for stir-fry.
True confession: I have never made this recipe exactly as follows. Every time I make this salad, I change it up a bit and it never disappoints. Starting with the red and green grapes. I only use the red ones, thinking that they inject a bit of color. You can use both kinds if you prefer, I just like adding something different, for example, apples. The broccoli has plenty of crunch on it's own, but the texture of the apple is different. You can use a sweet, crisp apple like a Honeycrisp but I kind of like the contrast of a Granny Smith both in terms of its tart flavor and also its bright color. Swap toasted pecans or walnuts for the almonds, or use pumpkin or sunflower seeds, or peanuts. Omit the bacon only if you must, it's important in this recipe and it adds flavorful oomph. I've used light mayonnaise, regular, and vegenaise, all with good results and I always use cider vinegar. Try coconut sugar, added a teaspoon at a time, to your liking.
Take this broccoli salad somewhere. It's time!
Broccoli Salad
1 bunch broccoli, trimmed into small florets, plus stalks
1 cup red grapes, halved
1 cup green grapes, halved
1/2 cup green onions, sliced
4 slices bacon, fried crisp, broken into pieces
3/4 cup slivered toasted almonds
Dressing:
1 cup mayonnaise
1 Tablespoon vinegar
1/4 cup sugar
Combine broccoli, red and green grapes, green onions, bacon and almonds in a large bowl. In a small bowl, combine mayonnaise, vinegar and sugar; stir until thoroughly mixed. Toss with salad and chill.