Bring Back the Relish Tray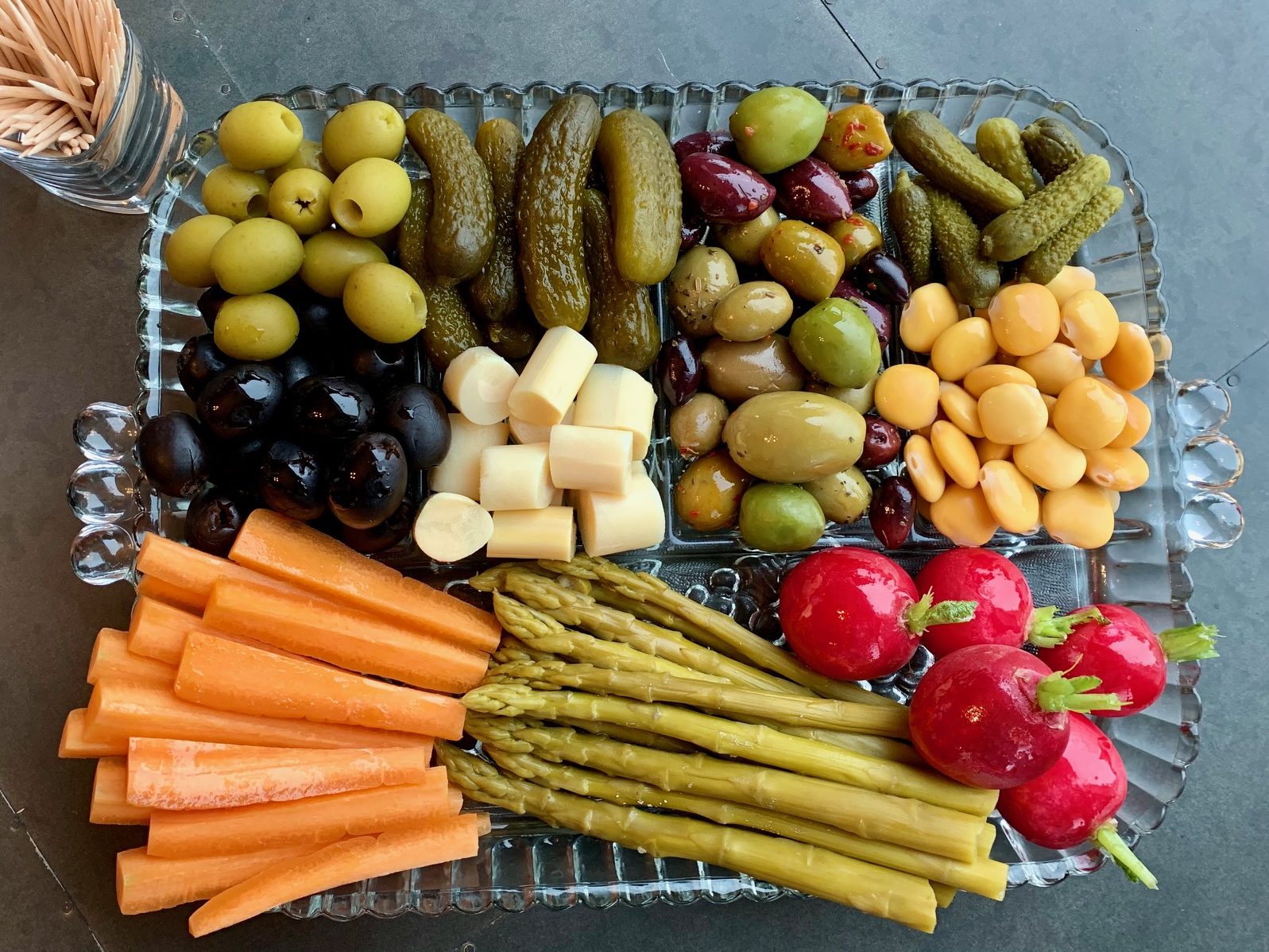 You've got plenty of things to cook right now. How about something to be grateful for that you don't have to cook? Bring back the relish tray. It's a great way to tie time and place and family all together. It's old school and it's totally doable whether you are hostess, guest, or even if you're, ahem …  going out. Make a small plate that suits your group. You can still gather, visit, and share a beverage, enjoying your relish plate, of course, and then head to the restaurant for the rest of your meal. These tasty tidbits arranged on a platter bring back memories and make them at the same time. It's a Thanksgiving tradition you should start and keep.
Your family has its cherished recipes that you are dutifully bound to recreate exact replicas of every year, but this is one of the least complicated ways to add some panache to the predictable. Neither charcuterie board, nor cheese plate, and while it may include one or two fresh vegetables, this is most definitely not a crudité platter. No dips, please, and no crackers. You can make it up ahead of time, or if you have a guest, or kids, who want to help, this is a great way to let them jump in and get involved. 
First stop after you press a drink in someone's hand, the relish tray is the place where we all gather as we start the business of celebrating. It's a bracing, bright complement to all the heavier, hefty palate food that will follow, and it gives you something to nibble on during that interminable wait between your time of arrival and the point when you finally sit down to eat. 
Your relish tray can consist of any combination of sweet, savory, salty pickled items that you like, but do add in at least one fresh variant for contrast. For years ours included cream cheese stuffed celery, but after we noticed it was not getting eaten we swapped it out with some fresh carrot sticks. Include one item that gives a nod to your family, and one item of local origin. For our family this is the bright, yellow lupini beans you see here, and the radishes, which were my dad's favorite. You can have all the same elements year after year, but the local item, in particular, is where you can introduce something new and different. For this, I used Mama Lil's Asparagini (pickled asparagus). If you put up your own pickles this year, be sure to include them on your platter, and give them the place of honor they deserve.
Everything needs to be drained and well chilled. Cut ingredients so that they are easy to pick up and eat, and don't forget the toothpicks in a fancy holder. We're dialing up the ceremony here. Use a special plate if you have one. Our family has a divided glass relish dish that comes out only once a year, specifically for Thanksgiving. You can use a dish you already have or make a quick trip to one of our local antique or thrift stores to check for possibilities. Perhaps an older relative has something they would like to contribute to this year's gathering? Honor them by using it. My mom passed this dish to me and I always feel that it adds connectedness to our family and the holiday.
Use the list below to help you assemble a relish tray of your own. There are more Thanksgiving related recipes and ideas online at blogs.columbian.com/home-made if you search "Thanksgiving." Fuss about something else and let the festivities begin.
Relish Tray 
extra large pitted ripe olives
assorted deli olives
hearts of palm
cornichons
sweet gherkins
bread and butter pickles
pickled beets

 

carrot sticks
celery sticks stuffed with cream cheese

 

pickled asparagus
radishes