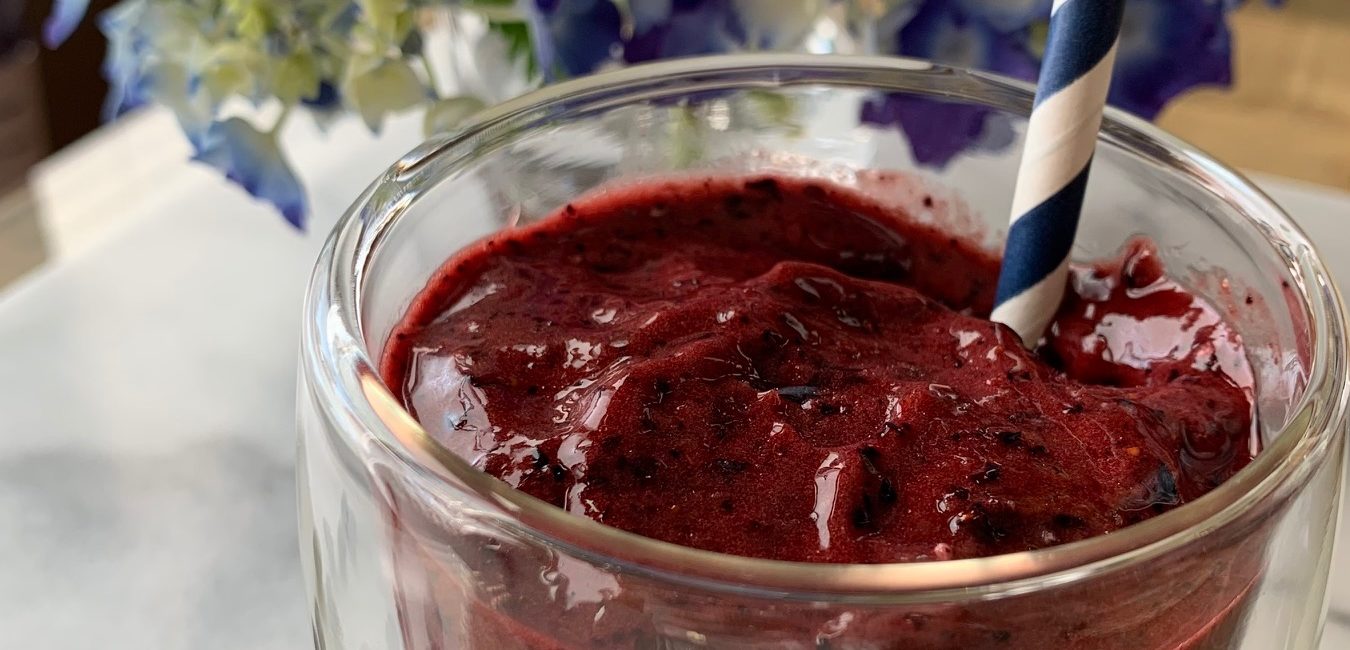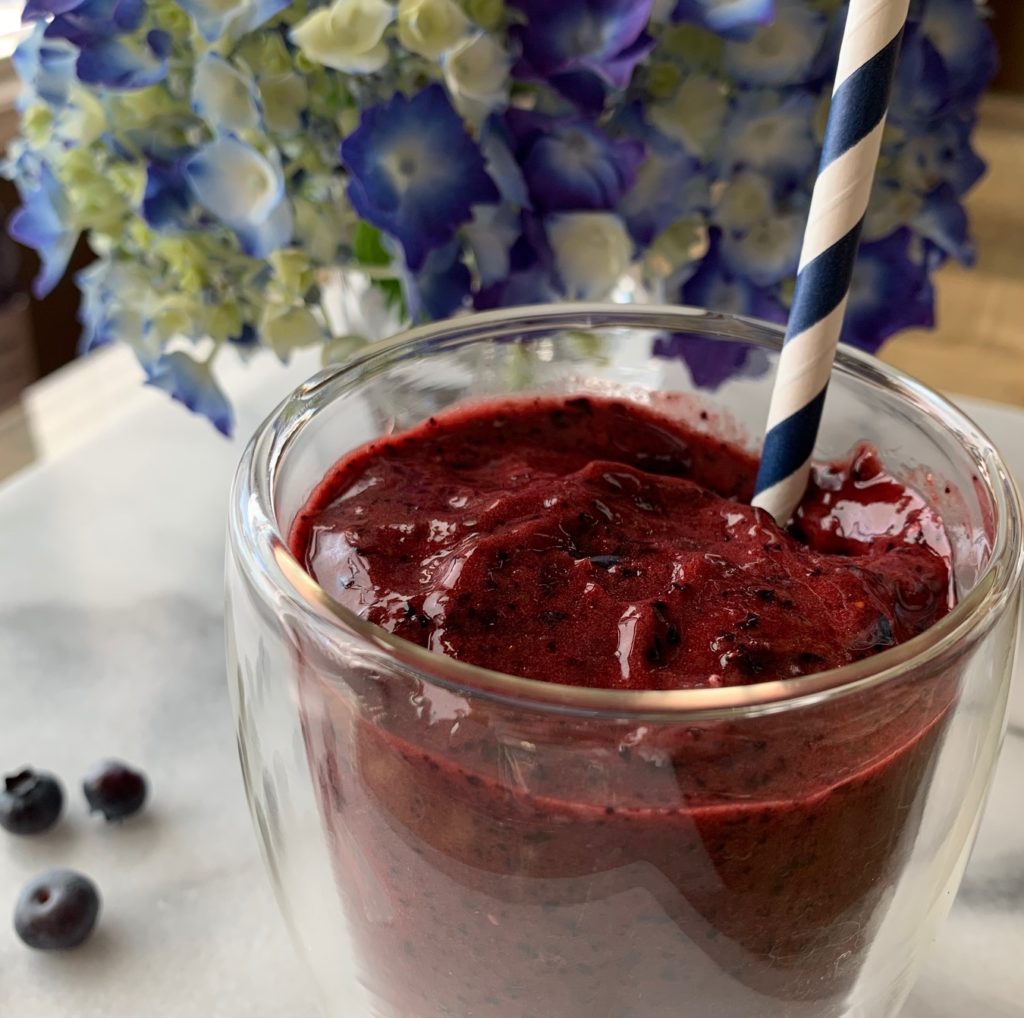 Mother Nature has waved her magic wand over the Northwest and here we are bursting at the seams with berries and all manner of vegetal delights. Your mission right now is to gather and eat your fill of as many summer offerings as you can. Preserve and freeze what remains, but by all means eat and enjoy what you can right this minute.
With the bounty of beautiful blueberries at hand, every summer I make at least one pie, cobbler and crisp. I bake more than a few batches of muffins and flip plenty of whole-grain pancakes that are generously studded with berries. I make jam: chia, freezer, or no sugar added. Then I rinse and freeze, looking ahead to the fall and winter. 
Why not make something good that's good for you? This Blueberry Smart Smoothie from nutritionist Joy Bauer is healthy and delicious. Packed with power foods that help to boost brain power, its good for you ingredients can help enhance your memory, help you focus and increase your attention. Plus, it tastes good. I know because I tested it several times to be sure. You might just have everything you need in your kitchen right now. 
Start with blueberries, fresh or frozen. A top antioxidant, studies show that people who regularly eat blueberries have better memory and cognitive function than those who don't. Next, add half a ripe banana to add sweetness without adding sugar. Bananas are filled with potassium, magnesium, and also vitamin B6 which helps keep your immune system healthy. Toss in cocoa powder. It is filled with flavonols, a type of antioxidant that keeps your blood vessels healthy, happy and elastic. Cocoa powder is 100% straight dark chocolate. Look for brands that are unsweetened and not Dutched or ones that don't use alkali during processing. Companies do this to remove the bitter taste, but it removes the antioxidants as well.
Next, add chia seeds. They are good for brain health because they help neurons communicate more efficiently. And coffee.  Research links coffee to enhanced brain health. Scientists think it is a combination of both the caffeine and antioxidants that are packed in that cup. Plus, it will help wake you up. A little vanilla extract for flavor, plus 3 ice cubes, then blend.
I used frozen blueberries and banana slices, as well as frozen coffee cubes when I made this, so I had to add a little water, a few tablespoons at a time as I was blending. What resulted was a thick, frozen soft serve/sorbet consistency. Spoonable and sweet it's a perfect frozen treat that is so delicious and so good for you. Enjoy!
Blueberry Smart Smoothie
2 cups blueberries, fresh or frozen
1/2 banana

 

2 teaspoons cocoa powder
1 teaspoon chia seeds
1/2 cup brewed coffee, chilled
1/4 teaspoon vanilla extract

 

3 ice cubes
Add blueberries, banana, cocoa powder, chia seeds, chilled coffee, vanilla extract and ice cubes to jar of blender. Process until smooth. Enjoy at once or refrigerate a few hours for pudding.