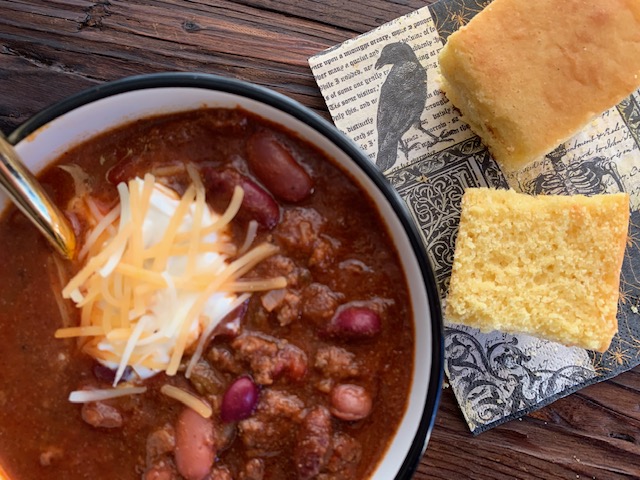 When a cold wind blows and the moon is high, the pumpkin glows and the leaves all fly, the ghosts will gather and spooks delight, when darkness falls…  it's Halloween night. Chili is the perfect dinner for Halloween. Served with a warm square of cornbread with honey butter alongside, it's what for dinner this year, and has been for every year for a long, long time. Why mess with a good thing? As a pre-trick-or-treat supper for your little boo-ers, a nice, warm bowl of something thick and hearty is just the thing to balance out all that candy they (and you) will be eating. You can make it the day ahead and reheat it, or toss everything together and let it cook while you're tending to last minute costume adjustments.  
If you are not a big fan of spicy, use caution with the cayenne pepper and the red pepper flakes, which could both be omitted to keep your chili more on the mild side.  Let your chili cook a bit and taste first before adding the sugar at the end, or adjusting any of the spices so it's just to your liking. The ingredient list is not that long or complicated, but if you are truly time crunched, I give you permission to use a packet of chili seasoning.
I used Muir Glen Organic diced tomatoes that were fire roasted with green chilies, which not only added a lot of flavor, but let me omit adding the extra 4 ounce can of roasted green chiles like I usually do. The 15 ounce can of tomato sauce was the most economical, so I transferred the remaining half can of sauce into a glass jar and froze it, ready to use for the next time I make spaghetti sauce. Freeze small portions of your remaining tomato paste on a waxed paper lined baking sheet. Once frozen, transfer these, too, into a small glass jar and store in your freezer for when you need just a bit of tomato paste.
Scan the ingredient list and make this tonight or start it as early as possible on Thursday. This recipe makes a big pot of chili, so hopefully you will have enough to freeze, ready for another night or all set to go for game day. Making chili at home – not one bit scary. The fact that there are 6 fewer days between Thanksgiving and Christmas this year – truly frightening. It's getting mighty spooky out there. Stay safe wherever you may gather and enjoy your celebration. 
Big Batch Chili
1 Tablespoon olive oil
2 pounds 90% lean ground beef
1 1/2 medium yellow onions, diced small
3 Tablespoons chili powder
1

 

1/2 Tablespoons ground cumin
1/4 – 1/2 teaspoon ground cayenne pepper

 

crushed red pepper flakes, several shakes

 

3 cups Kitchen Basics Original Beef Stock, or other beef broth
2

 

14.5 ounce cans fire roasted diced tomatoes with green chilies

   

1/2

 

15 ounce can tomato sauce, or one 8 ounce can

 

4 Tablespoons tomato paste

 

2 chipotle peppers in adobo sauce, diced
1 15 ounce can light red kidney beans
1 15 ounce can dark red kidney beans
1 15 ounce can pinto beans

 

1 1/2 Tablespoons garlic powder
1 – 2 teaspoons salt
freshly ground black pepper
1-2 teaspoons sugar
optional toppings: 
sour cream, shredded cheddar cheese, sliced green onions, sliced avocado
Add olive oil to a large soup pot or heavy dutch oven and warm over medium-high heat, swirling pan to coat. Add ground beef and cook, breaking up with wooden spoon, until beef is no longer pink. Add onion; cook and stir until translucent. Add chili powder, cumin, cayenne pepper, and crushed red pepper – cook and stir, several minutes more. Add all remaining ingredients, except sugar, and stir well. Bring to a low boil, then reduce heat to low. Simmer uncovered for 25 minutes or more, stirring occasionally. Taste and adjust, adding sugar, or more seasonings, as desired. Ladle into bowls and serve with optional toppings.