Beyond Meat Smash Burger Alfresco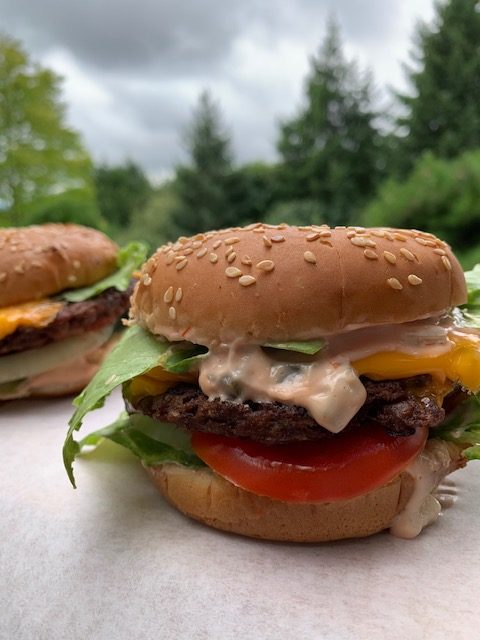 The first grasshopper sighting and the current state of affairs at the entrance to Fred Meyer – sans plants, stripped of plastic chairs, and starkly stocked with bottled water and some lonely bags of charcoal – are a warning sign. The days of summer are numbered. Have you grilled enough hot dogs, eaten enough ice cream, kicked back with a good book under a shady tree, and soaked up the sun to your heart's content? You gotta put your face into the watermelon, people. And lean in.
To that end, we are taking it outside and mashing up two of the biggest food trends – meatless meat and Smash Burgers. Yes, the meatless burger is hot, but will it smash? I gave it a try, and the answer is yes. Because they come pre-formed, Beyond Burgers are faster and less messy than using ground beef, and according to my unbiased taste tester, they tasted just like meat. Their higher fat content makes them perfect for a Smash Burger swap in, but skip salting your burger: meatless burgers are notorious for their high sodium content. Because you are grilling, it won't dirty your stove. Plus, you get to be outside, enjoying that perfect weather while you're making something to eat. Blissful. 
Make a quick special sauce by following the measures below, or put out ketchup, mayo, and dill pickles and let everyone add their own. You can find Beyond Meat – Beyond Burgers in the refrigerated meat section.  Each package contains two 1/4 pound patties.
Want to make a Smash Burger out of beef? Use 1 1/2 lbs. of 20% fat ground beef. Divide into eight 3-oz. portions. Flatten portions between two sheets of parchment paper, using a meat mallet or heavy skillet to make thin patties, about 5 inches across. Use fresh parchment paper until you have formed all 8 patties, transferring patties to a lined baking sheet as you go. 
The Northwest promises a glorious summer, but it doesn't promise it will last. Spread out a picnic blanket. Raise your glass to tonight's sunset. But get out there and do it. 
Beyond Meat Smash Burger Alfresco 
1 cup finely chopped dill pickles
1/2 cup mayonnaise or Vegenaise

 

2 Tablespoons ketchup
4 seeded hamburger buns
2

 

8 ounce packages Beyond Burger Patties (total 4 patties)
1/2 head of iceberg lettuce, leaves separated and torn into bun sized pieces
1 white onion, very thinly sliced into rings
1 tomato, thinly sliced
2 Tablespoons vegetable oil
4 slices American cheese
In a small bowl, mix pickles, mayonnaise, and ketchup, stirring until combined. Set aside. Wrap hamburger buns into a packet using a large sheet of foil. 
Heat grill to high heat. Place a cast iron griddle over grate and heat until very hot. Drizzle oil over griddle and spread to evenly coat entire surface using paper towels. Place patties on griddle and smash with a flat spatula/turner to make them thinner. Cook, undisturbed, 2 minutes or more, or until outer edges are browned. Place packet of buns on grate until warmed through, about 1 minute, turning once. Remove from grill. Flip patties, and continue to cook until internal temperature reaches 165º F. Top each with a slice of cheese and remove from grill as soon as cheese droops. 
Spread sauce over cut sides of buns, topping bottom bun with 3-4 pieces of lettuce, some onion and tomato slices. Transfer patties to buns, adding additional lettuce between top of burger and top bun. 
– adapted from the Bon Appétit Smash Burger recipe