Beach House Salad – Make it at Home!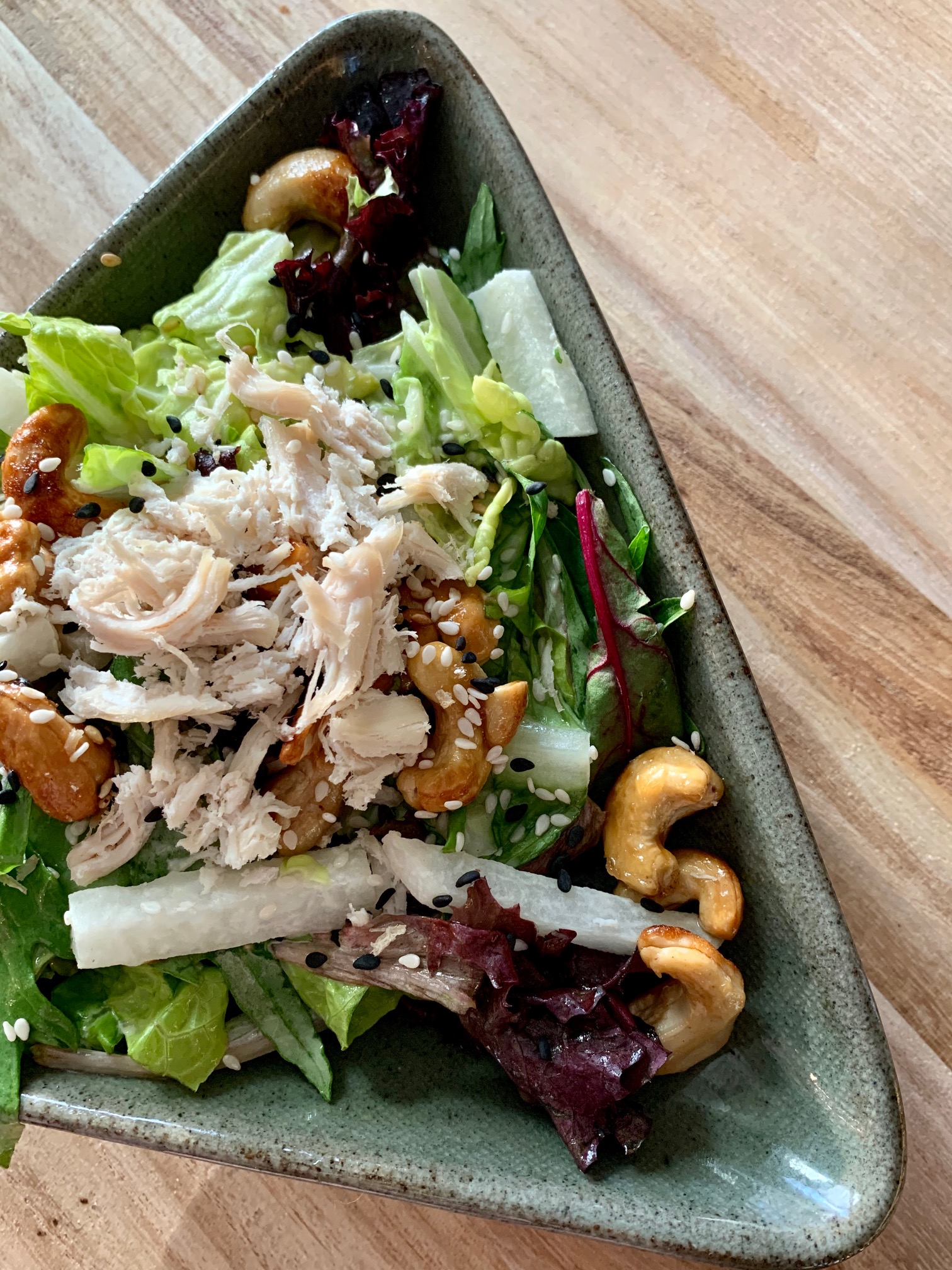 I am so excited I can barely write this. Pay attention here, because have I got a treat for you. How many times have you eaten something amazing in a restaurant and said to yourself, "Gee, I wish I could make this at home?" This is exactly how I felt many times, through the years, when I ate at Beaches and ordered one of their wonderful Beach House Salads. Wondering if they would share, I reached out to Beaches owner, Mark Matthias, who asked Chef Tanner Poncik if he thought the recipe would translate well for making at home in a reader's kitchen. 
The Beach House Salad has been a staple on the menu for 21 years. A tumble of greens with some jicama and snow peas added in for crunch, it's tossed in a house made Asian honey mustard dressing and topped with roasted and pulled chicken, caramelized cashews, and a sprinkling of black and white sesame seeds. It is so popular, Mark joked, that they get flak every time they dare to remove it. When he said they'd share, I pinched myself, and let's just say I was more than a little excited to be entrusted with it.
Recipe in hand, I gathered up all of the easy to find ingredients, and set out to try my luck making the Beach House salad at home. First, I made the dressing. Easy enough, it was just a matter of combining ingredients in the blender and letting the blender do its thing. Next, I made the cashews. Again, a simple combine and stir of ingredients on the stovetop, then the coated cashews were transferred to the oven for a brief stint, leaving them fragrantly caramelized and golden. A small bit of slicing for the jicama and the snow peas, and I was ready to assemble the salad. 
You can use mixed greens for the salad, like a mix of Romaine, iceberg, or even some shredded napa cabbage for added crunch. The salad is delicious on its own, but you could also top it with grilled chicken, sautéed shrimp, or with grilled or blackened salmon. Mark warned that the cashew recipe would make a lot of cashews, which it did. Stored at room temp, they're good for snacking, or to make an interesting bar bowl. You could add them to other snack mix or serve them on their own with a sprinkling of the white and black sesame seeds for a little added flair. The dressing recipe yields about a quart. It has no preservatives, so store it in the refrigerator and plan to use it within 3 to 4 days. Mark also said that they use a soy sauce that is gluten-free, which you could also do when making this at home. 
For a local restaurant, it just doesn't get any better. A fun spot for meeting with friends, or a nice place to celebrate something special, Beaches' incredible view of the Columbia River and classic Northwest cuisine make it my number one choice for dining with out of towners. Beaches hits the mark across the board for total dining out experience. The food is on point, the servers are warm and attentive…  it's casual, but it's nice. It consistently delivers a fun, friendly, happy you're here vibe, and it continues to be one of the best happy hours in town.  
If you have never had the pleasure of eating at Beaches, or enjoying one of their popular Beach House Salads, now is the time to go. There is nothing quite like the feeling of scoring one of their outdoor tables on a beautiful day, admiring the view, and enjoying a delicious meal while you bask in the sun and feel the breeze. 
There you have it:  you can make this famous salad in your own kitchen. It would be perfect for all your spring and summer gatherings – wedding or baby showers, luncheons, picnics – anyplace you need a good vibe. I am delighted to have this wonderful recipe and be sharing it with you. Thank you, again, Mark and Chef Poncik. I feel like I won the lottery! 
Asian Honey Mustard Dressing
1 egg
1/2 cup Grey Poupon mustard
1 1/2 cups canola oil, divided
1/2 cup honey
1 1/2 teaspoons ground white pepper
1 Tablespoon finely chopped garlic
1/4 cup apple cider vinegar
1/8 cup unseasoned rice vinegar
1 Tablespoon Kikkoman less sodium soy sauce
1 1/2 teaspoons kosher salt
Combine egg and Grey Poupon in blender container and blend until smooth. With blender running, remove lid plug and slowly drizzle in half of oil through opening, blending until emulsified. Add honey, white pepper, garlic, cider vinegar, rice vinegar, soy sauce, and kosher salt. Cover opening and blend again. Remove lid plug and stream remaining oil through opening, blending until emulsified. 
Caramelized Cashews
2 pounds cashew pieces
1 ounce butter
1 ounce honey
1 ounce Kikkoman less sodium soy sauce
1/2 cup granulated sugar

 
Preheat oven to 400ºF and line a large baking sheet with parchment paper. Combine butter, sugar, honey and soy sauce in a large saucepan over medium heat. Cook, stirring constantly, until sugar dissolves and mixture starts to caramelize. Fold in cashews and stir to coat evenly. Remove from heat and spread cashews evenly on sheet pan. Bake for 5-7 minutes, or until golden brown. Let cool before removing from pan. Store at room temperature. 
Beach House Salad
(serves 1)
5 ounces mixed salad greens, such as Romaine, iceberg, field greens

 

3/4 ounce snow peas, halved diagonally
1 1/2 ounce jicama, cut into 1 1/2 inch strips

 

1 teaspoon white and black sesame seeds
grilled chicken, sautéed shrimp, or grilled salmon (optional)
Add desired amount of dressing to the bottom of a large mixing bowl then add greens, snow peas and jicama strips and lightly toss to mix. Mound salad on chilled plate or bowl. Sprinkle with caramelized cashews and sesame seeds. Top with grilled chicken, sautéed shrimp, or grilled salmon, if desired. 
Want to make something else you have been enjoying in a local restaurant in your own kitchen? Write to me and I will try to get the recipe for you. Watch here for more easy to make, delicious  things you can make right at home.