Barbecue Chicken Quinoa Salad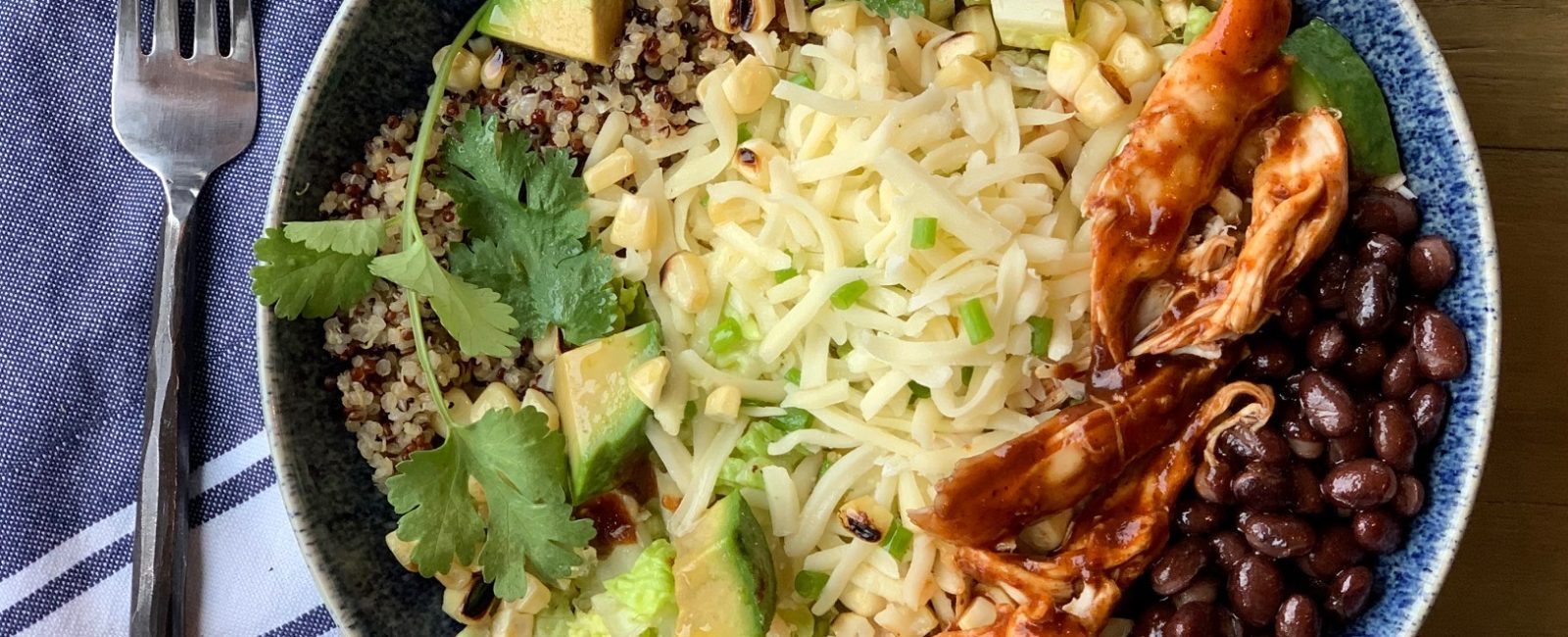 When cooking exhaustion sets in and you just don't know what to make for dinner, rotisserie chicken is the answer. Swing by the deli, toss a bag in your cart and you're on your way to several fuss free meals. You can't beat the ease of a rotisserie chicken to help you save time and eat healthy.
Once you get home, break down your chicken, separating the light and dark meat if you like. Use the legs to fend off any onlookers who are suddenly starving and too impatient to wait. Remove the remaining meat, discarding the skin if you wish, and shred it as you go. The chicken is much easier to handle while it's warm and you can package the meat up into smaller bags, depending on what you want to do with it. You can make tacos, burritos, quesadillas and nachos, chicken salad, chicken soup, casseroles, pot pie, chili, pizza, wraps, or use your chicken to top a baked potato or make BBQ chicken sliders. Tuck a bag of shredded meat into the freezer, too, so you have some on hand for another time.   
For a quick, easy and delicious dinner, try this Barbecue Chicken Quinoa Salad.  I love this recipe because it comes together quickly and it's very easy to prep the next day's lunch as you're putting leftovers away. The original recipe instructed to mix everything together in a large bowl, which is perfect for potlucks and barbecues, but I like to make it Cobb salad style. Don't fret about the ingredient amounts. Because you are making individual servings, you can use as much, or as little, of any ingredient as you like. To add a little freshness and crunch to my bowl, I add in about 1 cup of chopped romaine lettuce, but you could also toss in a handful of mixed greens, or even some chopped cabbage or coleslaw mix for some extra veggie credit. Use fresh corn, which is so flavorful right now, and amp it up by grilling it. For added ease, you can swap in frozen corn, and again, use the fire roasted variety for extra flavor. You can serve this hot, cold, or at room temperature. I like it warmed, so I heat the beans and keep the chicken and quinoa warm before letting everyone make their bowls. 
For fast, fluffy, effortless quinoa try using your Instant Pot. For every cup of quinoa that you want to cook, use 1 cup of water. Because there is no evaporation, you can double or triple the amount of quinoa without changing the water ratio or the cooking time. Add a pinch of salt if you like, or use vegetable or chicken broth in place of the water for added flavor. You can skip adding the oil altogether, but I like to sauté my quinoa before adding the water. This makes the grains more pilaf-like, nutty, fluffy and distinct, with just a bit of chew. 
To chase the chill away from these remaining rainy nights, make Chicken a la King. This way back recipe is a favorite from my college days, but back then it was from a Banquet Boiling Bag. After they were discontinued, I started making this at home and it became a weeknight favorite. You can safely reduce the butter and flour in this recipe by half, using just 3 tablespoons of butter and 1/4 cup of flour. To make this gluten-free, I swap in cornstarch for the flour. In this case, remove 3 tablespoons of water from the 1 cup and mix it with 3 tablespoons of cornstarch to make a slurry. Add the water, milk and bouillon, then add the slurry, stirring until thickened. You can also add 1/2 cup of shredded American cheese into the thickened sauce to make Cheesy Chicken a la King. 
Barbecue Chicken Quinoa Salad
2 cups shredded rotisserie chicken

 

barbecue sauce, to taste
1 1/2 cups cooked quinoa
1 can black beans, rinsed and drained
2 cups chopped romaine lettuce or other salad greens (optional)

 

1 ear fresh corn, kernels cut from the cob
1 cup shredded white cheddar cheese
1 avocado, chopped
2 scallions, chopped
fresh cilantro, for garnish

 
Toss rotisserie chicken and barbecue sauce together in a small bowl. Arrange quinoa, black beans, chopped romaine (if using), and barbecue chicken in rows in individual bowls. Scatter corn over all. Add shredded cheese to center of bowl, then top with avocado. Garnish with scallions and fresh cilantro. Enjoy!   
– adapted from recipe by Gaby Dalkin
Instant Pot Quinoa
makes 3 cups 
1 cup quinoa
olive oil spray, or 1 teaspoon olive oil
1 cup cold water
Rinse quinoa under running water until water runs clear. Coat bottom of Instant Pot with olive oil spray or olive oil. Add quinoa to Instant Pot and select Sauté. Cook stirring occasionally, until it smells nutty, about 5 minutes. Add water, secure lid and move valve to "Sealing." Select "Manual" or "Pressure Cook" and set for 1 minute. Let pressure release naturally for 10 minutes. Release valve to Venting, then remove lid and fluff quinoa with fork. Store in an airtight container in fridge up to 1 week, or freeze up to 3 months.  
Chicken a la King
4 servings 
6 Tablespoons butter
1/2 cup all-purpose flour
2 cups milk
1 cup water
1 teaspoon instant chicken bouillon granules, or 1 teaspoon concentrated bouillon base
2 cups cubed chicken or turkey
1 4-ounce can sliced mushrooms, drained
1/4 cup chopped pimento, drained
3/4 cup frozen peas, optional
cooked rice, toasted English muffins, or toast points, for serving
Melt butter in a medium saucepan, then stir in flour. Add milk, water, and chicken bouillon all at once. Cook and stir over medium heat until thick and bubbly; cook and stir 1 to 2 minutes more. Stir in cubed chicken or turkey, mushrooms and pimento. Add frozen peas, if using. Heat through. Serve spooned over rice, English muffins or toast points. 
– Better Homes and Gardens Cookbook, 1981