Banana Peanut Butter Bread Pudding
Here comes a perfect little breakfast to make for your mom on Mother's Day.  Perfect because you can spoil mom and keep your kids happy at the same time.  (Who doesn't like peanut butter and bananas?)  Perfect because you might suddenly find yourself in need of something special, and peanut butter, bread, and a few ripe bananas might just be hanging out in your kitchen.  (Add a couple eggs and some milk, and you've got it cinched.)  Perfect because you can make this ahead of time.  Do the quick prep work and get the ramekins filled the night before, and in the morning you just bake and serve.  (Do this Saturday night, while mom is passed out on the couch, like she always does right after the movie starts.  She is so exhausted from all that mothering she will not even notice the little puddings you have stashed in the fridge.  Really.)  Perfect because dare I say, you could definitely make this for dessert, which is definitely what I plan to do next.  Read on.
The original recipe called for half and half, but I substituted evaporated milk to make this healthier. If you don't have a can on hand, whole milk, half and half, or equal parts cream and milk will work, or you can swap in any kind of non-dairy milk.  I used a no-stir organic peanut butter that I like, but I think any peanut butter would be fine, and the honey roasted variety that the recipe called for would add a little extra sweetness.  There is no added sugar in this recipe, but you can easily offer some maple syrup, honey, or jelly – warmed or not – on the side.  Everyone can add as much, or as little, as they like.  Add some small bowls of chocolate chips, vanilla yogurt, or whipped cream and you've got a fun, easy topping bar where everyone can top their own.
And… this is a great recipe to make with your kids.  Even the youngest ones can easily cut up the bread and bananas using a butter knife, whisk the eggs and milk, and stir to combine all the ingredients.  Let them in on action and let them surprise mom with something they have helped to make.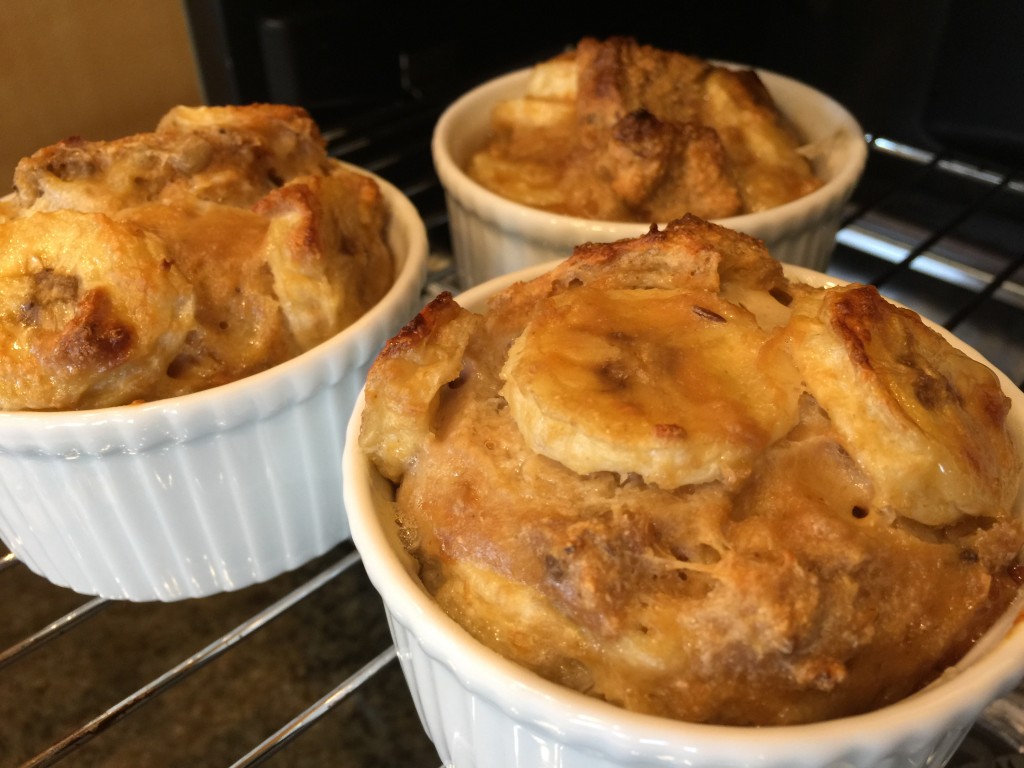 Banana Peanut Butter Bread Pudding
4 slices bread (whole grain, gluten free, or any variety you like)
2 eggs
1 teaspoon vanilla
1/3 cup evaporated milk (I used 2%)
1/4 teaspoon salt
1/4 cup peanut butter
2 ripe bananas, thinly sliced
butter for greasing your ramekins
Roughly cut the bread into 1 inch pieces and set aside.  In a large bowl, whisk eggs, vanilla, evaporated milk and salt.  In a small bowl, heat the peanut butter in the microwave until soft – about 30 seconds.  Stir the warm peanut butter into the egg mixture until it's as even as possible.  Add the bread to the egg-peanut butter mixture, and gently stir until the bread is evenly coated and absorbs some of the mixture.
Lightly grease two 6-inch wide ramekins (or use 4 smaller ones).  Spoon the pudding mixture into the ramekins and press down gently.  Cover with saran wrap and refrigerate 4 hours or overnight.
Preheat oven to 400º F.  Bake for about 20 minutes, until top is golden and pudding has puffed slightly.  Serve immediately.
adapted from Banana Peanut Butter Bread Pudding, thekitchn.com