Bacon and Gruyère Instant Pot Egg Bites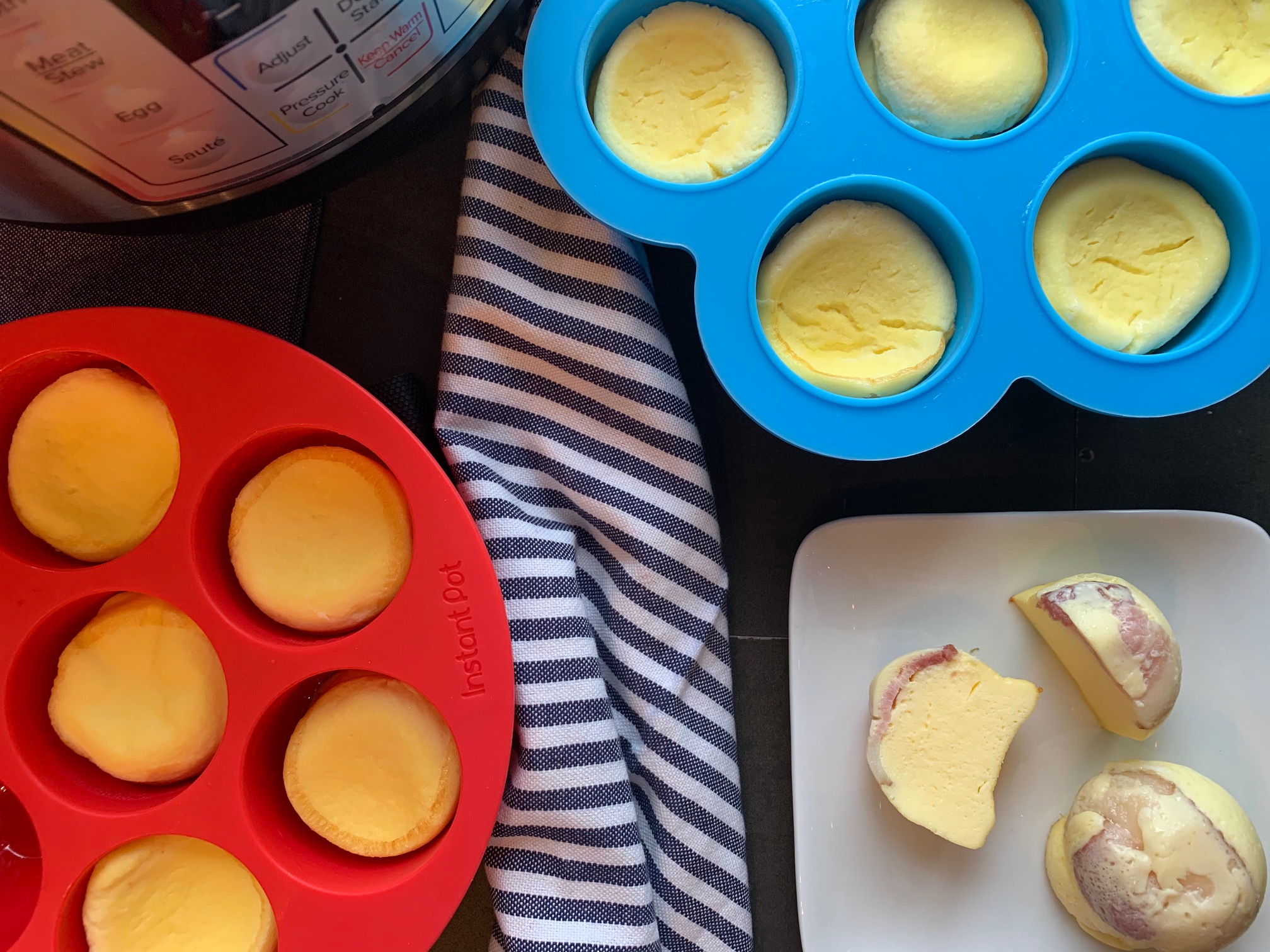 Love your brand new Instant Pot? Love the Sous Vide Egg Bites at Starbucks? It's no news that the Instant Pot is here to stay and it's no secret that the Sous Vide Egg Bites at Starbucks are pure delicious:  the Bacon and Gruyère variety, hands-down, the best. Served warm, their velvety-textured custard is a fluffy, flavorful bite that seems more of an indulgence than a healthy eating option when you're on the go. 
Before your resolve to eat better dissolves into defeat, make a big batch of these Bacon and Gruyère Instant Pot Egg Bites. They taste just like the ones you have come to love when you're eating out, except you can make them at home, so there's no need to get out of your pajamas. This recipe makes 21 portions, which gives you plenty to arm yourself with for many days to come. Everything mixes quickly in the cup of your blender, then the cooking process is repeated three times with the filled mold in the Instant Pot. Once cooked, they happily pop right out, perfect little bundles of joy with no hint of resistance. Clean up is simple, too. The molds just need a simple sudsy wash, no scrubbing. This year is already off to a great start!
You can buy a silicone egg mold like the one shown here at retailers like Bed, Bath and Beyond or you can order one from Amazon. You will also need the trivet, or steam rack that came with your instant pot, so be sure to round that up ahead of time. Check that your mold will fit inside your Instant Pot. A 6-quart Instant Pot is just right for the 7-cup mold. Once cooled, store egg bites in a zip-top bag or covered container in your fridge for up to one week, or freeze in a single layer, evenly spaced on a parchment lined baking sheet. Once frozen, transfer to a zip-top bag, date, and label. Microwave refrigerated egg bites for 30 seconds; frozen bites for 1 1/2- 2 minutes.  
Easy and delicious, and ready when you need em! Enjoy. 
Bacon and Gruyère Instant Pot Egg Bites
6 slices regular or thin sliced bacon
12 eggs

 

1 1/2 cups cottage cheese
1 1/2 cups grated Gruyère cheese (approx. 6 ounces)
Place trivet in bottom of Instant Pot and add 1 cup water.  Cut each strip of bacon widthwise into 2 1/2 inch sections (about 4 sections per slice) and set aside. Add eggs, cottage cheese, and grated Gruyère to blender container and process on high speed until smooth, about 20 to 30 seconds. Place one 2 1/2 inch piece of bacon into each section of egg mold, laying in a U-shape, so that it covers the bottom and extends up the sides. Pour egg mixture into sections of silicone mold, filling each section about two-thirds full. Cover egg mold with its silicone cover, or cover with a piece of aluminum foil. Lower silicone mold into Instant Pot, placing on trivet. Secure lid and set handle to sealing. Press STEAM button and set timer for 10 minutes. After cooking time elapses, allow pressure to release naturally for 10 minutes, then release remaining pressure before opening. Remove silicone mold and invert onto plate. 
Add enough water to Instant Pot to equal 1 cup. Fill molds as above, and cook/remove as directed. Repeat one more time, using all of remaining egg mixture.