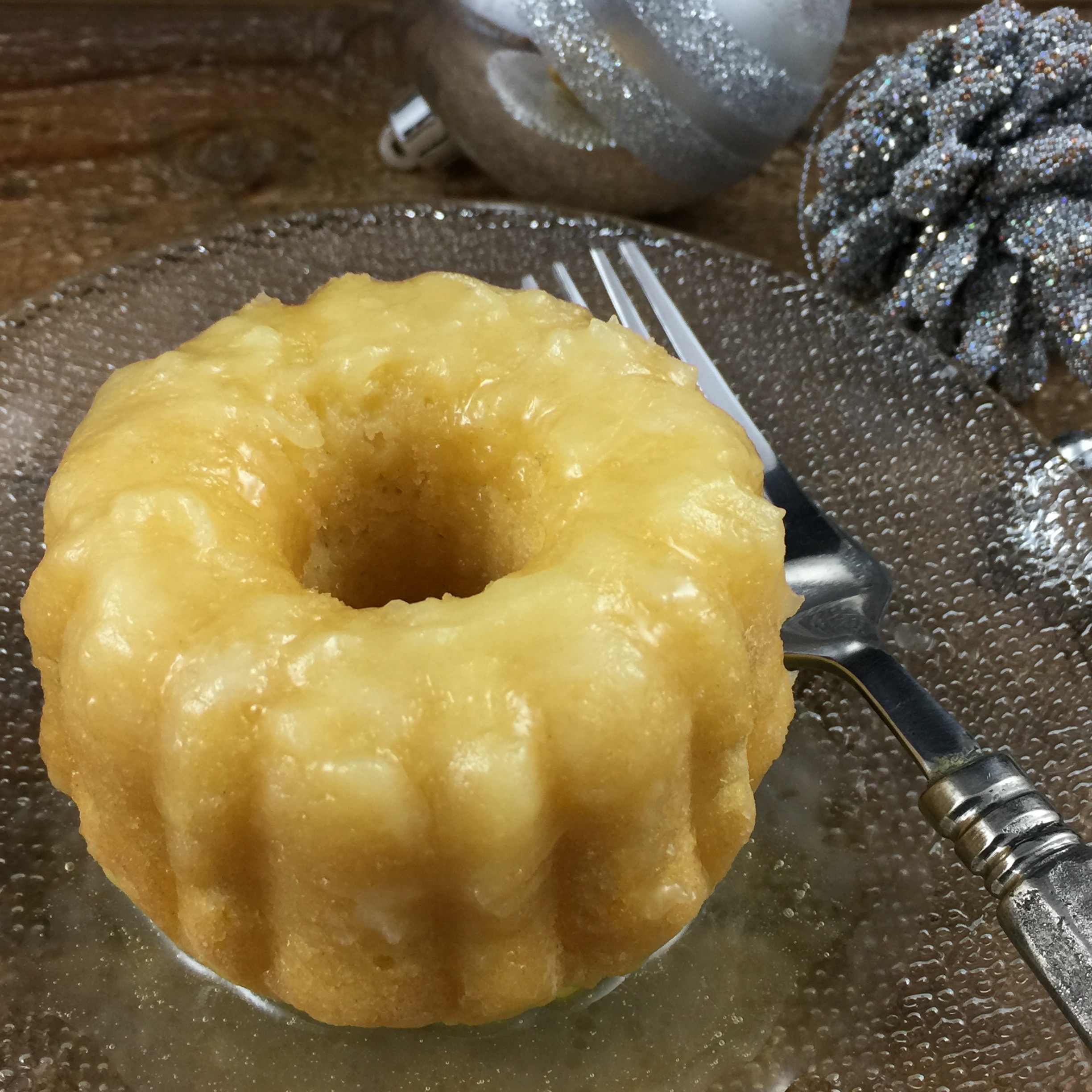 It's official.  We have now reached the most wonderful time of the year.  It is also the busiest and most stressful time, but let's focus on the wonderful part.  The holidays are all about celebrating and amidst all that celebrating our family has three birthdays to celebrate, as well.  Sandwiched between Halloween and the days leading up to and after, Thanksgiving, the blur of candy and feasting makes it hard to be enthusiastic about enjoying a birthday cake.
Birthday's are special milestones.  They celebrate another year of your life.  Nothing makes me happier than to honor someone's birthday wish and make them their favorite cake.  But how do you do that three times at this time of the year?   Wouldn't it be nice if you could have your cake and want to eat it, too?
Bacardi Cake is, by far, the most popular cake request in our family.  This year, I tried making it in a mini Bundt pan and the results were amazing.  The smaller size combined with a special glazing/soaking method that I have engineered (after many years of making this cake over and over again, and more than a little input from some overly interested testers) turned out some very impressive results.   The recipe yielded 12 mini cakes.  This gave the guest of honor their own special cake, and gave everyone else a small cake to eat or share.   Tiny holiday cakes are festive, and their smaller size makes them perfect for holiday parties or food gifts.  The fact that they are liquor-infused doesn't hurt either.  Best of all, I ended up with some leftover fun-sized cakes that I dashed into the freezer, ready to pull out any time we need a little more celebrating.
Bacardi Rum Cake
1 cup chopped pecans or walnuts
1 pkg. (18.25 oz.) yellow cake mix
1 pkg. (3 3/4 oz.) vanilla instant pudding and pie filling mix
4 eggs
1/2 cup cold water
1/2 cup vegetable oil
1/2 cup 80-proof Bacardi Amber Rum
Glaze:
1/2 cup butter
14 cup water
1 cup sugar
1/2 cup 80-proof Bacardi Amber Rum
Optional:
Whipped cream for garnish
Preheat oven to 325 degrees F.  Grease and flour 6 cake mini Bundt pan.  Sprinkle nuts over bottom of each cake mold.  Combine all cake ingredients.  Blend well.  With electric mixer at medium speed, beat 2 minutes.  Measure 1/4 cup batter and pour over nuts, filling each mold approximately half full.  Bake 15 minutes, or until toothpick inserted in center of cake comes out clean.  Cool.  Invert on serving plate.  Wash pan, grease and flour, and repeat to make six more cakes.
Prepare glaze in saucepan by melting butter over medium heat.  Stir in water and sugar and boil 5 minutes, stirring constantly.  Remove from heat and stir in rum.  Spoon or pour glaze into the bottom of each empty cake mold so that it covers the entire bottom of mold.  Using a fork, gently poke holes into the decorative top of each cake.  Transfer cakes back into molds and poke holes into bottom of cakes.  Pour warm glaze generously over each cake and let sit several hours or more to absorb glaze.  Remove cakes from pan.  Repeat glazing process with remaining 6 cakes.
This is the original recipe as it appears in a very old Bacardi recipe book that I guard with my life.   It calls for 80-proof rum, but I have used clear, Bacardi 40-proof with good results.  This cake is really good with the nuts added, but I because of food allergies, I omit them.  Also fine.  Normally, I like to bake cakes from scratch, and this cake can be made that way just by adding the pudding mix to the dry ingredients.  You can make this cake in a full size Bundt pan (just like my vintage recipe) but adjust the baking time to 1 hour.
It is important to wait for cakes to cool before trying to remove them from pan.  They are pretty stubborn and won't budge until they're ready, but will release easily when the time is right.  You do not need to wash the baking pan before you glaze the cakes.  And…  longer soak time is good!  I have let cakes sit, covered, overnight.   Once infused with liquor, they are just like guests…   even harder to budge.  Don't be intimidated by this.  Invert pan, and using clean fingertips, carefully ease each cake from its mold by pulling carefully around the cake's edges.  They will release perfectly.  Make sure to keep the other 6 cakes tightly covered with plastic wrap so they don't dry out while you glaze the first batch.  Wrap any finished cakes you don't serve at once individually, in plastic wrap, and store in a covered container, or in a Ziploc bag in the freezer, ready to pull at a moment's notice. Thaw cakes still wrapped, at room temperature.
Next post…   Jameson Irish Coffee Whiskey Cake.  It really is the most wonderful time of the year.