Bacardi Cake Trifle With Eggnog Pudding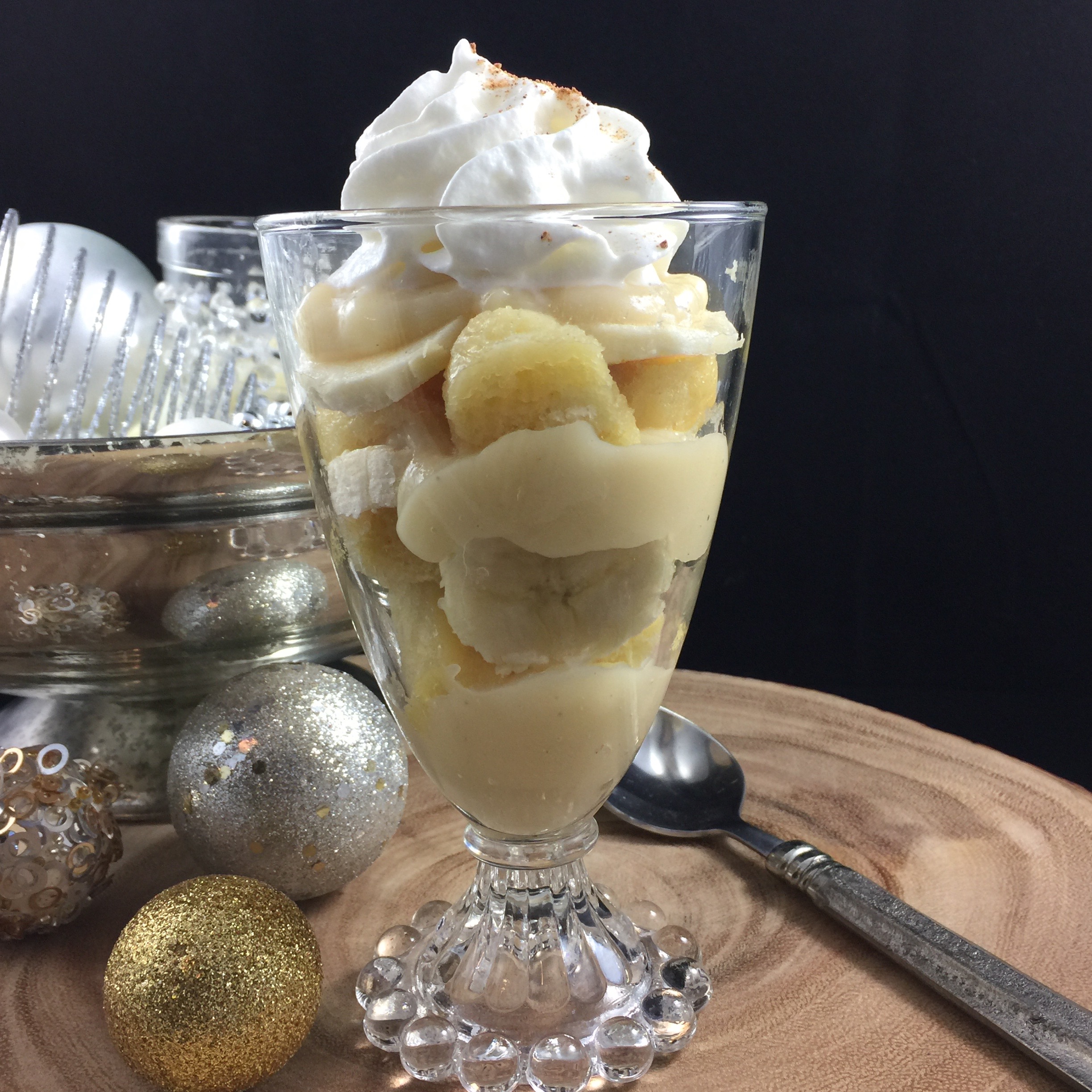 It's New Year's Eve!  If you are lucky enough to have a few of those Bacardi Cakes left in your freezer, grab them quick and celebrate by making a trifle.  You can make this fast and easy by using a pudding mix or you can make home made pudding using the recipe below.   If you are celebrating at home tonight, this would be something fun to do with your kids while you're counting down the hours to 2016.  If you have never made pudding from scratch with your kids, it's time to spill the beans and let them know that pudding does not come from a box.  If you don't have Bacardi Cake, feel free to sub in whatever cake you have on hand, or you can use angel food cake or pound cake, which will also make this special dessert more suitable for children!   You can make these up yourself, or if you are looking for a little more fun, you can set up a trifle station.  Set out bowls of cubed cake, pudding, fruit, and whipped cream and let everyone make their own.
I started to make regular vanilla pudding using a recipe from the old red and white Better Homes and Gardens cookbook (aka "The Cooking Bible").   As I was stirring, visions of eggnog filled my head again, and I thought, why not?  If you are using a rum cake, eggnog pudding is a no-brainer…   So make your pudding vanilla, or make your pudding eggnog, but make some pudding and you'll have yourself a fancy little dessert to ring in the New Year.
Bacardi Cake Trifle With Eggnog Pudding
Bacardi Cake, cut into cubes
Eggnog, or Vanilla, Pudding
banana slices (optional)
whipped cream
grated nutmeg
Alternate layers of cubed cake, pudding, and banana slices in a footed glass serving bowl.  Top with whipped cream and a sprinkle of nutmeg.
Vanilla Pudding
1/2 cup sugar
2 tablespoons cornstarch
1/4 teaspoon salt
2 cups milk 
2 beaten egg yolks
2 tablespoons butter or margarine
1 1/2 teaspoons vanilla
Combine sugar, cornstarch and salt in a heavy medium saucepan.  Stir in milk.  Cook over medium heat stirring constantly until thickened and bubbly;  continue to cook and stir 2 minutes more.  Remove from heat.  Gradually stir about 1 cup of the hot mixture into the egg yolks.
Return all to mixture in saucepan and cook and stir 2 minutes more.  Remove from heat.  Stir in butter and vanilla until butter melts.  Transfer to a bowl and cover surface with clear plastic wrap.  Chill without stirring.
Note:  Make sure to press the plastic wrap directly on the surface of the hot pudding.  This will prevent a "skin" from forming while it cools.  To cool pudding quickly, fill a bowl half full with ice and water and set the pudding bowl inside it before refrigerating.
Eggnog Pudding Variation
Substitute 1 cup eggnog for 1 cup of the milk.  Use 1 teaspoon vanilla extract, and 1/2 to 3/4 teaspoon rum extract.
optional add ins for trifle station:
banana slices
fresh or canned pear slices
fresh or canned pineapple
toasted coconut 
raspberry jam
toasted nuts
I made the trifle shown using Bacardi Cake, eggnog pudding, bananas, whipped cream, and a sprinkle of nutmeg.  Put out small bowls of the optional add ins, and let everyone get creative.  Happy New Year!