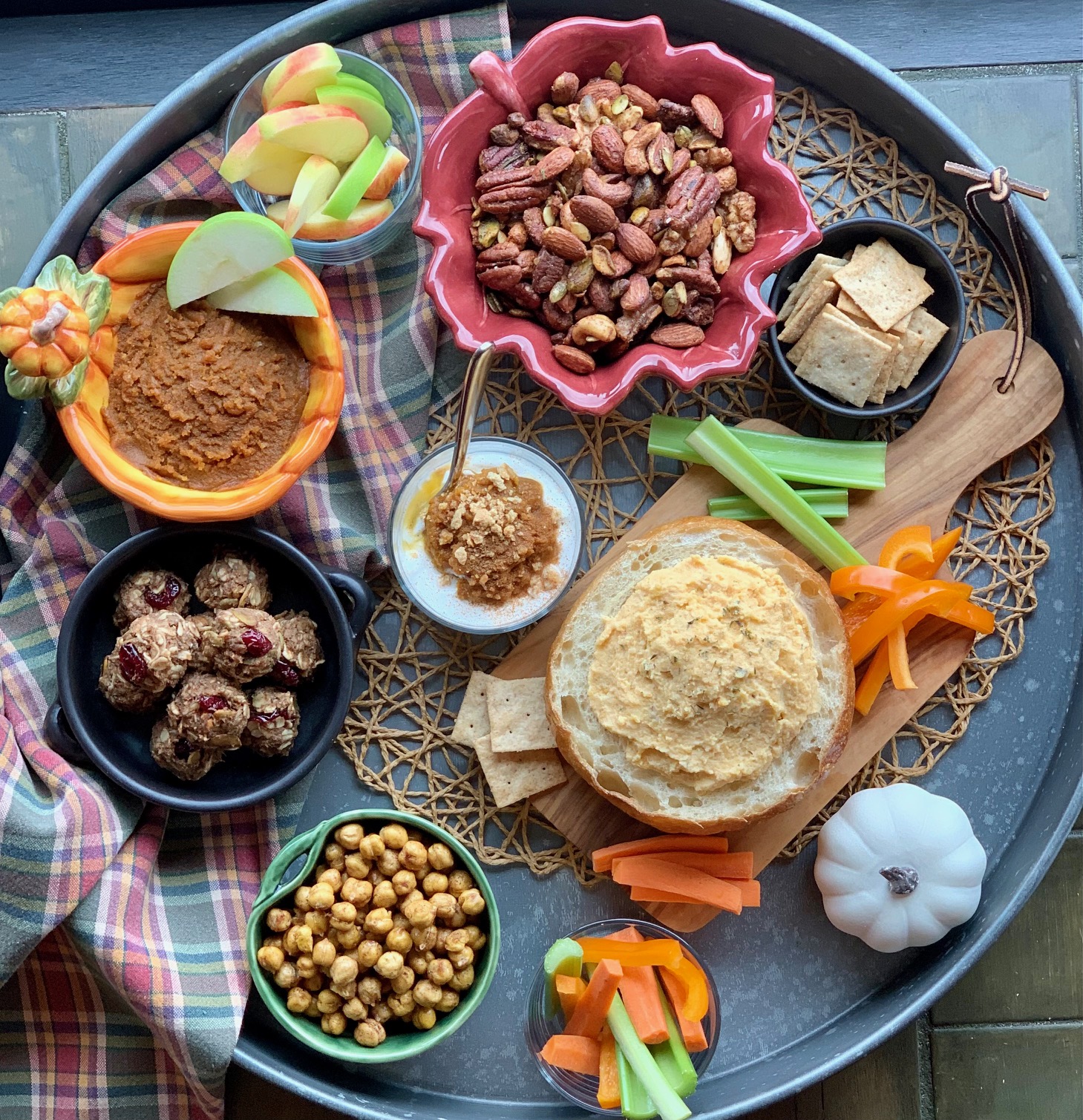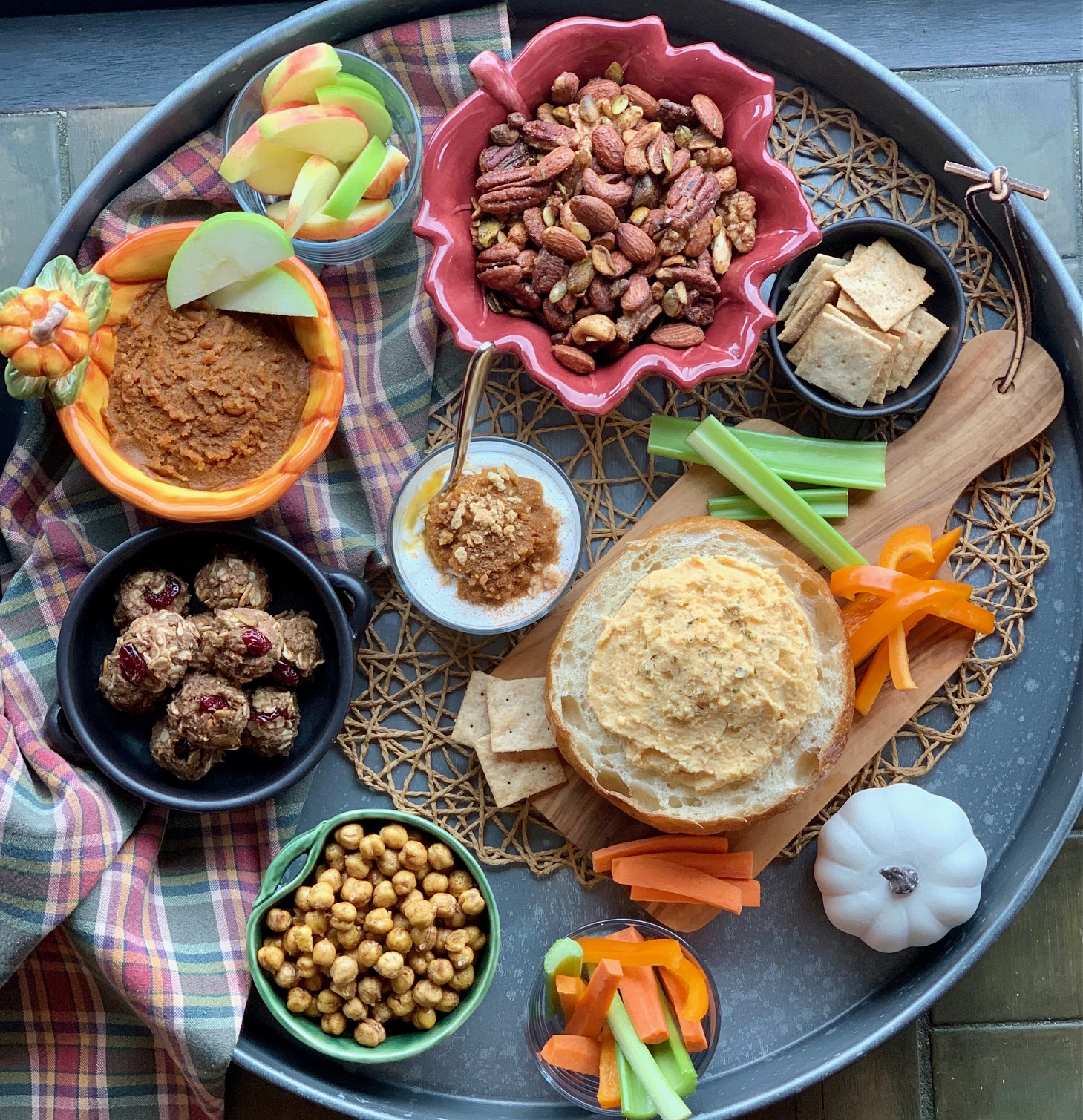 Capture the essence of all that's fall with foods guaranteed to keep you in the seasonal mood. Don't let the cakes and pies have all the fun. Stir some pumpkin into everything and spread the bliss. Here's a bevy of autumnal snacks, pumpkin spiced and fall flavored, to make the most of this splendid season. 
Autumn Spiced Nuts are a lightly sweetened, pumpkin spiced mixed medley. You can use any combination of nuts that you like here as long as you end up with about 6 cups. If you'd like to omit the eggs, use 2 teaspoons oil (grapeseed, olive, or any you prefer), 1/4 cup maple syrup and 1 tablespoon dark brown sugar. If you want to make these spicy, add a bit of cayenne pepper to your spice mix. 
Creamy Butternut Squash Dip is perfect for all your fall gatherings. Served in a hollowed-out round loaf of bread, it's orange-hued and delicious. Be kind to yourself and make this using pre-cut butternut squash. I am all about prepping your own veggies, but this is where I set my knife down. No more buying whole squash that will end up sitting on my counter, taunting me until Thanksgiving, when I frantically attempt to cube it and turn it into soup so I don't feel so bad. Save your knife skills for other things. It's okay.
I used a fairly large bag of cubed squash from Costco, and I roasted every bit of it. I used some for the dip and froze the rest in a resealable bag to use in other dishes. Don't waste time chopping garlic. Since everything is going in the food processor, you can just peel and smash, and let the cloves roast whole.
Peanut Butter Pumpkin Bites are always good to have on hand. Made with pumpkin and pumpkin spiced, they have pumpkin seeds and dried cranberries for added fall flair. Make ahead and keep in your freezer for a healthy treat when you're on the go. 
Pumpkin Pie Yogurt is a fun way to eat your pie and call it breakfast. The homemade version has a lot less sugar, and you can sweeten it to your liking. Use any kind of yogurt you prefer, graham cracker crumble optional. 
Pumpkin Peanut Butter Dip is an easy and delicious way to add a little fall flavor to your snacks. Double the recipe and you can make a Pumpkin Peanut Butter Board. To do this, spread dip smoothly over the center of a cutting board using a spatula, making decorative waves. Surround with apple and pear slices and graham cracker squares around the perimeter. 
Cinnamon Sugar Roasted Chickpeas are a simple and healthy snack. Start with dry chickpeas to get the best results. Rinse, drain and let dry for at least an hour on paper towels. You can also wrap them in a clean dish towel and let them dry overnight in the refrigerator, if you have time. Transfer them to the air fryer or oven and roast them until crispy, then spritz with olive oil and season them while they're still hot. If leftover chickpeas get soft, you can put them in the air fryer for 2 to 3 minutes to get them crisp again.
Autumn Spiced Nuts 
1 teaspoon ground cinnamon
1/2 teaspoon ground ginger
1/2 teaspoon ground allspice
1/4 teaspoon ground nutmeg
1/4 teaspoon ground cloves
1/2 teaspoon salt
1 1/2 teaspoons fresh rosemary, finely chopped
2 egg whites
2 Tablespoons maple syrup or honey
1 Tablespoon dark brown sugar
2 cups raw unsalted almonds
1 cups raw unsalted pecans
1 cup raw unsalted walnuts
1 cup raw unsalted cashews
1/2 cup raw unsalted pistachios
1/2 cup unsalted pumpkin seeds, with or without shells
Preheat oven to 325º F with oven rack in center of oven. Line a large baking sheet with parchment paper. Add cinnamon, ginger, allspice, nutmeg, cloves, salt and rosemary to a small bowl and mix together; set aside. 
Add egg whites, maple syrup or honey, and brown sugar to a large mixing bowl and whisk until frothy. Stir in nuts and pumpkin seeds. Add spices and mix well. Spread nut mixture evenly onto baking sheet and roast for 10 minutes; stir and roast 10 minutes more. 
Remove from oven and let cool. Store airtight in pantry or refrigerator, up to 2 weeks, or freeze up to 3 months. 
Creamy Butternut Squash Dip 
1 2 1/4-lb. butternut squash

 

4 cloves garlic, coarsely chopped

 

2 Tablespoons olive oil
1/2 teaspoon kosher salt
1 15-ounce can cannellini beans, rinsed and drained
4 ounces goat cheese (chèvre)
1/2 cup grated Parmesan cheese
2 teaspoons fresh lemon juice
1 teaspoon chopped fresh thyme leaves, plus sprigs for garnish
small round bread loaf
Preheat oven to 400º F. Halve and peel squash and remove seeds. Cut squash into 1-inch cubes. Toss cubes with garlic, oil and salt. Spread on a rimmed baking sheet and roast until tender, about 35 minutes. 
Transfer squash to a food processor. Add beans, goat cheese, Parmesan, lemon juice, and chopped thyme. Process 30 seconds. Scrape sides of bowl, then blend until very smooth. Let dip cool. 
Slice off top of loaf. Pull out bread in center, leaving a 1/2-inch shell. (Reserve removed bread for another use.) Spoon dip into hollow loaf. Garnish with fresh thyme sprigs.
-Better Homes and Gardens, Halloween Tricks and Treats issue, 2023 
Pumpkin Pie Yogurt
1 Tablespoon pumpkin purée
1/4-1/2 teaspoon pumpkin pie spice
maple syrup to taste
plain Greek yogurt, 2%, full-fat, or dairy-free

 

crushed graham crackers, optional
Combine pumpkin purée, pie spice and maple syrup to taste in a small bowl and stir together. Spoon yogurt into a bowl, then top with spiced pumpkin and sprinkle with crushed graham crackers.  
Pumpkin Peanut Butter Dip
1/4 cup creamy peanut butter
1/4 cup canned pumpkin purée
2 Tablespoons maple syrup, brown sugar, honey or zero-calorie sweetener
1/4 teaspoon kosher salt
1/4 teaspoon pumpkin pie spice blend or ground cinnamon
Combine peanut butter and pumpkin purée in a small bowl and mix together. Add sweetener of choice, salt and pumpkin pie spice or cinnamon and mix well. Serve with sliced apples, crackers, and/or graham crackers. Cover and refrigerate up to 5 days. 
-joybauer.com
Cinnamon Sugar Roasted Chickpeas
1 15-ounce can chickpeas
extra-virgin olive oil spray

 

1 teaspoon ground cinnamon
1/2 – 1 Tablespoon sugar
pinch salt

 
Drain and rinse chickpeas in colander, then transfer to paper towel-lined plate. Let chickpeas dry completely. Transfer to air fryer basket and air fry in a single layer at 400º F for about 12 to 15 minutes, shaking basket every 5 minutes, until crunchy. Or, roast in 425º F oven for 20-30 minutes, until crunchy. 
Transfer hot chickpeas to a medium bowl and spritz with olive oil, then toss with cinnamon, sugar, and salt.  
Store in a jar at room temperature up to a week.
Peanut Butter Pumpkin Bites
1 overripe banana
1/4 cup pumpkin purée
1/2 cup peanut butter
2 teaspoons pumpkin pie spice
1 cup oats (gluten-free if needed)
1 Tablespoon chia seeds
1/2 cup roasted and salted pumpkin seeds
1/2 cup dried cranberries
In a medium bowl mash banana with a fork until smooth. Add pumpkin, peanut butter, and pumpkin pie spice and mix until well combined. Stir in oats, chia seeds, pumpkin seeds and  dried cranberries. Roll into 1"-1.5" balls then chill until ready to serve. 
Layer bites between waxed paper in an airtight container. Store in refrigerator up to 3 days or freeze up to 3 months.