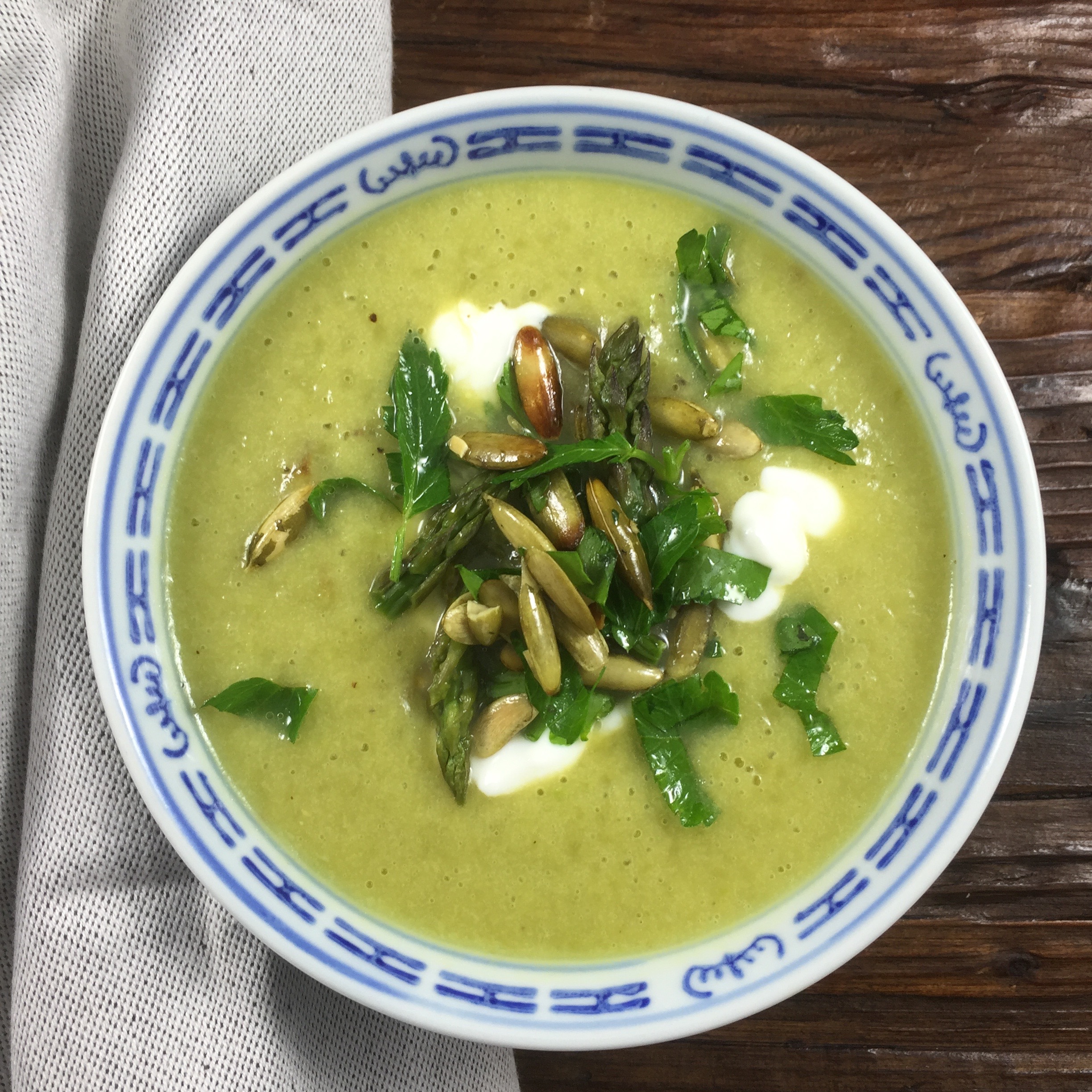 It's time to make soup.  This recipe is fast and easy, and you are going to use something that would have otherwise been kitchen waste.  If you saved those asparagus stems from your Easter meal, go grab em.  You can use a yellow onion instead of the green ones, but this is a great way to use those up, too.  Once cooked, tough stems become tender and puree to a smooth, silky soup.  If you feel your blender doesn't do a good enough job, pour the puree through a strainer, but every batch I made came out smooth and lump free.
Add a splash of cream to the finished soup, if that suits you, or enhance with some spice or seasoning that you like.  You could also top with a bit of browned ham or bacon, or some shrimp or crabmeat.  No matter what you do, you have just made yourself a meal out of something that would have otherwise ended up in the trash can.
Asparagus Ends Soup 
asparagus ends, approximately 4 cups
1 tablespoon olive oil
4 green onions, white and pale green parts, roughly chopped
2 cloves garlic, minced
1/2 lemon
sea salt
freshly ground black pepper
topping:
1/4 cup toasted pepitas
1/3 cup chopped flat leaf parsley
asparagus tips, raw or roasted
olive oil to drizzle
lime-yogurt sauce:
2 tablespoons plain greek yogurt
lime
sea salt
Put asparagus ends in 3 quart sauce pot and add enough water to cover one inch above asparagus.  Bring to boil then reduce heat and simmer for approximately 30-45 minutes, or until asparagus becomes tender and very soft.  Remove from heat and let cool a bit.  Transfer to blender, working in batches if needed, and puree until smooth.
Heat olive oil in same pot.  Add onions and garlic and saute until lightly brown.  Add to pureed asparagus in blender and process until smooth.  Season to taste with salt and freshly ground black pepper and add a squeeze of lemon juice to brighten.
To make topping, combine pepitas, parsley, and asparagus tips in small bowl.  Drizzle with a little olive oil and stir.
To make lime-yogurt sauce, mix greek yogurt and lime juice to taste in small bowl.  Season with salt.  (I saw this on Epicurious.com, and yes, it really is good!)
Ladle soup into bowl.  Garnish with a few drizzles of lime-yogurt sauce and the topping.