Apricot-Glazed Chicken With Spring Vegetables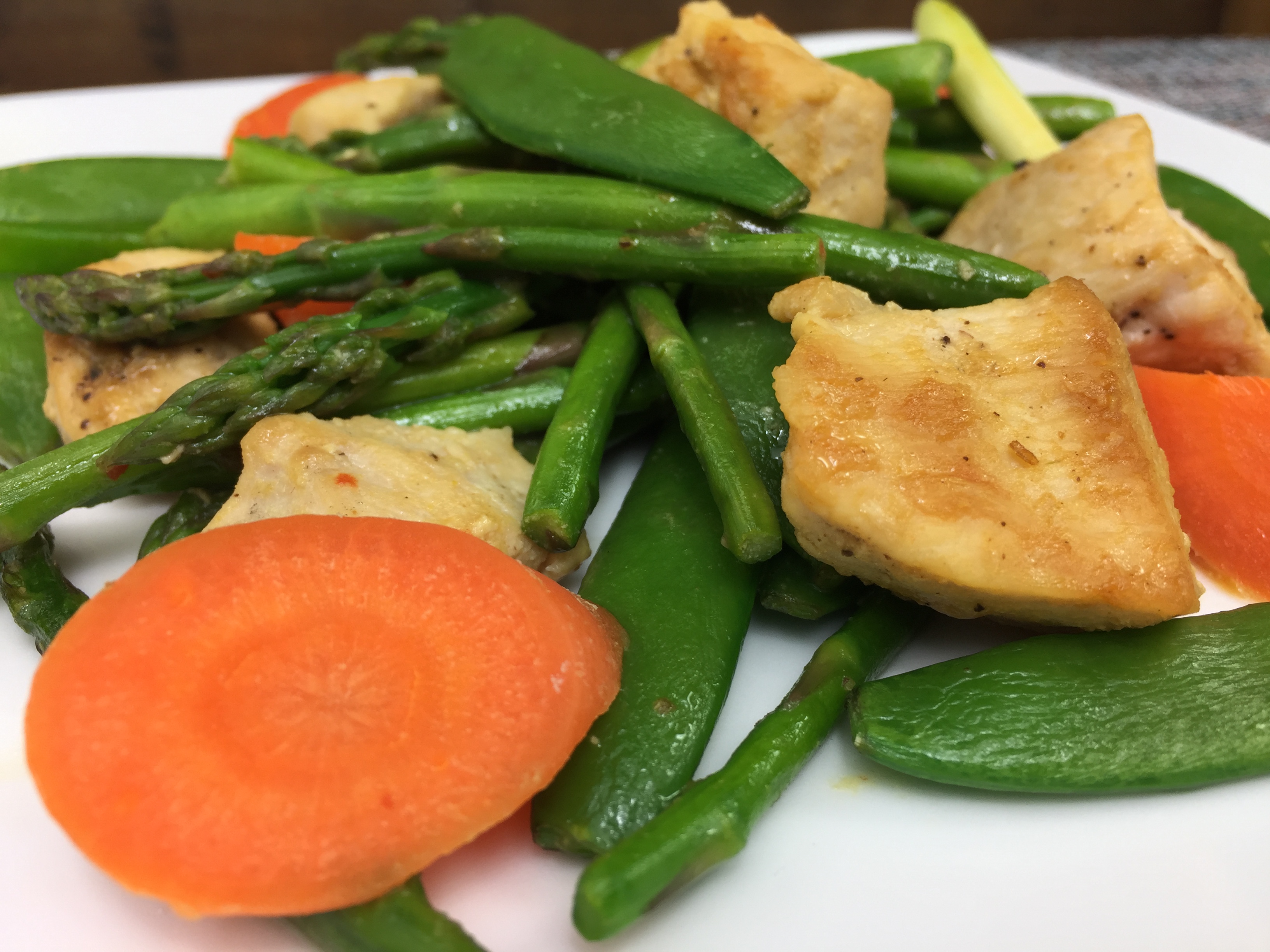 Spring is officially here, and for most of us, it's not one minute too soon.  Who else is ready to trade snowflakes for some rain?   Make something fresh and bright to celebrate spring and the nice weather days ahead.  This quick stir fry from the April 2017 issue of Food Network magazine combines the tender, new asparagus we are seeing at the market, fresh snow peas and crisp carrots with a simple glaze made from Dijon mustard and apricot preserves.  Peach jam or orange marmalade would also work well.  I used mango preserves, and got great results.  Be creative and use whatever citrusy or bright jam you have.
Make the sauce mixture in a small, separate bowl before adding it to your stir fry.  You can taste and adjust the ratio of mustard to preserves, and it helps to make a nice, even distribution in the pan.  The chicken seasoned with just salt and pepper seemed a little bland, so I added a teaspoon of garlic powder to the recipe.  I did not have any snow peas, but I did have sugar snap peas, which were a great substitution.  The tarragon is not essential, but make sure to use fresh lemon zest.  It brightens the flavor of the vegetables and adds a sunny zing.  And… use your imagination here.  The photo shows the recipe made as directed.  I added more lemon zest as I plated, and it made the dish even more dazzling.  (Sorry, but the whole pan full disappeared while I was taking the photograph.)
Welcome the spring showers.  They're a harbinger of our beautiful Northwest produce and the sunny days to come.
Apricot-Glazed Chicken With Spring Vegetables
1 1/2 pounds skinless, boneless chicken breasts (about 4)
1 teaspoon garlic powder 
Kosher salt and freshly ground black pepper
1 tablespoon extra-virgin olive oil
 2 tablespoons unsalted butter
4 carrots, cut into 1/2 inch pieces
1 bunch asparagus (about 1 pound), ends trimmed, cut into 2-inch pieces
12 ounces snow peas or sugar snap peas (about 2 1/2 cups), trimmed
3 tablespoons apricot preserves
4 teaspoons Dijon mustard
4 scallions, chopped
1 tablespoon chopped fresh tarragon
1 teaspoon finely grated lemon zest
Cut each chicken breast into equal size chunks, about 1 1/2 inch each.  Season with garlic powder, salt and pepper.  Heat a large, nonstick skillet over medium high heat and add olive oil.  Add chicken and cook, turning, until browned on all sides and almost cooked through, about 4 – 6 minutes.  Remove to a plate.
Add 1 tablespoon of butter to the skillet and reduce heat to medium.  Add carrots and 1/2 cup of water.  Cover and simmer until the carrots are crisp-tender, about 3 to 4 minutes.  Uncover, increase heat to medium-high and cook until water evaporates.  Remove carrots and add to plate with chicken.
Reduce heat to medium and melt the remaining 1 tablespoon butter in the skillet.  Add the asparagus and snow peas and 1/4 teaspoon salt.  Cover and cook until the vegetables are crisp-tender, about 3 minutes, adding a bit of water if needed.  Return chicken and carrots to skillet along with the mustard-preserve mixture, scallions, tarragon and lemon zest.  Simmer, tossing until the preserves are melted and the chicken and vegetables are glazed.  Plate and garnish each serving with additional fresh lemon zest.
adapted from Apricot-Glazed Chicken With Spring Vegetables
Food Network magazine – April 2017