Any Bean Soup and What To Do With All That Hot Cocoa Mix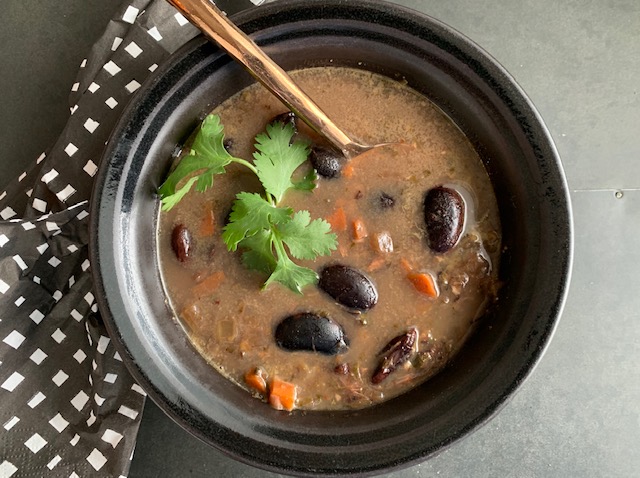 So, how are you doing? Amidst a week of ups and downs, and things rapidly changing, we are together, even though we may be apart. A home cooked meal is always welcome, but now more than ever, it is just what we need. 
Staying with that pantry theme, here's an easy way to make a flavorful, warming pot of soup. Short on ingredients but big on flavor, it makes use of dried or canned beans and spices that you just might have on hand. If you don't have carrot, celery, onion, or garlic, try using 1/2 to 3/4 cup of jarred salsa.  
I made this in my Instant Pot but you can make it in a stockpot as well. Substitute where needed, and don't get too hung up on quantities. If you only have 1 cup of dried beans, or if you are using 2 cups, that's okay. You can also make this using canned beans, just skip the dried bean step at the beginning. Almost any bean would work here: black beans, cannellini beans and also scarlett runner beans that I had in my pantry all worked fine. You can use an entire carrot and the whole stalk of celery, but I used just enough to season and give flavor, to help you stretch your supplies. The recipe calls for cumin and red pepper flakes, but you could use fennel, coriander, cinnamon sticks; bay leaves; smoked paprika; dried or fresh oregano; fresh parsley, rosemary, sage, or thyme if you like. Eat just as is, or stir in rice or pasta to mix things up a bit. 
Now for dessert. You may have discovered more than a little hot coca mix as you clean through your pantry. If it contains powdered milk, all you need to do is add water and cornstarch to turn it into delicious chocolate pudding. Top it with some mini marshmallows or crumbled cookies for a little added fun, or you could make an easy trifle with it. I made this in the microwave, so it's perfect to make with your kids. 
What to do with these days spent indoors? There is no right or wrong answer, but one thing I know for sure… just embrace it. Use your "good" dishes. Open that bottle of wine you've been saving for something special. Pop some popcorn – it's fun and it's easy. Whatever it is you're doing, you're doing just fine. 
Any Bean Soup
1 1/2 cups dried beans, or 2 cans canned beans
1 Tablespoon olive oil

 

1/2 large onion, diced (generous 1/2 cup)
1/2 carrot, diced
1/2 stalk celery, diced
sea salt or kosher salt
2 cloves garlic, minced
1 teaspoon cumin
red pepper flakes
2 cups water plus 2 teaspoons Better Than Bouillon Vegetable,

 

Chicken, or Beef Base, or 1 1/2 cups broth of choice
ham, sausage, bacon, or chorizo (may be omitted)
1 bay leaf

 

1/4 cup Parmesan cheese (optional), plus more for serving – or nutritional yeast
for dried beans:
Add dried beans to Instant Pot then cover with 2 to 3 inches of cool water. Set to "sauté" and cook until liquid reaches a full boil. Turn off and cover with lid. Let sit for 1 hour. Transfer beans and their liquid to a separate bowl and set aside. 
Add olive oil to Instant Pot and set to "sauté." Add onion, carrot, celery, and a generous pinch of salt. Cook, stirring occasionally, until onions soften. Add garlic, 1 heaping teaspoon of cumin and a shake of red pepper flakes and cook for 30 seconds. Add beans and their liquid (or 1 can black beans, drained well, and 1 can black beans, half drained) and water plus bouillon, or broth, to fill Instant Pot to halfway mark, adding more if necessary. Add meat, just a little: 2 slices of crumbled bacon, or 1/3 cup cooked sausage, or crumbled chorizo, or some ham – or, just keep it vegan. Add bay leaf and 1/4 cup Parmesan cheese, if using, and stir well. Set to "sauté" and bring to a simmer; cook for about 30 minutes, stirring and reducing heat as needed. Use an immersion blender to pureé about half of the soup (do this right in the pot), or, transfer about half to your blender, being careful not to get burned. Taste and adjust with salt and pepper.
Garnish as you like, with salsa, sour cream, yogurt, or guacamole. Add some crunch with tortilla chips or Fritos, if you have them.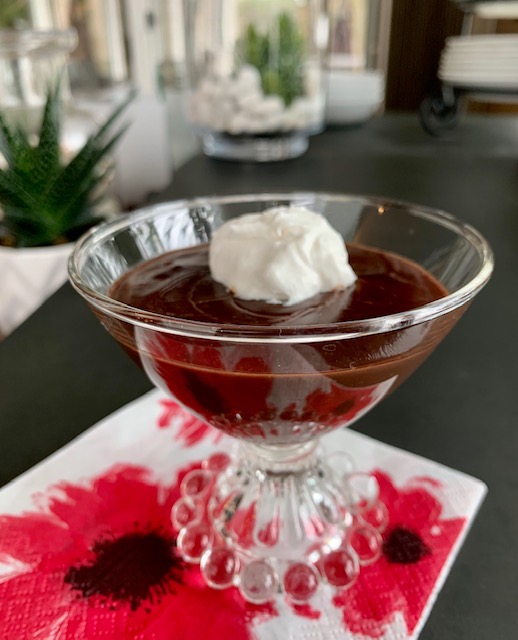 Hot Cocoa Pudding
3/4 cup hot cocoa mix*
3 Tablespoons cornstarch
2 cups water
Combine cocoa mix and cornstarch in a small bowl and stir together, mixing well. Measure water into a large, microwave safe glass measuring cup. Add cocoa mix and whisk until it fully dissolves. Microwave on high for 3 to 4 minutes, whisking throughly at 1 minute intervals, until pudding thickens. Pour into serving dishes. While still warm, cover each with a piece of clear plastic wrap or waxed paper, pressing lightly onto the surface. 
*if your cocoa mix does not contain powdered milk, use milk (of choice) in place of the water.
For more ideas on what to cook while relying on things you have on hand, go to my Instagram account for a new post each day.