Air Fryer Onion Rings with Sweet Chipotle Ketchup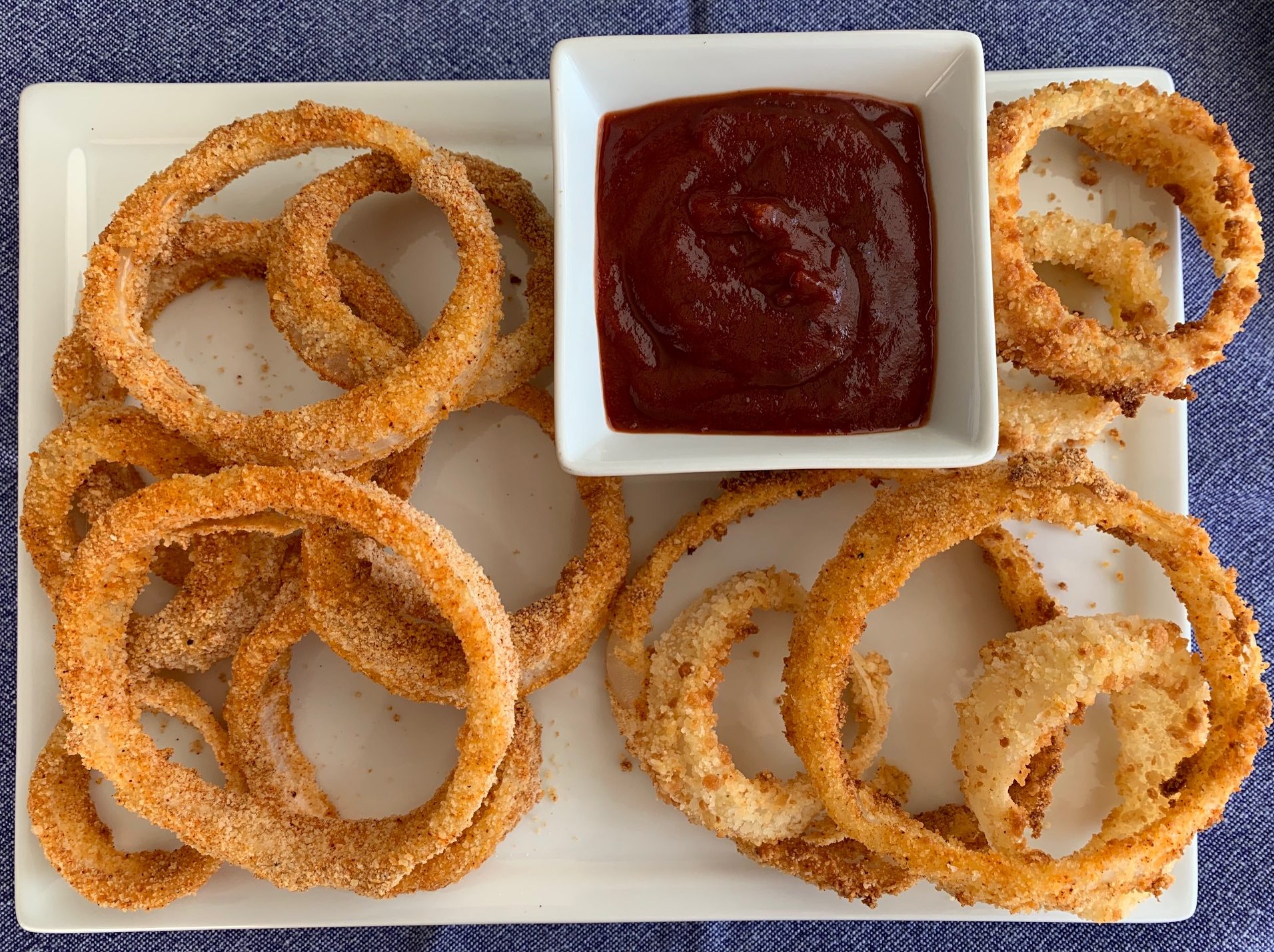 My first job was a part-time, after school shift at Burger King. I loved working in the prep area, but I wanted to make the Whoppers look like they did in the photos:  lettuce perfectly placed, meat patty in alignment, and just a smidge of tomato peeking out. I was making them look good, but I wasn't getting them down the line quickly. I didn't get to make very many burgers before they moved me, out of the kitchen and into the drive thru, where I could focus more on checking orders and keeping customers happy. Working the closing shift meant you almost always went home with free food. Often, it was onion rings. It was a definite perk.
Baked in your air fryer, home made onion rings are heavenly. Lighter and healthier than traditional fried ones, they are fast and easy to make: golden and crunchy on the outside, perfectly tender on the inside. If you don't have an air fryer, this recipe also works in your oven. You can mist the prepared onion rings and bake them right on the parchment lined sheet pan you used to hold the rings as you were coating them. Make them gluten-free (pictured on the right) by using gluten-free bread crumbs. Serve alongside your burgers or ribs for a little added fun. Share with your family and friends and have a fabulous Fourth! 
Air Fryer Onion Rings with Sweet Chipotle Ketchup
6 servings 
Onion Rings
3/4 cup bread crumbs, preferably whole wheat (or gluten-free)
1 teaspoon smoked paprika
1/2 teaspoon garlic powder
1/2 teaspoon salt, or more to taste
freshly ground black pepper
1 large egg
1 large egg white
1 1/2 Tablespoons low-fat mayonnaise
1 large sweet onion, sliced into 1/2-inch rings and separated

 
Sweet Chipotle Ketchup
1/3 cup ketchup
1 Tablespoon chipotle pepper hot sauce, or more to taste
2 teaspoons honey
for ketchup:
Combine ketchup, hot sauce and honey in a small bowl and whisk together. 
for onion rings:
Combine bread crumbs, smoked paprika, garlic powder, salt and freshly ground black pepper in a pie plate, or flat bottomed bowl, and mix together. In a separate bowl, combine egg, egg white, and mayonnaise and whisk together. 
Line a large baking sheet with parchment paper and set aside. Dip each piece of onion in egg wash and then into bread crumbs, turning gently to completely cover and coat. Set on baking sheet and repeat with remaining onion until all rings are coated. 
Working in batches, evenly mist the tops of the onion rings with nonstick oil spray before adding in a single layer to the metal insert rack of air fryer. Cook at 400º F for 7 – 8 minutes, or until coating is golden brown and crispy and onions are tender but still hold their shape.
Serve hot with chipotle ketchup for dipping. 
For oven preparation: 
Preheat oven to 400º F. Lightly mist the tops of prepared onion rings with nonstick oil spray, then bake for 7 minutes. Flip carefully, then continue to bake another 7 minutes or more, until coating is golden brown and onions are tender.
– recipe by joy bauer, from joybauer.com