Acorn Squash Bowls with Sausage, Spinach and Brown-Butter Sage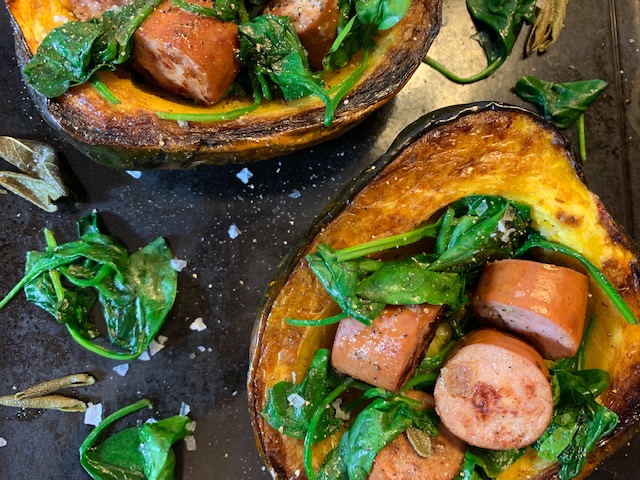 I love to read recipes. I also love to save them. I save them in my email. I save them on my Pinterest page. I save them in assorted filing systems that include binders, hanging files, and recipes that are tucked into cookbooks. I also have two huge woven baskets that contain all of the recipes I come across until I either make them or file them. In my head is the index system, where I somehow know which place to check for the recipe I am looking for. I need a better system.
This recipe is from my baskets. It looked so good and seemed so easy I couldn't wait to try it. As soon as I did, I decided to keep it. The acorn bowls are fall-friendly and portable, which also makes them perfect to take along to your soccer or football game and fun for feeding your family tailgate style. 
You can use any kind of sausage that you like, but to keep this speedy, the fully-cooked variety works best. While you're at it, plan to cook extra. A zip-top bag full of some sliced chunks of browned sausage will be ready and waiting in your freezer. Toss some into soups, mac and cheese, a quick risotto or pasta sauce, or just re-warm them and set them out with your cheese board. Double up on the squash, too. You can easily fit four more halves on your baking sheet. Add a small pat of butter and sprinkle them with cinnamon and a bit of brown sugar. Cook these facing cut side up, alongside the ones you plan to stuff. You can enjoy the extras with a browned pork chop or a grilled chicken breast another night this week.    
I am so excited to be here, but I've been doing all the talking. Now it's your turn. Drop me a line. What are your dinnertime dilemmas? What do you like to cook? What do you want to see more of and how do you organize your recipes? Feeding yourself and your family a home cooked meal is one of the best things you can do but it can also be one of the most challenging. One thing I know for sure:  the easier it is, the more likely it will be to end up on your table. Sure, it's fun to spend a whole day cooking and tackle a recipe that takes a lot of time, a horde of ingredients and a mountain of effort. But most of the time you just need to eat, and you need to eat quick. Talk to me at the email below and let me know how I can help. 
The leaves are falling. Visit a farm. Pick up some apples, some squash, and while you're at it, grab a pumpkin for your porch.
Acorn Squash Bowls with Sausage, Spinach, and Brown-Butter Sage
2 acorn squash
2 tablespoons olive oil, divided
sea salt

 

1 12-ounce package fully cooked chicken sausage, cut into 1/2 inch thick slices
5 ounces fresh baby spinach
2 teaspoons lemon juice
1/4 cup salted butter
1 tablespoon minced fresh sage leaves
freshly ground black pepper
Preheat oven to 425ºF. Line a rimmed baking sheet with parchment paper. Slice squash widthwise and scoop out seeds. Lightly brush cut sides of squash using 1 tablespoon of olive oil and sprinkle with salt. Place cut side down and roast for 25 minutes or until you can easily pierce with a fork.
While squash cook, heat remaining tablespoon of oil in a large pan over medium heat. Add sausage and sauté, about 5 minutes or until lightly browned. Add spinach and cook until wilted, about 2 minutes. Stir in lemon juice. In a small saucepan over medium heat, warm butter and sage. Cook, stirring occasionally, about 3 to 4 minutes, until butter smells nutty and browns lightly. 
Fill squash with sausage and spinach, then drizzle with brown butter and sage. Finish with freshly ground black pepper. 
– recipe from livenaturallymagazine.com