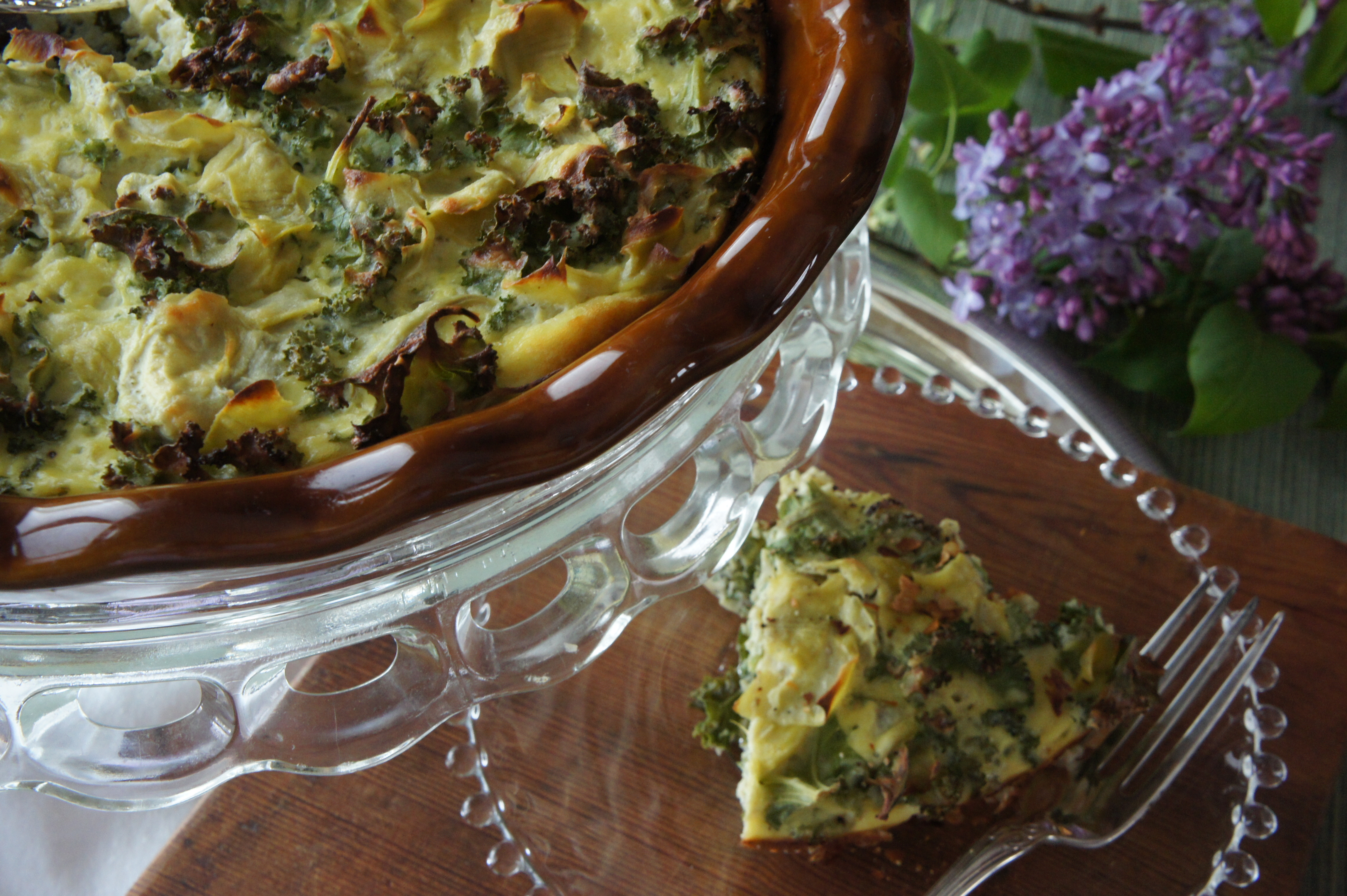 Easter is a ham holiday. Oh sure, there are the chocolate bunnies, jelly beans and that beautiful loaf of golden braided bread. There really is no point in trying to compete with those cute little marshmallow peeps. This is a day for family gatherings, and it's all about the ham.
You never want to upstage the star of the party, but this make-ahead pie shines so bright it might do just that. It has 6 ingredients and takes only a few minutes to prepare. Cut into wedges, it will make a pretty presentation with your ham and side dishes. You could easily assemble and hold it in your refrigerator, ready to bake Easter morning. It also reheats nicely, so it would be fine to bake it the day ahead and rewarm gently before you put it on your table.
If you are going to be a guest, this would be a great dish to bring along. It will travel well if baked ahead, and would be a warm gesture your hostess could enjoy the next day if she chooses not to serve it. It would also be well-suited for a bridal shower or a picnic.
On Easter, the little ones will be preoccupied with the thrill of the hunt for those brightly colored eggs. You can pop this in the oven, enjoy a glass of freshly squeezed orange juice, or hunt down a few bunny nests of your own. However you celebrate, have a happy gathering with your family and a very happy Easter.
Artichoke, Kale and Ricotta Pie
Olive oil
8 eggs, beaten
10 ounces part-skim ricotta
1/2 cup grated Parmesan cheese
1 14 ounce can artichoke hearts, drained well and chopped
1 bunch cavolo nero kale*, rib removed and leaves roughly chopped
salt and freshly ground pepper
Preheat oven to 400°F. Grease a 9-inch pie pan lightly with olive oil. In a large bowl, whisk the eggs, ricotta, and Parmesan cheese. Thinly slice the kale leaves and add about 3 cups to the egg mixture along with the chopped artichokes. Season lightly with salt and generously with fresh ground black pepper, stirring gently until well combined. Pour into prepared pie pan. Bake in preheated oven until lightly brown and custard is set, about 40 to 50 minutes. Cool on a wire rack.
*If you cannot find cavolo nero, or Tuscan kale, you can substitute a curly leaf variety, but you will want to chop it finely and may want to saute it lightly in olive oil for a few minutes to wilt and soften it a bit. Let it cool before adding to your egg mixture. It is fine to skip this step, but the kale will be firmer in your finished dish.
(recipe adapted from Artichoke, Kale, and Ricotta Pie from The Kitchn.)