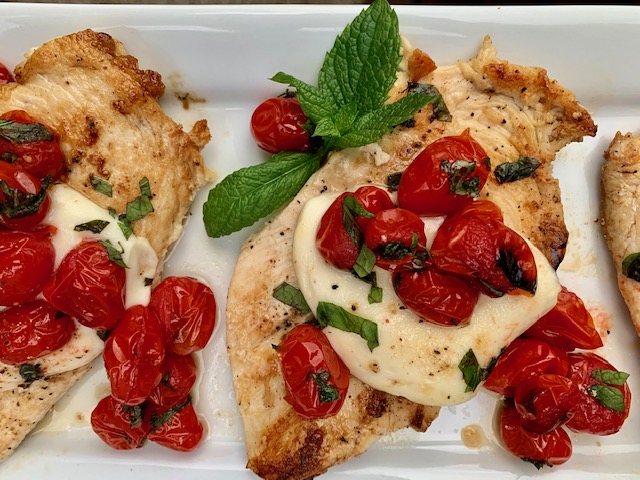 The familiar sight of yellow school buses has returned and with it comes the renewed urgency and interest to get dinner on the table in a quick, easy way. A friend and I were recently discussing how challenging it is, every day, no matter who you are or how you plan, to get everybody fed. We talked about strategies, desperate measures, and how you happen on recipes that work. Afterwards, he emailed me something about 3-Minute chicken. I had to try it and I think you should, too. 
This is a great way to cook chicken. Butterflied and pounded, chicken breasts cook at lightning speed:  perfect for fast, easy weeknight prep. The browned portions are tender and juicy, not to mention deliciously seasoned with just salt and pepper. You can, and should, freeze any leftover portions in a zip-top bag, ready to go for another night, and if you can, make extra. Quickly reheat the portions and top with one of the other suggestions below and these become a whole new meal. Hello, fast food. You can definitely make these stovetop, but why not take it outside? Use the side burner on your grill and you can enjoy the nice weather. And not mess up your kitchen.
I used mozzarella in place of the burrata because I always keep some in my fridge this time of year for caprese. You can use the tomatoes and mint you might have hanging around from your garden, but don't stop there. Try arugula, a spritz of lemon and shaved Parmesan, or chopped cucumbers, tomatoes, and feta, maybe with some chickpeas or olives. You could also add cinnamon, nutmeg and ginger to the chicken and top with some lightly sautéed peaches or apples, maybe a bit of brie, and a drizzle of maple syrup. Get creative and use what you have or what you like. 
I timed this because I wanted to see if it really did cook in 3 minutes, and while it was pretty close, it did take more like 4 1/2 minutes, perhaps because the chicken breasts that I started with were rather large. Cook until you see juices that run clear, or better yet, use a thermometer to be on the safe side. Be sure to wash and scrub anything – hands, boards, knives – that comes into contact with raw chicken using plenty of hot, soapy water and/or sanitize in the dishwasher. 
Make the most out of the summer we have left by squeezing in some fun. Cook a pizza on the grill, make some cold brew coffee, cook a campfire breakfast, skewer as much of your food as you can. Enjoy a killer burger, go for a picnic, make some pickles or jam, take a small road trip. The Huckleberry Festival is September 6-8 in Bingen, Washington. You'll find kids activities, entertainment, a parade, as well as locally baked pies, ice cream, candy, jams, jellies, and desserts. You can also purchase huckleberries to take home for your own baking and making, which is what I am planning to do. I also plan to make chicken this way again and again. Even if it does take a little longer than 3 minutes. 
3-Minute Chicken with Charred Cherry Tomatoes, Burrata and Mint
1 pint cherry tomatoes

 

4 Tablespoons extra-virgin olive oil, divided
1 1/4 teaspoons kosher salt, divided, plus more to taste
1 teaspoon freshly ground black pepper
2 chicken breasts
1/3 cup mint leaves, roughly chopped
2 Tablespoons canola oil
4 ounces burrata, or mozzarella
Heat broiler. Line a rimmed baking sheet with foil and add tomatoes, 1/4 teaspoon salt, and 1 Tablespoon olive oil, tossing to coat with your hands. Broil until juicy and slouchy, about 7-15 minutes, watching closely for some of the tomatoes to char. 
While tomatoes cook, butterfly the chicken. Using a sharp knife, halve each breast horizontally.  Stop just before you reach the end, opening chicken breast like a book. Cover with plastic wrap and pound using the flat side of a meat mallet (or rolling pin or skillet), until about 1 centimeter (or just under 1/2 inch) thick. Repeat with remaining chicken breast. Season all over with salt and pepper.
When tomatoes are done add mint and a light drizzle of olive oil, and lightly stir.
Heat a cast-iron skillet over medium heat until very hot. Add 1 Tablespoon canola oil and tilt pan so that oil coats entire bottom of pan. Add one chicken breast and cook for 1 1/2 minutes. Turn and cook other side, another 1 1/2 minutes, or until internal temperature reaches 165º F and chicken is cooked through. Repeat with canola oil and remaining chicken. 
Plate chicken topping with tomatoes and burrata, sprinkling with more salt and additional olive oil if desired.
– recipe by Emma Laperruque , as seen on Food 52