3-Ingredient Pesto-Grilled Chicken With Peaches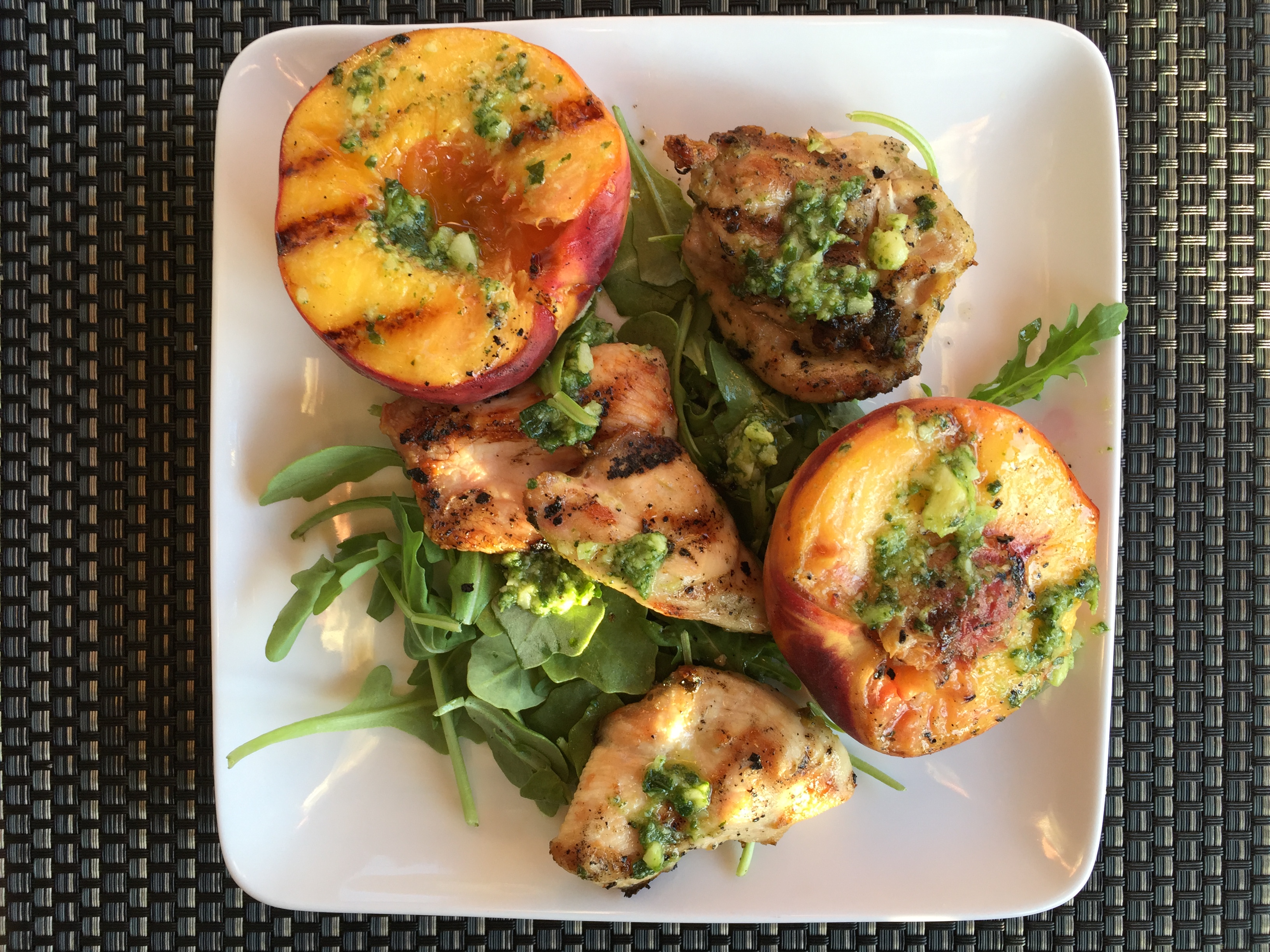 Peach season is here and this 3-Ingredient Pesto-Grilled Chicken with Peaches is THE answer for what you should be eating right this minute.  This recipe, from Epicurious, is a quick grab-and-go dinner you can make on a moment's notice.  Pick up chicken, store-bought pesto, and some juicy, sweet peaches and you're set.  Serve plated atop some arugula simply dressed with a squeeze of fresh lemon juice, salt, and freshly ground black pepper – it's tonight's perfect, easy meal.  And because everything cooks on the grill…  no dishes.
The original recipe called for bone-in, skin-on chicken thighs, but I tried this with legs, boneless chicken thighs, and skinless tenders and it worked quite well on all of them.  If you have time, you can marinate the chicken beforehand, for several hours or overnight, as they did in the Epicurious recipe.  You can also throw the chicken straight on the grill and just brush the pesto on while it cooks.  It works!  Divide the pesto-oil mixture in half before you grill the chicken.  Depending on how much pesto you use, you may have some left over, and you don't want to waste too much because of contact with the raw poultry and the brush.  You can transfer more from the serving bowl if you need it, and you may even have some left over for another use.
If you feel inclined to make fresh pesto yourself, here's a quick and easy recipe you can make in your blender.  I usually cut the recipe in half and omit the nuts because of my husband's nut allergy.  The recipe also calls for 2 cups of fresh kale.  You won't notice it at all in the pesto, but including it will give you a nutritional bonus.  If I don't have fresh kale, I substitute the frozen one that I keep on hand.  Again, I cut the quantity back to about 1/3 cup, which I think is just perfect.
3-Ingredient Pesto-Grilled Chicken With Peaches
1 cup pesto, store-bought or home-made
1/4 cup extra virgin olive oil
2 – 3 pounds chicken pieces, skin-on thighs, legs, and tenders
4 ripe peaches, halved
for serving:
1 seven ounce bag arugula
1 lemon
sea salt
freshly ground black pepper
Combine pesto and olive oil in a small bowl.  Transfer half of mixture to another bowl and reserve for serving.  Heat grill to medium high, or heat grill pan or cast-iron skillet over medium-high heat.  Oil grate or pan.  Grill chicken, skin side down, until lightly charred and golden brown, about 7-9 minutes, brushing chicken with pesto mixture while it grills.  Turn and brush other side with pesto mixture, continuing to grill until cooked through, about another 5-7 minutes or until an internal temperature in thickest part of thigh is 165º F.  Transfer chicken to a plate.
Reduce grill heat to medium.  Brush peach halves with pesto mixture and grill, cut side down, until softened and warmed through, about 2-3 minutes.
Place a generous mound of arugula on large serving platter, or individual serving plates, and squeeze lemon juice over all.  Season with sea salt and freshly ground black pepper.  Top with grilled chicken and peaches and drizzle with pesto sauce.  Serve additional pesto sauce alongside.
– adapted from 3-Ingredient Pesto-Grilled Chicken With Peaches, Epicurious, June 2017
Kale and Basil Pesto
1 cup olive oil
1 cup grated Parmesan cheese
3 medium garlic cloves, peeled
2 cups fresh basil leaves
2 cups fresh kale leaves
3 tablespoons pine nuts
1/4 teaspoon salt
pinch black pepper
Place all ingredients into blender or Vitamix container in order listed and blend for 30 seconds or until desired consistency.
from Create – Inspiring Recipes For Every Day Of The Week, by Vitamix