Ridgefield, Columbia River 1-2 in state volleyball coaches 2A rankings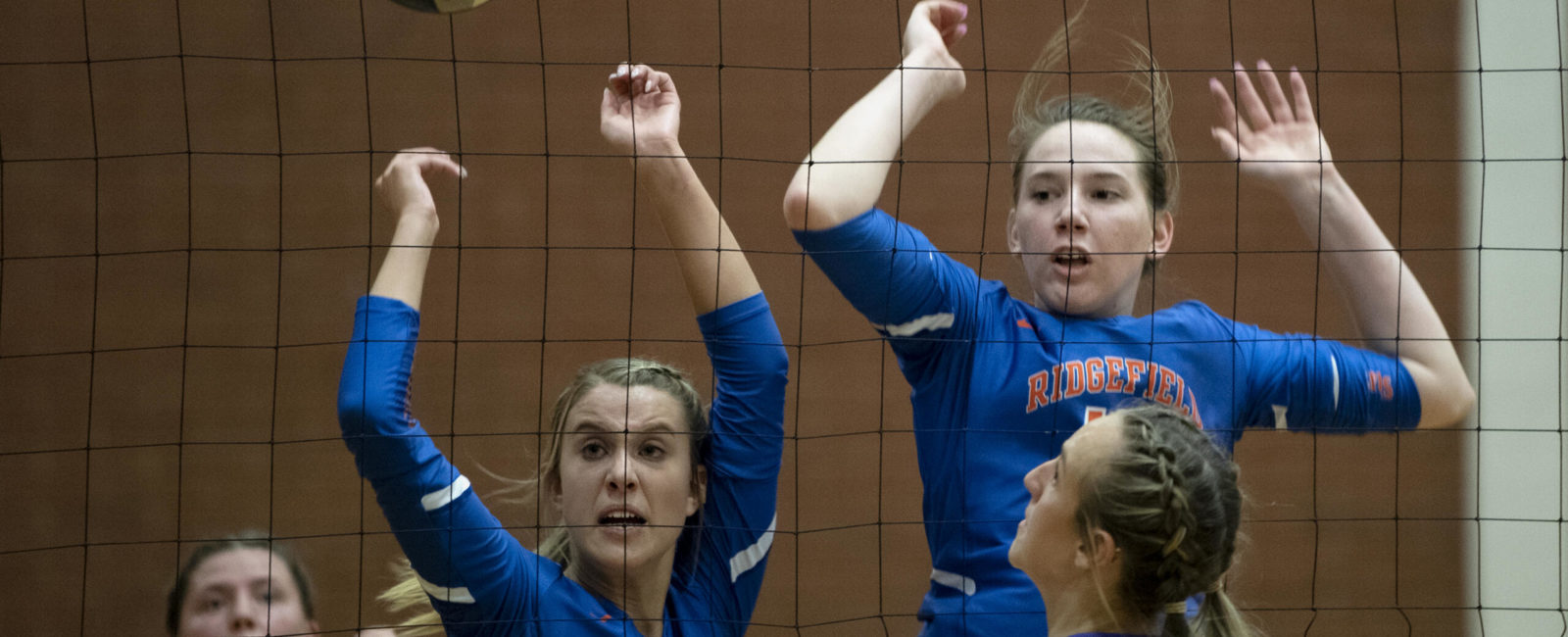 Clark County remains the hub of Class 2A high school volleyball, at least according to the most recent rankings released by the Washington State Volleyball Coaches Association.
Unbeaten Ridgefield remains ranked at No. 1 in Class 2A, just as the Spudders were in the coaches' preseason rankings. Now Ridgefield is joined by 2A Greater St. Helens League rival Columbia River at No. 2.
Ridgefield beat Columbia in a competitive three-set victory on Sept. 21. The league rematch is scheduled for Oct. 21 in Ridgefield.
Other local teams ranked by the coaches include Camas (No. 3 at 4A), Kelso (No. 5 at 3A), Castle Rock (No. 5 at 1A) and Kalama (No. 4 at 2B). Skyview and Prairie did not make the top-10, but received consideration.
Here are this week's rankings, compiled by Rene Ferran.
Class 4A
1, Puyallup. 2, Lake Stevens. 3, Camas. 4, Graham-Kapowsin. 5, Tahoma. 6, Curtis. 7, Mount Si. 8, Bothell. 9, Wenatchee. 10, West Valley (Yakima). Others: Skyview, Bellarmine Prep, Gonzaga Prep, Olympia, Jackson.
Class 3A
1, Mount Spokane. 2, Lakeside (Seattle). 3, Mead. 4, Capital. 5, Kelso. 6, Arlington. 7, Seattle Prep. 8, Bishop Blanchet. 9, (tie) Bellevue and Ferndale. Others: Peninsula, Roosevelt, Eastside Catholic, Bethel, Kennewick, Central Kitsap, Walla Walla, Prairie, Snohomish, Interlake.
Class 2A
1, Ridgefield. 2, Columbia River. 3, Washington. 4, White River. 5, Burlington-Edison. 6, Steilacoom. 7, Lynden. 8, Ellensburg. 9, Pullman. 10, Tumwater. Others: Ephrata, Sammamish, North Kitsap, Anacortes, Fife.
Class 1A
1, Overlake. 2, Lakeside (9 Mile Falls). 3, Freeman. 4, Chelan. 5, Castle Rock. 6, Annie Wright. 7, Seattle Academy. 8, South Whidbey. 9, Cashmere. 10, Meridian. Others: Lynden Christian, Zillah, King's, Bush.
Class 2B
1, Colfax. 2, La Conner. 3, Goldendale. 4, Kalama. 5, Brewster. 6, Toutle Lake. 7, (tie) Tri-Cities Prep, Raymond, and Walla Walla Valley Academy. 10, Asotin. Others: Liberty, Northwest Christian (Colbert), Granger, Manson, Okanogan, Chewelah.
Class 1B
1, Oakesdale. 2, St. John/Endicott-Lacrosse. 3, Odessa. 4, Mossyrock. 5, Almira/Coulee-Hartline. 6, Mary Walker. 7, Naselle. 8, Darrington. 9, Pomeroy. 10 Orcas Island. Others: Willapa Valley, Entiat, Mount Vernon Christian.