shop.prep.cook #3 with The Soanka's
The experience
Yesterday, I spent the afternoon with The Soanka's: Derek, Christie, and Baby Olivia for a shop.prep.cook session. I've had the pleasure of visiting their home and helping them with meals three times now. Since they've been in and out of town the past few weeks they've been eating on the go and were eager to have me back in the kitchen.
Derek requested more fresh salsa (which Baby Olivia helped make), peanut sauce, and Simple Slaw. Christie wanted more Simple Slaw and fresh salsa too (we made her own batch because she likes it mild), and she wanted to use up the abundance of squash from their garden.
Their food, their way right in the comfort of their home!
Christie grocery shopping with me guiding her
Baby Olivia helping me make the Fresh Salsa — Young Chef in training
The Soanka's personalized menu:
– Teriyaki & Peanut Sauce -Cucumber Sauce -Fresh Salsa
-Baked Tortilla Chips – Simple Slaw
-Sautéed Squash and Tomatoes -Stuffed Squash
-Teriyaki Chicken Kebabs -Lemon Rosemary Chicken -Grilled Herbed Butter Lobster Tails
Fresh salsa
Prep work
Squash and tomatoes ready for sautéing
Stuffed Squash
After all the prepping and cooking we needed a food break.
So impromptu we paired the cucumber sauce with Naan, garden fresh tomatoes, Kalamata Olives, andFeta Cheese for a Mediterranean experience.  Local blueberries added a taste
of sweetness.
Derek joined us but he opted for a taste of Stuffed Squash
After our break…
Grill time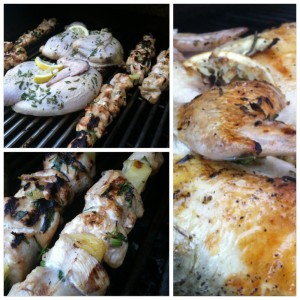 —
I've been here, there, and everywhere in the community teaching cooking classes and delivering healthy lifestyle presentations. Now, I want to bring my passion for food and cooking right to you in your home. shop.prep.cook is a more personal experience. The way I see it, this is your food, you should have it your way. Having it your way means being involved in the entire process from meal planning to cooking. What I've learned is most people may want to cook at home but their busy lifestyles make it challenging, some are looking for new ideas, and others may just not know where to start. No matter where you are I want to help. I'm full of ideas and passion for home cooked food. 


shop.prep.cook