Giving Medicine to Your Cat Doesn't Have to be a Pain!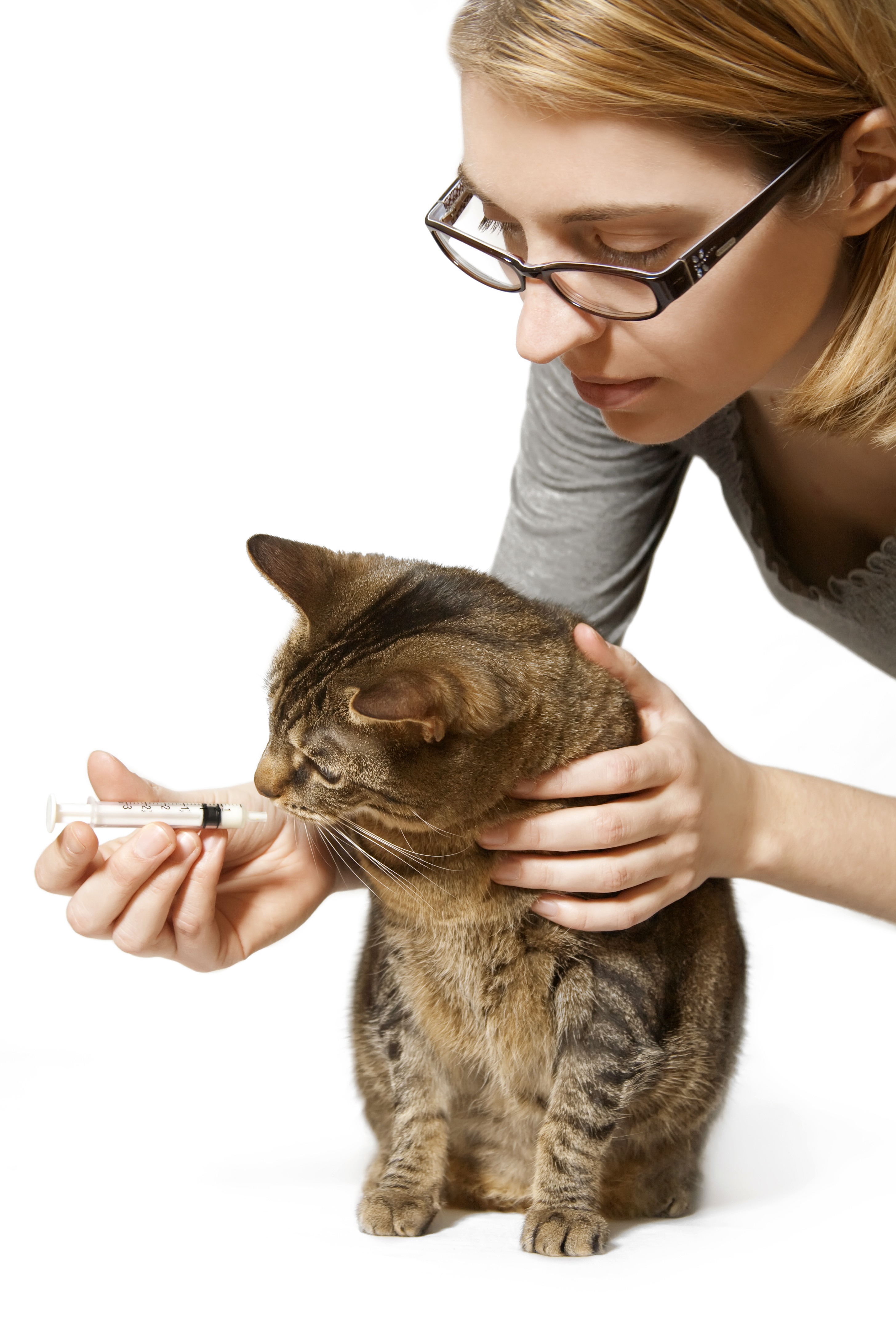 Is giving medicine to your cat something on your daily to-do list?  If so, do you anticipate the event with dread as medication time approaches, or are you worried about surviving the ordeal?  Don't worry, giving your cat medication doesn't have to be a terrible experience for either you or your kitty!  And, I promise that you can survive this important task without the need to have the phone ready to summon emergency medical attention for yourself.  I jest, of course, but many of you may know that some cats can be a real pill when it comes to taking medication.
The two most common forms of medication for pets are pills and liquid; I personally have better luck with pills, because when it comes to giving liquid, I usually find myself covered in whatever medication I'm trying to give (and here's a related question for you:  why can't they make amoxicillin, an antibiotic, taste like tuna instead of bubble gum?  That would solve soooo many problems!).  But both types of medications can be administered quickly and easily with a little practice!  So, before you decide to give up on medicating your beloved kitty (who somehow transforms into a vicious beast with fangs and Wolverine-style talons when she hears the medicine bottle open) and just make your significant other or partner do it instead, here are a few tips that may help you with giving medicine to your cat:
Sneak her meds in food.  Check to make sure the medication can be taken with food (some can't), and if it can, you can try mixing liquid medication in with wet food. Be careful about hiding pills in food though…most cats are clever enough to see that ploy coming from a mile away and will simply eat around the pill!  Therefore, try the next suggestion:
Use Pill Pockets or Pill Paste.  I've had great luck giving my cat Jesse his medication in Greenies Pill Pockets.  The salmon flavored ones are a little more moist than the chicken and hold the pill better.  Also, I only use half a pill pocket because they are fairly large.  There's also a "pill paste" made for kitties from Earth's Balance that works quite well.
Trim your cat's claws.  Just sayin'.  If you can't give your kitty her meds in food or pill pockets, you'll have to feed her medication directly.  Trimming her claws is probably something you want to do ahead of time, just so that your kitty isn't already annoyed prior to getting her meds (and you'll save yourself a few scratches, potentially).
Wrap your cat in a purrito.  Some cats do better when they are snugly wrapped in a towel – this can calm them, and keep their paws out of the way when you are trying to medicate them.  However, be careful – some cats do NOT like this and will struggle more when confined like this.  Do what works best for your kitty.
YouTube is your friend!  Watch a video or two about how to medicate your cat.  This video (HERE) is great for showing you how to pill your kitty, and this video (HERE) demonstrates giving liquid medication.
Compounded medication.  If you're not having any luck with either pills or liquid medication, you might ask your vet about compounding the medication into a yummy liquid, treat, or even a gel that you can rub onto the inside of your cat's ears.  It's a little more expensive, but it's easy-peasy!
You may have to try a few things to see what works best for you and your cat.  If you have a friend who can help you, that's great!  The most important piece of advice I have for you though, in addition to the above tips, is that you'll want to approach this task with confidence and speed.  If you don't succeed the first time and your cat gets upset, let her go and calm down for a bit.  Try again a short while later – with practice, it will get easier, I promise.  I hope this information helps make giving your cat medicine a bit easier for you (or at least gets you to the point where you don't have to have band-aids at the ready!).