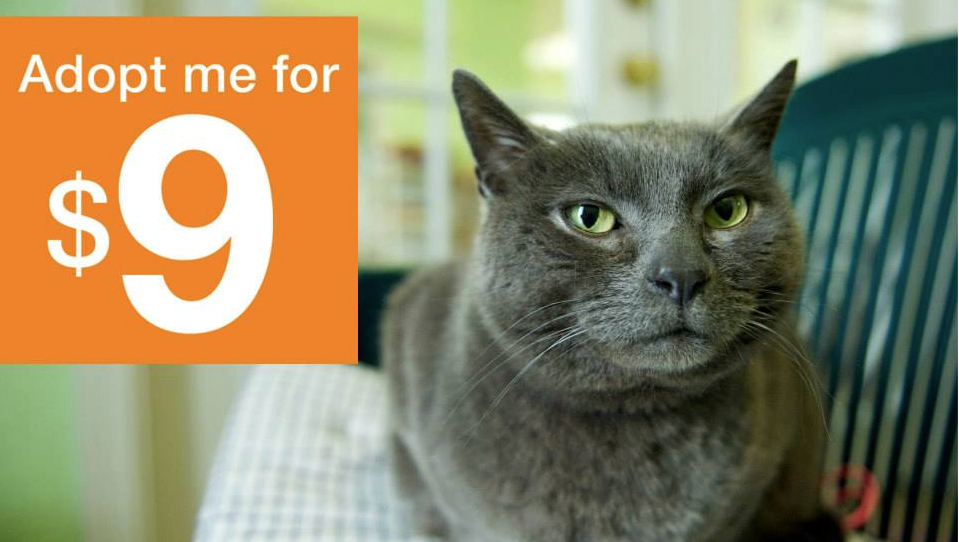 I follow quite a few of the Humane Society and rescue groups on Facebook. My husband volunteers for Family Dogs New Life shelter in Portland as a photographer and I love seeing his photos pop up in my feed after picture day. My family has adopted a few animals from the Humane Society for Southwest Washington in Vancouver and a new friend is a regular volunteer at the West Columbia Gorge Humane Society in Washougal.
So I see a lot of photos of animals up for adoption flow through my Facebook page. And like most animal lovers, I want to adopt them all. But for now, as I keep telling my husband, one cat and one dog are probably enough.
Then this little girl pops up.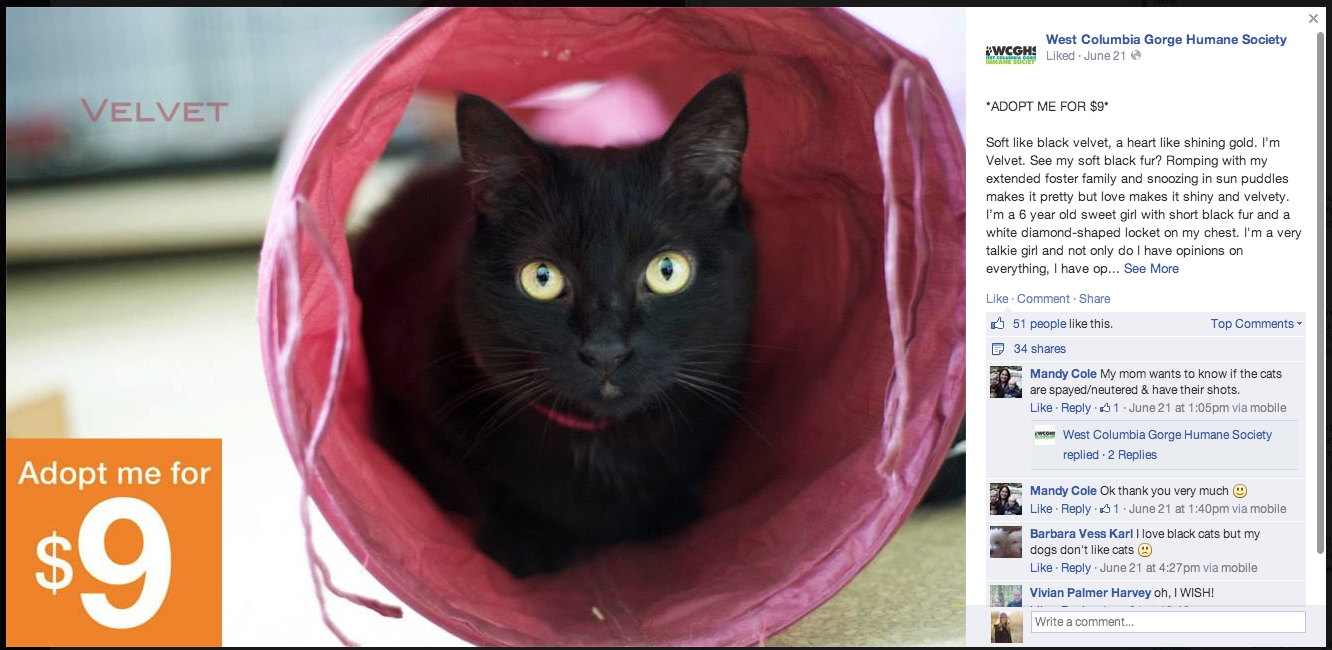 Now logically, the cost of the adoption of a pet is not really the hurdle when it comes to finances. But the part of my brain that loves sales is yelling, "She's only $9. Adopt her! Adopt her!" And my husband's response when it comes to a second cat is always the same: Whatever you want, wife. He is of the firm belief that two cats is just not that much different than one. Dogs in his mind are different — and he's right to an extent. But two cats, a dog, two adults, a small business and my shoe collection in a condo with no backyard? I just can't quite get there.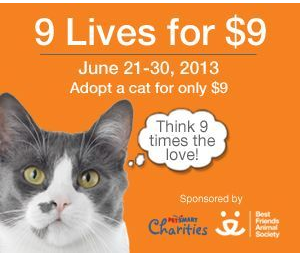 But for my own edification, I wanted to look into why WCGHS was offering cats for $9. From the website: "Adopt a feline friend 9 months of age or older from West Columbia Gorge Humane Society during the special "9 Lives for $9," adoption event and you become part of something important. For 10 days in June we are making it so easy for people to meet our fabulous felines who are ready to go home with you. And for just $9, you can save a cat age nine months or older who could end up saving you! … This adoption event is part of Best Friends Animal Society's national mission of No More Homeless Pets®, which aims to end the killing of dogs and cats in America's shelters. West Columbia Gorge Humane Society is a participating member of the No More Homeless Pets® Network, a program of Best Friends Animal Society, offers help and support to animal rescue groups that save lives in their communities."
West Columbia Gorge isn't a huge shelter but they have more than 20 cats up for adoption. Humane Society for Southwest Washington has too many to count on the website.
And this is the thing that gets me so close to believing what my husband says: There are so many cats out there that need homes. This time of year the shelters are flooded with kittens and they will soon have an other flood of animals that ran away from home because they were frightened on the Fourth of July.
If you can't adopt an animal, think about volunteering or donating supplies or money. Many shelters have Wish Lists of the things they need most: WCGHS; Family Dogs; Second Chance Companions in Battle Ground; Humane Society for Southwest Washington; Furry Friends in Vancouver and so many others.
So, I will keep thinking about adding to our brood. But for those of you who can adopt an animal, do it now. Rescue groups, and I've only mentioned a few of the dozens in the Portland-Vancouver metro area, always have more animals that need homes. Always.
There is never a day when those shelters are empty. It would be nice to change that.