Yay? Nay? Third bridge statements submitted to election office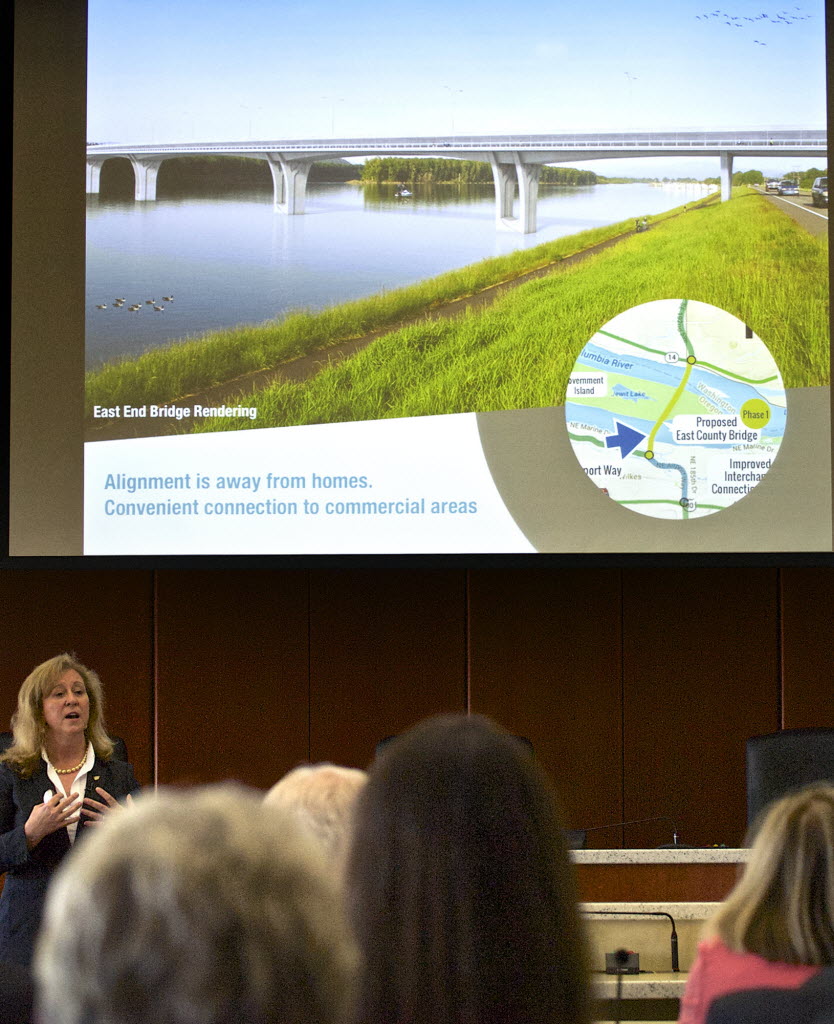 After all the hand-wringing about who was going to write the pro and con statements on the bridge advisory vote for the voters guide, the wait is over. Sure, the election is still more than two months away, but you can read the statements about a proposed third bridge right here, right now:
First, the statement in favor, written by Port of Vancouver Commissioner Jerry Oliver, Clark County Commissioner David Madore and John Ley, failed legislative candidate. 
UPDATED PRO STATEMENT FOR ADVISORY VOTE 1
Last November, Clark County citizens voted "yes" to explore a toll-free East County Bridge across the Columbia River and "no" on the CRC Light Rail Tolling project.  We now have a beautiful environmentally sound design that meets all voter approved specifications and a commitment to complete all permits and construction within five years upon approval. Our bi-state community can now choose to support or dismiss this opportunity starting with Clark County citizens.
The I-5 Bridge is certified as structurally sound. The CRC required a $450 million down payment from each state. Tolls were required for additional billions in debt service and to meet local match requirements for federal light rail funds.  The East County Bridge total cost is less than the CRC bi-state down payment alone and eliminates all costs that require tolls. A financial firm has committed to back the project with flexible terms if desired.
Congestion relief is provided by adding a third toll-free crossing, not by funneling more traffic into existing congested Portland chokepoints over a light rail toll-bridge-too-low that hinders river navigation and harms our marine freight corridor.  We built our second toll-free Columbia River Bridge thirty-one years ago, the I-205.  It's time to build our third toll-free bridge to better connect our fast growing bi-state community with a smarter, less expensive, and faster solution.
Page ___ of this Voters' Pamphlet shows the resolution that supports this vision. See www.EastCountyBridge.com  for the design and information to cast an enthusiastic "yes" vote for our third toll-free bridge.
Website: www.EastCountyBridge.com
And now the statement against the bridge proposal, written by Vancouver City Councilor Jack Burkman, Paul Dennis, former Camas mayor and executive director of the Camas-Washougal Economic Development Association and Molly Coston, former Washougal City Council member. 
STATEMENT AGAINST ADVISORY VOTE 1
No real financial plan – this proposed bridge is not free – it requires a new tax
The proposed finance plan is "the states of Oregon and Washington will pay for this." That's no finance plan! This violates last year's advisory vote which said bring it back to voters "once there is a clear project defined, including the financing plan". And asking you to spend nearly $1.0 billion but not telling you where the money is coming from is financially irresponsible. We can't afford the upkeep of our existing roads today – any new bridge will require a new tax.
No fix for any of today's transportation problems
Adding a third bridge won't fix any I-5 congestion or long-term safety issues and it does little to help I-205. SR-14 and 192nd Ave are not designed to accommodate the additional traffic. The proposed four-lane bridge drops into Airport Way, but with NO connection to Portland's major highway system. This is like having a bridge end in the middle of East Mill Plain. There will be traffic gridlock at both ends of the bridge.
No public involvement
There have been no public meetings, no discussions with community leaders or citizens of Vancouver, Camas, Washougal, Troutdale, Gresham, or Portland; those most affected by the plan. This is a private plan developed in secrecy by a private individual, then released as a vision on July 25.
No real financial plan. No real fix for our roads. No public involvement. Vote NO!
Visit www.NoEastClarkCountyBridge.org to see more.