Veteran group kicks off impeachment tour in Vancouver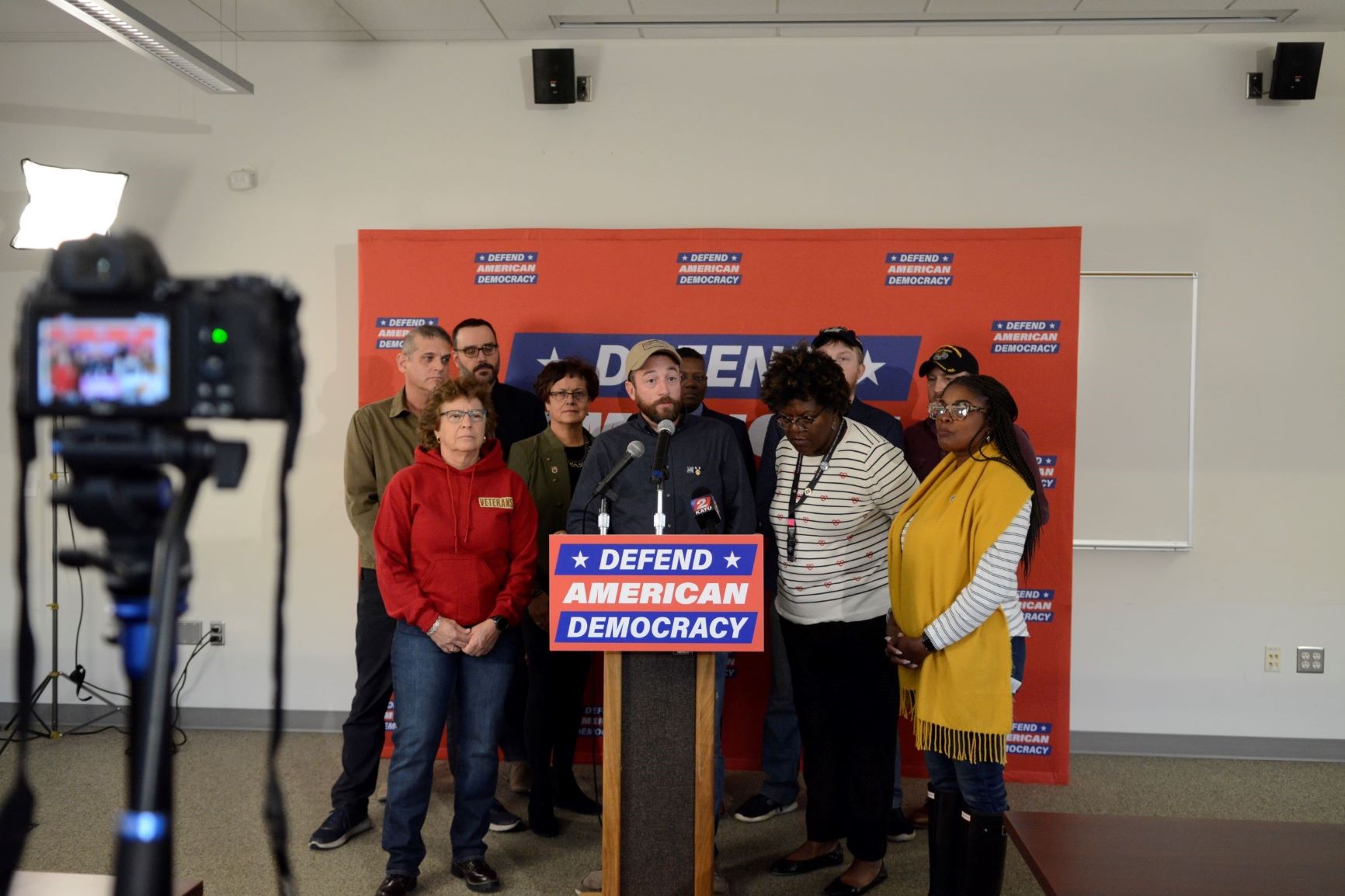 A group of military veterans — all critical of Congressional Republicans' continued defense of  President Donald Trump — kicked off a national tour in Vancouver on Tuesday with a visit to Clark College to urge Rep. Jaime Herrera Beutler to support the impeachment inquiry.
The group was organized by the Defend American Democracy project, a bipartisan coalition of organizations alarmed by the president's conduct (including Republicans for the Rule of Law. You might remember them from last month, when they took out ad buys on Fox News urging 20 U.S. Representatives, including Herrera Beutler, to "stand up for the country.")
The veterans addressed a handful of reporters and community members in Gaiser Hall.
"Myself and others who have worn this country's uniform understand what it means to swear an oath to defend our Constitution, and that oath didn't end when I left the Army," said Alan Pitts, a retired Army sergeant and Purple Heart recipient.
"Congress needs to do their job and hold the president accountable. If I did this, if you did this — if anybody in this room did this — we'd all be in jail."
The "this" Pitts was referring to is Trump's withholding of $391 million in foreign aid to the Ukraine. Multiple diplomats and high-ranking state officials have testified that the president delayed the aid in order to pressure the Ukraine into investigating Trump's top political rival. That testimony continued today, with questioning of William Taylor, the top U.S. diplomat in Ukraine, and George Kent, a State Department official, during the first public hearings of the impeachment investigation. 
Jason Hurd, a veteran who spent 10 years in the Army as a combat medic, told the gathered group at Clark College Tuesday that he "took an oath to protect and defend our Constitution against all enemies, foreign and domestic."
"I took that oath seriously," Hurd said, "It is time for Congress to uphold its oath to do the same. Donald Trump has abused his power by extorting a foreign leader to interfere in our 2020 election. That is just wrong, and Representative Herrera Beutler should know that, plain and simple."
The Clark College visit was the first stop in a national tour. The next stop is Kalamazoo, Mich., according to a spokesman for the group.
The Defend American Democracy project has a list of 14 congressional Republicans to target with an ongoing pressure campaign. Herrera Beutler is on that list, as are other lawmakers representing potentially flippable districts in 2020.
Unsurprisingly, Defend American Democracy's list overlaps almost completely with the National Republican Congressional Committee's official roster of vulnerable Republican lawmakers. All but one of the representatives on the NRCC's list are also being hammered by Defend American Democracy campaigns. Herrera Beutler is on both lists.