National Republicans: Herrera Beutler could be vulnerable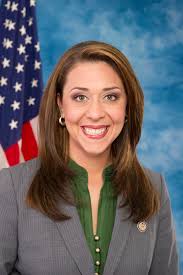 Looks like Democrats and Republicans agree on one thing: Washington's 3rd Congressional District could flip in 2020.
The district, represented by Jaime Herrera Beutler, R-Battle Ground, was identified as one of the eight most vulnerable Republican-held areas in the country by the National Republican Congressional Committee on Friday.
The eight representatives on the NRCC's list are now part of the Patriot Program, which offers extra funding and organizational support to its members. It's also a Bat Signal for potential Republican donors — they should get ready to whip out their checkbooks if they want to hang on to those seats.
Democrats are eyeing the district closely, too. In January, the Democratic Congressional Campaign Committee listed Washington's 3rd as one of 33 Republican-held districts they're planning to target in 2020.
The likely outcome of all this list-making? Southwest Washington may want to prepare itself for the glare of a national spotlight in the upcoming election.
"While Democrats continue to call them 'targets,' the NRCC will be empowering these members to stay on offense and run aggressive, organized campaigns against their Democratic challengers," New York Rep. John Katko, Patriot Program chairman, said in a statement Friday.
The district includes Clark, Cowlitz, Skamania, Klickitat, Lewis, Pacific, Wahkiakum and Thurston counties. Last year Herrera Beutler, a five-term congresswoman, saw her first ever serious Democratic challenger in Carolyn Long, a Washington State University Vancouver political science professor.
Herrera Beutler won 52.7 percent of the vote, while Long came away with 47.3 percent. Long also won in Clark County, the district's most populous. It was the first time Herrera Beutler won less than 60 percent of ballots in a general election since 2010.
For her part, Long's been evasive on whether she'll try again in 2020, though she's hinted at a second run in public speeches and has been active on Twitter over the past couple of months. So far Herrera Beutler's first and only challenger is Democrat Peter Khalil, an Ivy League-educated mediator and relative political newcomer.
Trump carried the district by 7 points in 2016 and Inside Elections, a district-by-district nonpartisan analysis by Nathan Gonzales, says that Washington's 3rd still leans "Likely Republican." But it's the only potentially flippable district in the state — according to Gonzalez's data, the rest are either "Solid Democratic" or "Solid Republican."
To win back the House of Representatives, Republicans will need to hang on to the eight vulnerable seats on the list and pick up an additional 18 or 19.