"State of the City" bingo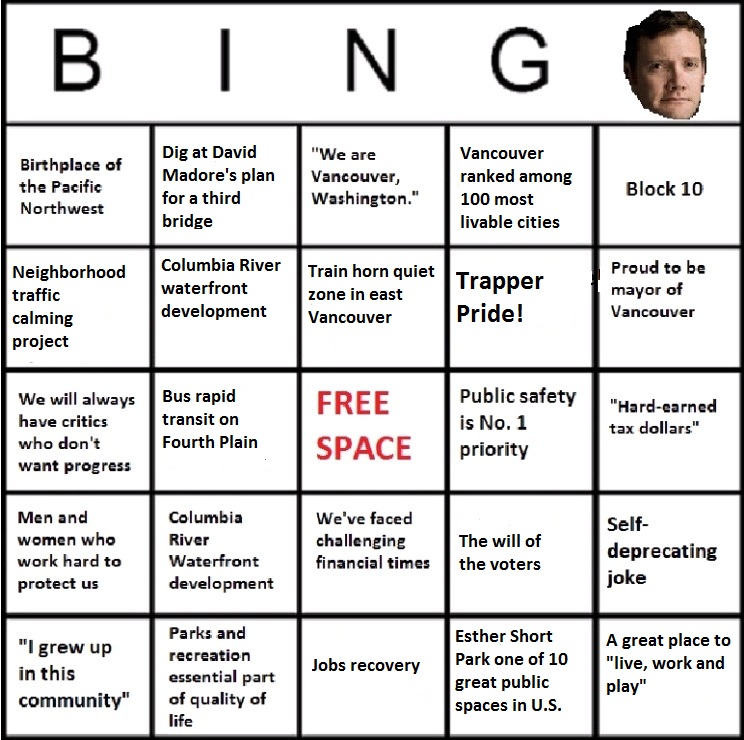 Vancouver Mayor Tim Leavitt will deliver the annual State of the City address, 9 a.m. tomorrow at Fort Vancouver High School. Doors open at 8:30. I'm so excited, I just can't imagine being anywhere else tomorrow morning than in the Fort auditorium.
Actually, let me try again. If I can't be on my couch with my husband, sipping lattes and binge-watching season 2 of "House of Cards," on Netflix, then I might as well be at the State of the City address.
Unless Leavitt drops a bomb, like announcing he's going to run for Congress, (I know he's a "House of Cards" fan), or rips into Commissioners Tom Mielke and David Madore, the speech will be safely dull.
As I've written, this won't be the first time I'm bored during a lecture at Fort.
At any rate, here's a bingo card to help keep you awake. The address will be aired live on CVTV, Channel 23. I'll be tweeting with #VanSOC, which is the hashtag the city will use.