'Signs, signs, everywhere a sign'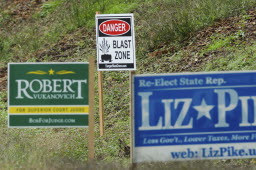 Now that the election is in the rearview mirror, it's time for all those campaign signs to go bye-bye. Typically, candidates and campaign organizers have 10 days following the election to make good on the clean-up and disposal of their temporary advertising. But I'm sure many of the signs will stick around longer than that.
As often happens during elections, we received plenty of complaints from readers about campaign signs. People often complain about signs being placed "illegally," or sticking around longer than they should, or ending up crumpled and water-logged in streets. We don't have the resources or time to chase down all of these complaints and, frankly, it's not really our bailiwick, either. It would do people more good to contact their local jurisdiction, city or county, if they have complaints, as the paper doesn't have any regulatory authority.
When they are eventually picked up, a lot them will end up in landfills. One of the campaigns is taking a different approach, however.
Fresh off the success of the home rule charter campaign, its organizers plan to recycle their signs. Say what you will about the pro-charter campaign (and whatever you say now is moot because, as I wrote, the charter passed), the folks behind it have some interesting ideas for what to do with their leftover signs.
Chuck Green and Rory Bowman are the guys leading efforts to prevent their campaign signs from ending up in dumps. Some of the signs will go to the Clark County Beekeepers, which will find homes for them among its 140 members, Green said.
Bowman is working with tree farmers who prepare and sell firewood. "The signs make a great cover and insulation from the rain to keep the firewood dry," Green said. "They also make good wind/rain barriers in various other agricultural applications such as protection for wooden shed roofs."
Through their efforts, they don't expect that any of the 500-plus pro-charter signs will be put in the trash. And all of the stakes and screws used to mount and post the signs will be recycled for future campaigns, Green said.
Now that the election is over, I'm curious what readers think about all the signs that have taken up space along the sides of roads over the past several months. What do you think could or should be done with them?