IGV clarifies mission after endorsement dust-up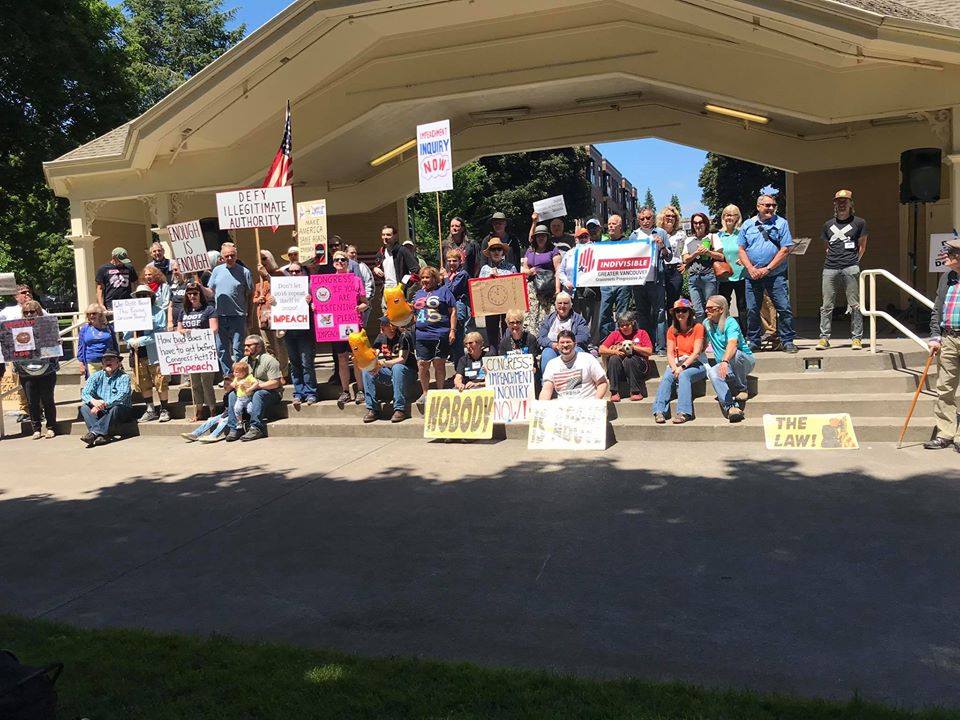 Remember last week when Peter Khalil, a candidate seeking to become the Democrats' nominee for Washington's Third Congressional District, pointedly avoided an endorsement from a local progressive group because he said they aren't actually progressive?
That whole thing is still going on.
On Dec. 3 Khalil wrote an open letter saying that he was withdrawing his name from the endorsement process for Indivisible Greater Vancouver. The group's values, he wrote, "do not align with the progressive principles espoused by the national Indivisible organization. Rather, it seems that Indivisible Greater Vancouver is co-opting the Indivisible banner as a sword and shield to put forward the same status-quo policies and politics that arguable opened the door to the Trump presidency in 2016."
In a follow-up, Khalil said that while "IGV will swear up and down that they are progressive, the majority of their body is centrist and pays only lip service to progressive policies, if that."
Khalil's stance left IGV leadership scratching their heads. So on Saturday, they took advantage of a previously scheduled quarterly meeting to clear some things up, releasing a public statement on their mission and identity:
"IGV is a volunteer-run, non-partisan, consensus-based organization comprised of individuals striving to ward off authoritarianism and promote progressive action. IGV is not associated with a specific political party. We are unified by a vision of:

A sustainable planet

High quality, affordable, accessible health care for all

Affordable, safe housing

Social and economic equity

Civil rights

Worker and consumer safety

Safe and responsible gun ownership

The rule of law

Elimination of corruption

Preservation of our democracy

And, we are committed to fostering civil discourse about how to realize this vision."
The document also touches on the group's ongoing endorsement process: namely, they sent out a questionnaire to all candidates from both parties (Khalil, Democrats Carolyn Long and Rudy Atencio, and Republican Rep. Jaime Herrera Beutler). Those who fill it out are invited to a candidate forum on Jan.10, where attendees can ask questions. IGV is planning to hold a formal endorsement vote on Jan 17. As Khalil has already removed himself from the process, it's unlikely he'll attend. Herrera Beutler didn't come last year and likewise will probably skip the event in 2020.
Though the document doesn't refer to Khalil by name, last week's public dust-up with the candidate pointed to the need to clarify some points, said Janet Birgenheier, a media coordinator and local leader for IGV. And she pointed me to a Facebook post authored by fellow IGV leader Joe Maldonado, who was more direct:
"Recently there have been folks that have attacked Indivisible Greater Vancouver," Maldonado wrote. "These baseless attacks that IGV calls itself a progressive organization, but isn't actually progressive doesn't make any sense. Especially since the people making these attacks either have never been to one of our meetings our have maybe been to 1 or 2."
Anyone can become a voting member of IGV, Maldonado continued, and anyone who wants to can join the leadership team. 
"We haven't created any scanner to test how progressive our members are. We just ask that you be a good person and try to help us out. And I think that the people who do actually attend our meeting and who actually are on our leadership team feel like we ARE doing work to make a positive progressive change in Clark County," Maldonado wrote.