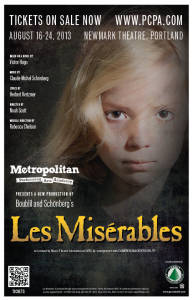 Set against the backdrop of 21st-century Vancouver, the 2013 mayoral campaign tells an enthralling story of broken dreams and unrequited love, passion, sacrifice and redemption — a timeless testament to the human spirit.
Oh, no, wait. That's not the description of the mayoral race. That's about Les Miserables, which is being staged Aug. 16 – 24 by Vancouver's Metropolitan Performing Arts Academy at the Newmark Theatre, 1111 S.W. Broadway in Portland.
So what does a beloved musical set in 19-century France have to do with the Vancouver mayoral race? I only wish Mayor Tim Leavitt was an interesting a character as Jean Valjean, and challenger Bill Turlay may be out to get Leavitt, but he hardly matches up to Inspector Javert.
Leavitt's campaign manager put out a press release today saying Leavitt will attend a pre-show reception and then the 7:30 p.m. performance on Saturday, Aug. 24. Leavitt's using the fact that he has to go to Portland to see a Vancouver production as an opportunity to express hope that one day Vancouver will have its own arts center.
"Creative Director Noah Scott, The Board, and his team have garnered national recognition for the great performances they have produced. It's a great honor to join in the celebration of this accomplishment and personally attend the showing on August 24th. I encourage others in our community to join in this wonderful opportunity to witness our great local performing artists," said Leavitt.
The press release continues: "The locally produced show is playing in Portland not by choice, but by necessity. Leavitt believes, 'It's high-time we as a community rally around and commit to a big vision for our local performing and visual arts. Vancouver has a wealth of talent, which deserves to be showcased in a world-class facility, located right here. Our local economy, cultural competence, and community identity may be dramatically improved if we enjoyed our own arts center.'"
Tickets for Les Mis are available through the Portland Center for the Performing Arts. For tickets, click here.