Golden arches in Uptown? Residents not McLovin it
As reported, a Kirkland man wants to build a McDonald's restaurant at the northeast corner of Fourth Plain Boulevard and Main Street just north of Uptown Village. The news was not well-received by west side residents, to put it mildly.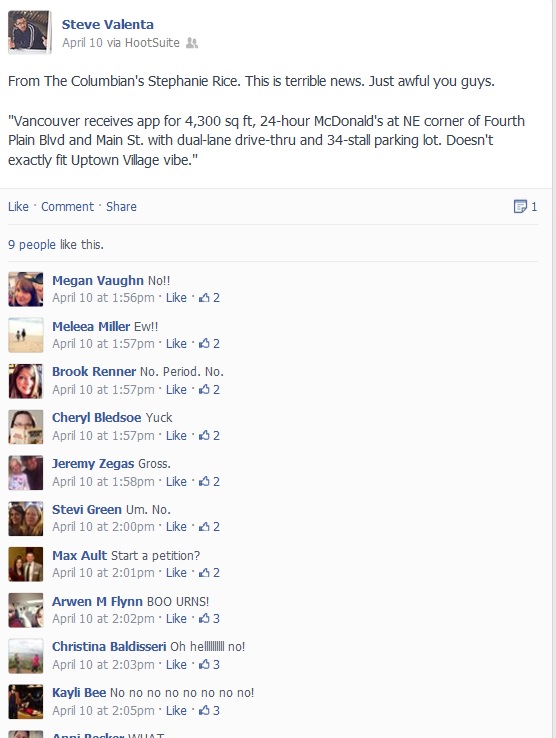 Reading through my latest batch of city council emails Thursday, I saw that on April 11, Vancouver Mayor Tim Leavitt emailed Chad Eiken, Overlord of Development (or something, he has a long title and I don't want to look it up), City Manager Eric Holmes and councilors.
"In case you hadn't heard already, emails from the community are coming in regarding a proposed McDonalds restaurant at 4th Plain and Main Street. Thus far, the emails have expressed opposition to the proposal and requesting action of the City Council to stop the project. It would be helpful for me and I suspect Council Members to have an email summarizing the circumstances — zoning of property, legal bookends on allowing/denying a specific project, etc."
Here is the Overlord's response:
"Several years ago we made a concerted effort to reduce the land use review process and shorten timelines in order to streamline things, by allowing larger projects to use the more abbreviated (28-day) Type I process. Council adopted the same thresholds as the State Environmental Policy Act, so basically any project that does not trigger a SEPA review is handled as a Type I review. This saves considerable cost and time on the part of the applicant, but the big tradeoff is that medium-sized projects are now allowed without any public notice or comment period, and only the City and Applicant are entitled to appeal these Type I projects.
Even if Council were to place a moratorium on fast-food restaurants in order to change the code, it wouldn't apply to this project since it is already in for a pre-application conference and therefore is contingently-vested to the existing standards and codes. (Boldface mine)
There are no special design overlays that apply to this site, but our staff will work with the applicants and strongly encourage them to engage with the neighborhoods to address their concerns through a more sensitive site and building design. We may not have much regulatory power to compel them to respond to design concerns, but hopefully they will see that it is in their interest to try and fit in to the existing neighborhood.
This won't be good news for the 730 people following a Facebook page titled, "Stop Downtown McDonalds".
A pre-application conference is set for 9 a.m. Thursday in the Birch Conference Room on the second floor of City Hall, 415 W. Sixth St. There won't be time for public comment, but we'll see if the public shows up anyway, protest signs in hand.